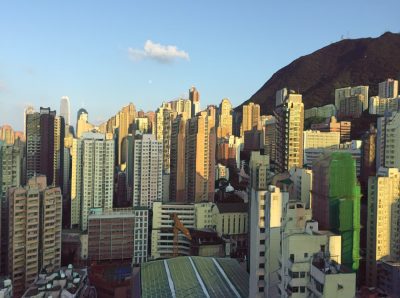 I begin this entry at the rather fabulous 28th floor lounge of the Hotel Jen in Hong Kong. It's become our favorite spot to watch the city light up at night.
Two years have gone by since this blog's gone quiet and our cycle of globetrotting went on pause. Not gonna lie: it's been a rollercoaster twenty-nine months. I'm officially a "we" now, Mathew and I having tied the knot late in 2015. We're also homeowners, engaged in a cycle of remodeling that never seems to end. I've changed jobs twice; Mathew's employment circumstances are different as well. About the only constant in our lives has been our two furry companions, who sadly are not able to accompany us on big overseas travels (much as we wish they could).
But still, the world beckons, along with its capacity to bring perspective to the hurly-burly of life back home. And so, when Mathew's Dad stumbled upon a novel way to get from Hong Kong to Singapore by way of stops in Vietnam—with super-competitive airfares across the Pacific—we positively jumped at the chance.
Asia New and Renewed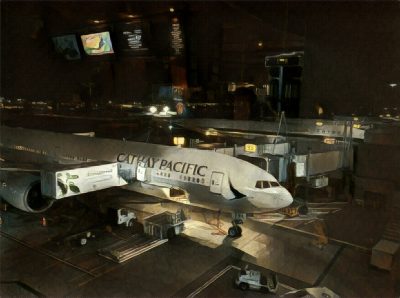 Arriving at SFO on Sunday evening, we beheld our large, long plane readying for the transoceanic journey amid a panoply of others. The past few years have seen the big overseas carriers offer up a fourth class of service: Premium Economy, a class category that I'd say is well worth the upgrade. Straddling the divide between no-frills Coach and fabulous (but pricey) Business, Premium Economy offers many of the same comforts as, say, Business used to offer decades ago: a bigger recliner seat and moderately enhanced service. I've gotten better at sleeping on planes and on this thirteen hour flight I managed to sleep for almost half of it. Even Mathew, who never slumbers on flights, nodded off for about three hours.
In his case, his anticipation was justified: not only was this his longest-ever flight to date, it was also his first-ever time on this side of the globe.
"I've never been anywhere non-Western," he noted.
As we looked out at the lush, craggy peaks of greater Hong Kong through our airplane windows, we were most curious to see what the city would offer. I was especially curious, since I'd spent several days in the city before and found it, coming on the heels of other trans-Asian travel, to be a bit anticlimactic. As I remarked back then, dizzying skyline notwithstanding, the city's not all that architecturally inspiring.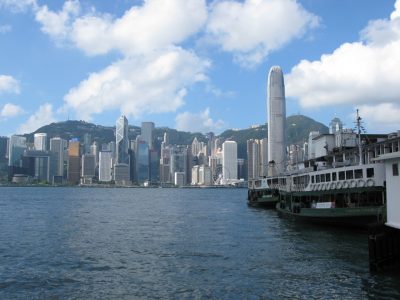 Say one thing about the place, it's got public transit figured out. Since we arrived in the morning and were determined to ward off jet lag, we piled onto the MTR, Hong Kong's uber-efficient subway system. Having begun operations in the late 1970s, the system boasts eight lines and ridership in the millions. I sometimes feel my plaints were a bit harsh, in Wander the Rainbow, about public transit in America's ostensibly "transit-first" cities like our hometown, San Francisco… until I come to places like Hong Kong and wonder: why can't we do this?
We got off the train, meandered down the walkways of Central to the waterfront and clambered onto the legendary Star Ferry. It's a quick ride across the harbor (ahem, harbour) to Kowloon, and the trip was as splendid as I remembered it from years back: a glorious, breezy crossing, with that iconic, intense panoply of skyscrapers on either side. Hong Kong boasts the most high rises of any city on Earth, almost twice as many as the next entrant in the field, New York. And the city hasn't rested on its laurels since I was last here in 2009: the International Commerce Centre, at 108 stories on the Kowloon side, was just a construction site back then.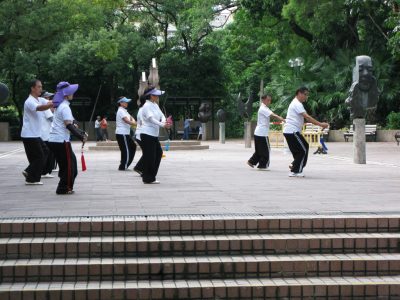 A big, bustling city like this offers much to visitor and resident alike… but like so many world cities, the place tends to start and end late. Consequently, there wasn't much open on the shopping streets and malls of Tsim Sha Tsui in the earlier morning; we spent a bunch of time wandering a local park as we waited for things to open up. Still, even that random urban green space evoked the feeling that so often hits me on arrival in a new place: At last, I'm elsewhere. The cliché "all your troubles melt away" rang true as we beheld a ramble of elderly locals practicing Tai Chi amid a scattering of modern sculptures.
Peak Time
One plus of staying on the move that first day: in spite of the nine hour time difference from San Francisco (fifteen if you count the other way), we did keep jet lag to a minimum and awoke the next morning ready to hit the town. Mathew's parents, who hadn't been here before, opted for some more organized tours, while we hopped back on the MTR and headed back to Central for the ultimate, iconic vantage point of the city from the top of Victoria Peak.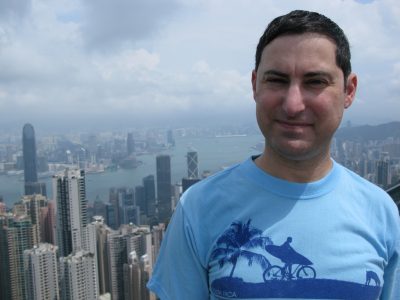 My Hong Kong curse, I mused, as we came upon the long, long, long, long line for the Peak Tram. Last time I was here was over Lunar New Year, and the city was mobbed like Manhattan at Christmastime. Well, wouldn't you know it, this week is again a holiday, both in Hong Kong and mainland China: Mid-Autumn Festival on October 4 and Mainland China's National Day on October 1.
Fortunately, one of the city's comfy (and remarkably inexpensive) taxicabs was on hand to whisk us to the top of the Peak by road. It's a longer, winding route along the backside of the mountain, but that proved to be a plus as it granted us glorious views of the sleepier side of the territory, facing the South China Sea. Though even here, forests of slender high-rises could be seen climbing steep green hillsides. I found my prior grumbling about architecture less relevant, as I began to appreciate how the territory manages to house so many people with so little buildable land while still retaining its natural splendor.
Zip A Dee Doo Dah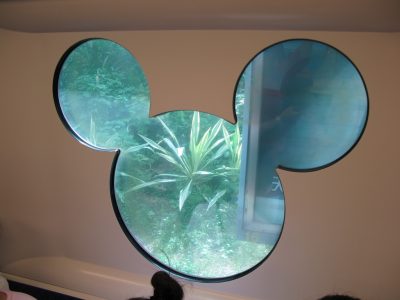 I've said it before and I'll say it again: my husband is a bit of a Disney-aholic. No trouble for me, as I've always appreciated the studio's artistry, though in my prior travels across the globe I tended to focus on attractions unlike those back home. But with Hong Kong Disneyland having expanded significantly since its opening in 2005, and with Disney incorporating elements of Jedi-dom into the parks since their acquisition of Lucasfilm (hint: I may be a bit of a Star Wars nut myself), we decided to give the place a try. We were a bit trepidatious, to be sure, since our experience at Disneyland Paris in 2015 was kinda so-so: the place felt worn out and unmaintained, almost as if the French took the attitude of "oh, all right, you can have your damn theme park."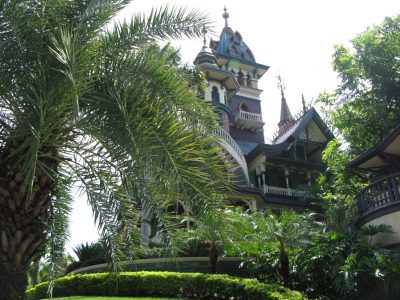 Any concerns we had evaporated almost immediately on our arrival, For starters, our arrival: not only is there direct MTR service to the park via a purpose-built rail line… the trains themselves are adorned with Disneyana inside and Mickey Mouse-shaped windows looking out. Given that a similar Disney park in Tokyo was the first such park to open outside of the United States, and given that there's yet another such park that recently opened in Shanghai, it's safe to say my thesis about Asian cultures embracing the Disney vibe is intact. For me, this is one of the better parts of globalization, as cultures integrate, adopt and make their own the ways of other lands. Consider sushi and Korean BBQ eateries back home.
While Hong Kong Disney is a smaller park, to be sure, it's easily as spotless and well maintained as its counterparts back home. Best of all, many of its attractions have been tweaked and modified for the local landscape while retaining their original vibe. Best example: Mystic Manor, a variation on the Haunted Mansion with crazy trackless vehicles that incorporates Southeast Asian elements in its spookiness.
Back to the Past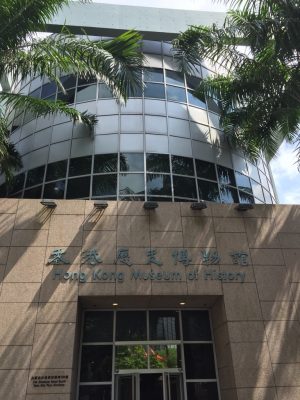 Mathew had some work commitments to take care of the next day, so I did some solo exploring and hit up a spot a stone's throw from the accommodations I'd stayed at nine years ago—making me wonder how did I miss this—the Hong Kong Museum of History.
I don't have limitless appetite for museums, but if they're about a locale's history and answer that ever-interesting "how did it get that way?" question, then sign me up. This entrant is practically the Central Casting example of how to do a city history museum: cavernous and comprehensive, tracing Hong Kong's history from the geologic epochs that formed its craggy peaks (yes, they are volcanic in origin) to the two decades following the handover from Great Britain in 1997 (the former colony has taken its place as its own pseudo-city/state with its own identity). It sports a good bit of detail on wartime Japanese occupation as well, which resonated strongly with me as my father's family was under similar circumstances a few hundred miles to the north, in Shanghai.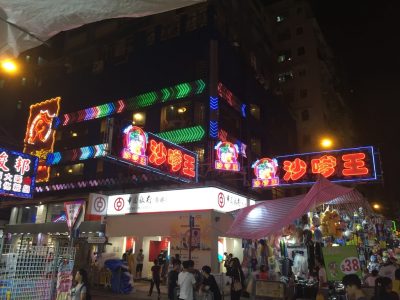 The museum also answered the question that's been nagging me ever since my grumbling about the city's relative lack of period architecture: I knew that it had to do with the massive refugee influx from the People's Republic during the harshest days of the Communist Revolution… but what I didn't know is that a huge proportion of the city sits on reclaimed land. To an even greater extent than coastal California, buildable turf is super-scarce in Hong Kong. And there's a social justice component to those high-rises as well that I likely didn't appreciate during those pre-Occupy Wall Street days: in spite of sky-high property prices for its deluxe homes and apartments, Hong Kong also boasts a robust and extensive subsidized housing scheme that makes the place that much more affordable to a vast middle class. Coupled with high costs of private car ownership and extensive, cheap, reliable public transit, there's a lot America—with its querulous NIMBYs and free-market-at-all-costs fundamentalists—could learn from this little territory perched on the Pearl River delta.
Above It All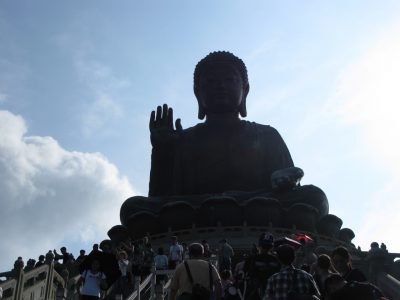 The following afternoon, we made up for something I failed to see on my last sojourn: The Ngong Ping gondola to the Big Buddha at the monastery at Po Lin.
In 2009 I tried braving the lines and gave up after an hour of waiting with no end in sight. This time, we bought timed tickets… though that still didn't stop us from queuing a spell to board the sweeping gondola ride. I must say, it was worth the nine-year and 25-minute wait! The cable cars soar astride the airport where we'd landed the other day. The cableway then makes a right turn, crosses a waterway, then climbs the steep, forested hillsides up to the monastery and adjoining (admittedly touristy) village. Still, this is one of those tourist spots that I think is a total must-do: the little village has its charms (and gift shops) and the monastery and Big Buddha are awe-inspiring at this spot up in the mountains. Oh, and my pop-culture hubbie had his reasons as well for visiting the place: the Real Housewives of Beverly Hills gave the place a spin a little while back.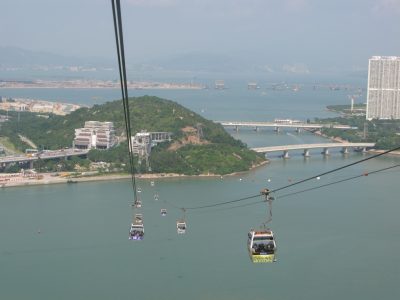 We had most of a day remaining before heading out from the city… just enough to do something that's in its own way very Hong Kong: a viewing of the new Blade Runner sequel to the 1982 film. Although set in the near-ish future in Los Angeles, both the original film and its sequel owe much of their conceptual inspiration to the Hong Kong skyline—right down to the strong Asian influence in advertising signage and local fictional patois of its future citizenry. It's not a perfect film, but it does a great job of rendering what a dystopian urban jungle might look like if things in our real world don't work out so well.
Fortunately, for us, Hong Kong offered none of that: though the heat was a bit oppressive, the city's efficient management of so many of the issues that bedevil big metropolises—transit, housing, crowds, tourism, nature preserves—made for a splendid sojourn here while we prepared for the next phase of our journey.
Tags: 1 Comment