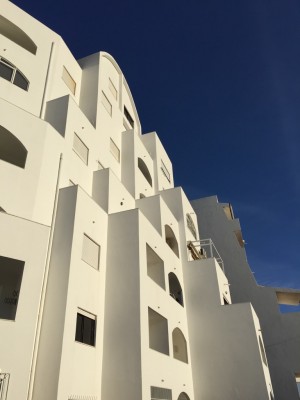 A European odyssey of this scale deserved a languid, multi-destination farewell, and that's just what we planned to give it.
It began last Saturday morning, when we bade a bittersweet farewell to our home-away-from-home in Albufeira; gonna miss that view, I mused, gazing out at the ocean one last time.
A comfortable ride up north brought us to the nation's capital, Lisbon; two short metro rides brought us to arguably one of the most fabulous (and reasonable) accommodations in all my years traveling the globe: an ultra-modern, eco-style wood-and-stone remodel of a classic Lisbon building straddling one of the city's many hills; a fabulous (and equally reasonable) lounge, Mediterranean restaurant, and gym/spa rounded out the package. Having experienced something similar earlier in the year in Istanbul, I can safely say that affordable-yet-hip cities on Europe's periphery are the place to go for great value and an sophisticated, urban vibe.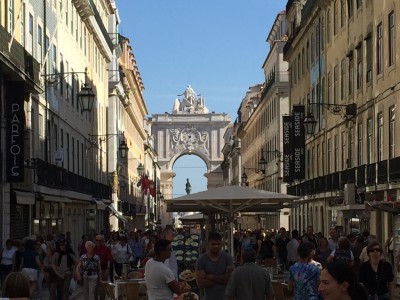 That was further confirmed for us on our meanderings through the city: we strode down the super-broad Avenida de la Liberdade down toward the city's historic core, Baixa. Although obviously a far older place, Lisbon shares a thing or two with San Francisco: built around numerous hills, for one; and having experienced a mammoth earthquake – in Lisbon's case, in 1755. This old city core is, in fact, not that old, having been rebuilt after that era. However, having been an imperial maritime power, this city – a mid-sized place comparable in population to Vienna or San Diego – holds a grandeur evident in its statuary, its broad city squares, and its glorious buildings.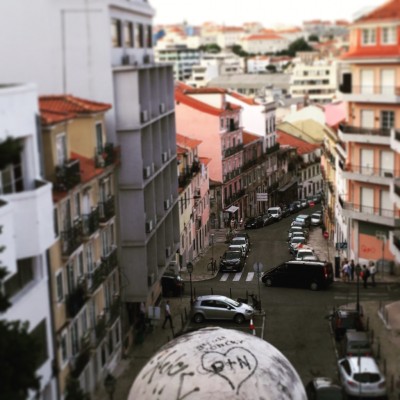 Later that evening, in search of a vegetarian meal, we wandered (literally) over hill and dale, climbing and descending the city's steep byways and stairways. It was a beautiful evening, coloring the multi-hued tile façades with orange tint. As with other southern European cities, Lisbon's got its share of crumbling edifices and splashes of graffiti; I found the effect enchanting, however, like a faded yet still vital old fairyland.
Next day I wandered the nearby Parque Eduardo VII, a green space cresting the hill at the end of Avenida de la Liberdade. Emerging relaxed from a stellar (and, again, reasonably-priced) massage at the hotel spa, Mathew joined me as we headed across town to see more sights in Belém, the city's historic seaport district.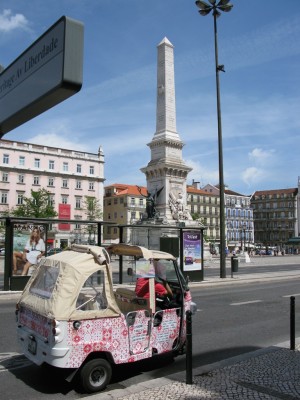 Or so we thought: the tram to Belém was packed, so we opted for a ride in one of the city's tourist tuk-tuks. Yep, they've got them here as well, just as they do in India and Thailand. Our driver, however, was a young lady who spoke a near-perfect English and was thrilled to hear we were from San Francisco: she's going to study there in the fall. As we passed under the suspension bridge across the River Tagus riding down the broad waterfront boulevard, I couldn't help but think: lady, you're gonna feel right at home.
Belém played a big role in Portugal's maritime exploits, with a number of the Portuguese explorers (De Gama, Magellan) departing from these shores. A monument by the sea commemorates this event (nothing on the mass depredations it caused the indigenous peoples of the Americas, alas). Nearby is a sea fort, Belém Tower, built in the high Gothic style one normally associates with more northerly European cities. Even more impressive was the Jerónimos Monastery, with the requisite awe-inspiring pillars, vaulted ceilings, and other carvings so prominent in the Great European City Who's Got The Biggest Church Contest I feel must have existed in back in the day.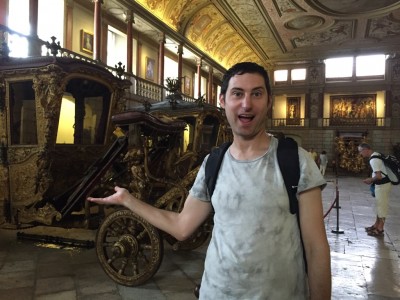 After that, an unusual but for me fascinating attraction: the National Coach Museum, displaying a range of grand, ceremonial conveyances from the age before autos. The museum is housed in a glorious but faded old edifice; a new building, all modern and glass and concrete, is nearing completion across the way. While no doubt the new digs will be nice, I wonder if it'll lose something in moving to so different a venue.
After that, down to business. The business, that is, of finding an inexpensive bag to haul all that additional stuff we'd bought (or were going to buy) back home. Mathew, uncharacteristically, had traveled fairly light on the way over, planning to make some clothing (and footwear, his ongoing obsession) purchases on this trip. We'd already acquired a cheap rollaboard at one of the discount Asian shops around Albufeira (in our case, the curiously named "Chinese Shop Good")… only to have it literally fall apart after a couple of train rides. We seemed to find one of marginally better quality at one of the tourist shops in Lisbon, but only time would tell if this bag would stand the test.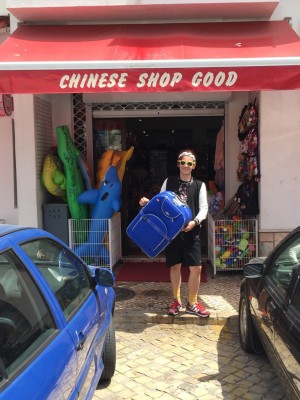 Meanwhile, TAP, the Portuguese airline, was coming off a pilots strike that left us wondering if we were going to get off the ground at all. Fortunately we did, and a few hours later were waiting with our bags (the new cheap one's wheels already showing signs of wear) at the airport train station in Dusseldorf for a couple of German Regional Express trains to the town of Bad Honnef.
Uhm, where?
As I'd mentioned, Mathew is something of a shoe aficionado; his taste of late runs to offbeat, colorful variations of Birkenstock sandals and clogs. So when he learned that the two-century-old German footwear manufacturer had an outlet shop not too far from where our flight home was to depart… well, that was all the incentive I needed to plan a little sojourn.
Our train rolled by the Rhine, passing the hilltop of Drachenfels bearing a ruined castle. This part of Western Germany held sway over the Romantic poets during their period of Rhine Romanticism, and it wasn't hard to see why: broadleaf forests, rolling hills, and the lazy river made clear we'd left Mediterranean Europe behind for the moodier, temperate climes up north. However, unlike our Paris trek a couple weeks back, this time a warm spell was gripping the Continent, and the humid sunshine felt rather like summer in New England. We dropped our bags at the hotel in the middle of the picturesque little town center, and hopped in a cab to a nondescript building in an equally nondescript industrial park at the edge of town to arrive at Shoe Mecca.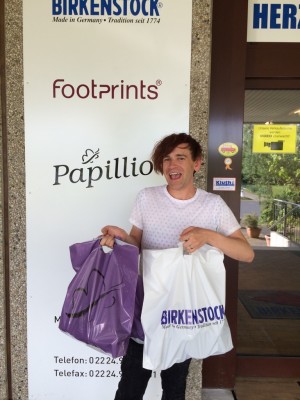 The shop definitely delivered: Mathew scored half a dozen pairs, and even I purchased a semi-casual pair of more standard footwear. We hoofed it back to the hotel in the unseasonable heat – only to discover that our accommodations had no air conditioning, fan, or any means of moving air around the room at all. Fortunately, it cooled off as we headed into the town center for a great meal at an Italian eatery attended to by a warm, friendly Indonesian lady. She was a nice contrast, as we'd already begun to notice the curt, German "take it or leave it attitude" in some spots (the checkout lady at the supermarket refusing to take our non-European cards, even those bearing the all-important EMV chip, was one example).
Next morning, on the move again: another regional train back to Cologne, then a quick ride on the German high-speed ICE. With wi-fi, digital readouts at every seat indicating the passenger's destination, and LED-lit bathrooms, it was clear this was the nicest high-speed train we'd taken in Europe so far. Arriving at Frankfurt's cavernous Hauptbahnhof, we settled in at our design-y hotel nearby – dodging the city's somewhat dodgy red-light district on the other side of the station – for our final day of remote work in Europe.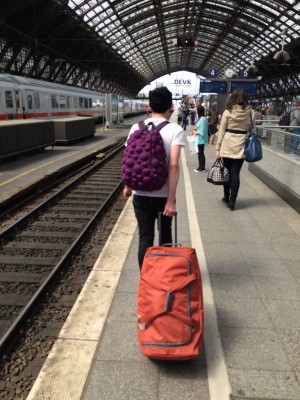 I'd transited through Frankfurt once in my big world trip, and it left something of an impression on me – not entirely positive. On my way to the airport, I'd inadvertently popped into the small section of an S-Bahn train that was designated (though not terribly well marked) first class – and got a Germanic ass-chewing from some uniformed fare inspectors.
This time I knew to watch for that – but what I hadn't counted on was our supermarket experience in Bad Honnef to metastasize as we sought to purchase tickets to get to the airport. First off, none of the fare machines accepted any of our credit or debit cards – even those that matched the "chip and PIN" spec we knew was the norm here. Then none of the ATMs took any of our bank cards – save one of Mathew's, thank heavens. Then the fare machines refused to accept cash until we inserted exact change. Glad we came early, I mused.
The fun continued at the airport: after a smooth checkin, we stood in the near-empty security line; knowing how much gear and luggage we both had, I pulled out three of those plastic bins used for electronics and personal effects.
"AY-YAY YAY! VUN BY VUN!" barked the lady overseeing our security lane. Apparently, grabbing more than a single bin at a time ist verboten in these parts, even with nobody ahead in line. Really?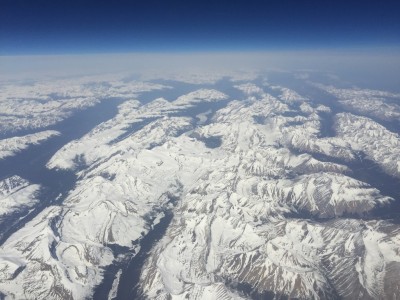 Fortunately, the flight home, although lengthy, was stellar: the upgrade fairy gifted us some extra-comfortable seats and some really killer on-board service. We drifted off to sleep for a spell, memories of Europe — its grandeur, as well as its foibles and faults — washing over us like a lullaby. Looking out over the Rockies as we neared the West Coast, I realized this lengthy time away was tougher for me than it had been in past explorations — what with a home, a job, two pets and a partner (Mathew had been home for the first part of these travels) now in the mix. Given that, will we be getting back in the travel saddle again anytime soon?
Only time will tell, but if past travel adaptations to new life circumstances are any indication… we'll find a way.

Tags: 9 Comments