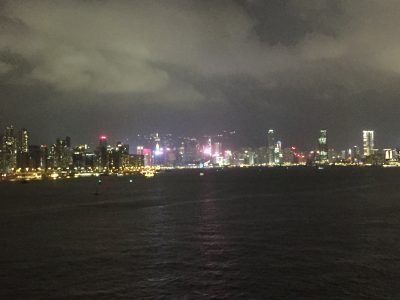 Part Two of our journey involved traveling across Southeast Asia as I'd never done it before: by sea on a Royal Caribbean cruise.
Our ship was set to depart Hong Kong late Sunday evening—a bit different than the standard 5pm sail time for cruises from North America. We piled into two cabs and crossed Hong Kong Island from west to east, taking in that fabulous skyline one last time. The city's new cruise terminal was located, ironically, at the site of the old Kai Tak airport—a spot I'd never landed at, having first arrived in the city almost a decade after it closed down. Tai Tak was unique in having had one long, narrow runway jutting out into the water astride the high-rises of East Kowloon. Having been one of the first airports to welcome the 747 when it was introduced in the 1970s, one experienced a surreal landing between bunches of tall buildings.
Like much of the city, the cruise terminal was cavernous and new… but that didn't stop check-in from manifesting the typical craziness we'd experienced on previous cruises. Part of that is expected: cruise ships hold ten times as many passengers as even the largest airliners, and with all of them vacationers, there's no experience of business-travel efficiency.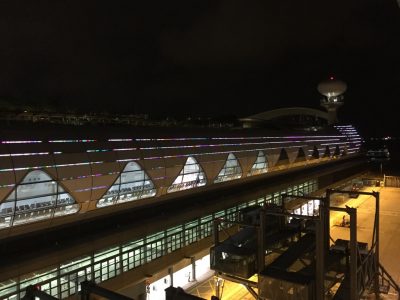 This was especially true this go-round given the late departure time. We stood in one line to check in; another to go through security; yet another to clear Hong Kong passport control; another to drop off passports for arrival visa processing; and then a final line to actually climb onto the ship itself. The days of Jack and Fabrizio hopping aboard the Titanic moments before it set sail in the eponymous film are long gone.
Notwithstanding all that, arrival on the ship made it all worthwhile. As an independent-minded traveler, I'm occasionally put off by the highly orchestrated nature of cruising… but the part that's always done it for me is the majesty and romance of travel by ship. It's no surprise that so much of science fiction, given the vast cosmic distances, tends to depict space travel more like old time seafaring than like the econobox experience of jet flights. I think so many of us long for the days where much of the adventure of travel was the conveyance itself.
Made in Taiwan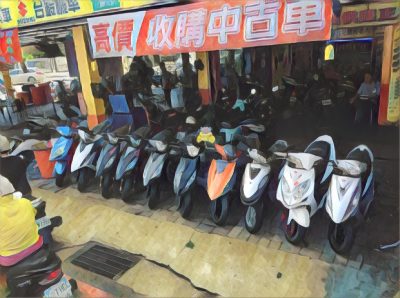 After a full day's sailing the ship arrived at its first port of call, Kaohsiung in Taiwan. I must confess, aside from knowing about Mathew's uncle having traveled there decades ago, I knew pretty much… well, nothing about this place. When I hear the word Taiwan I think "island nation run by pre-Communist Chinese government," and "Taipei, cool big city with one of the world's tallest buildings."
Oh, and one other thing: "Manufacturer of a large proportion of the world's motor scooters, including mine." (It's a PGO, branded in the U.S. as the Genuine Buddy; given its accent coloring we've taken to calling it "Buddy Blue.")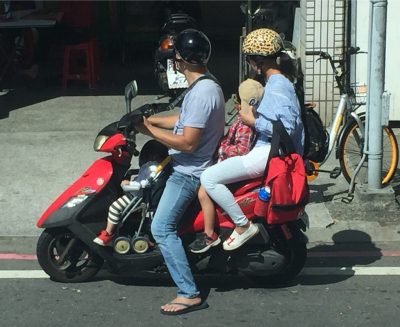 The last of these was immediately apparent: Kaohsiung was positively buzzing with scooters of all shapes and sizes, with anywhere from one to four passengers on board. The spectacle of an entire family out for a ride, children and babies literally in tow, remains one of my favorite moments of overseas travel.
For places that I knew next to nothing about, both Kaohsiung and neighboring Tainan impressed us during our brief visit. With populations of 3 million and 2 million, respectively, both cities would be sizable metropolises back home. It always amazes me how much some parts of the world have changed so dramatically in recent years—particularly Asian Tiger economies such as Taiwan and Hong Kong. Kaohsiung boasts a subway system that's less than ten years old and already has ridership of 200,000 a day; Taiwan also sports high-speed rail that's faster than anything in North America; and both cities seemed spotlessly clean and peppered with a mix of newer and older high-rises. If Mathew's uncle were around today and could come back here, I doubt he'd recognize much of it.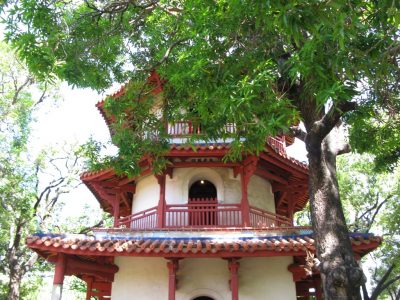 Our bus ferried us to a number of historical spots in Tainan's city core. Our amiable, accented guide explained that the island's had a diverse history, with portions of it having been run by the Dutch, the Japanese (even well before World War II), and the mainland Chinese before the 1949 Revolution.
"We still think Taiwan different from China," he emphasized. Relations between the two nations, even with China's greater free-market openness, remain prickly.
Shrines and Towers and Pagodas… oh my!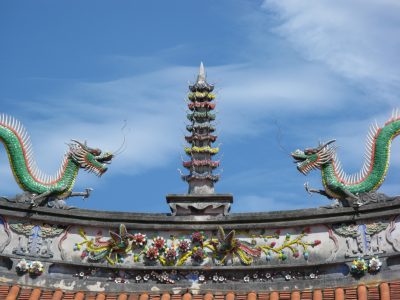 Our first stop was Chikhan Tower, once a colonial Dutch outpost, now a very fetching temple-like structure with well-stocked Koi pond. Given our tremendous fortune in arriving at places over holidays… well, wouldn't you know it, this day was Taiwan's National Day. Shops were mostly closed, and a melodious parade wound down the street across from the Tower. Oh, and the weather: this tropical part of Taiwan normally sees a big cooling off in the fall… but not this fall. We arrived to record high temperatures and humidity, even more so than in Hong Kong. Suffice it to say the air-conditioned bus made for a nice sanctuary.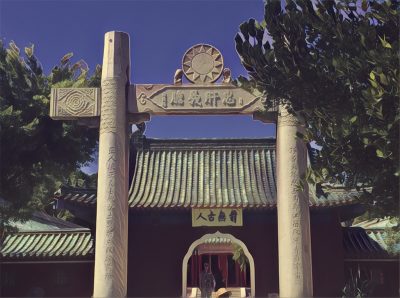 Next up, Tainan Confucian Temple, featuring a tri-shaped pagoda, some rather distinctive looking squirrels (to North American eyes, anyway), and carved dragons atop a swallowtail roof. Our last stop, Koxinga Shrine, had that telltale Disney-esque look of recent construction: as with neighboring Japan, many of Taiwan's historic structures are made of wood, necessitating near-complete rebuilding every century or so. This spot in particular commemorates a military leader who held significant territories in both Taiwan and the mainland in the 1600s.
Cruise Turbulence
Back on board, the ship's usual panoply of amusements awaited us… well, that is, until we bumped up against a trend Mathew and his family have been noticing in their two decades of cruising: as vessels have gotten bigger and splashier, service hasn't quite kept up on all ships. Cruise lines constantly upsell packages for beverages, for high-speed internet access, and for other amenities. In spite of their hefty fees, however, when things don't work out, there's typically no compensation for any inconvenience caused. The new Voom high-speed internet, touted in some reviews as reliable high-speed browsing onboard, was spotty—offering at best entry-level early-2000s DSL speeds. Pricey beverage packages likewise offer no guarantee of availability. Food, meanwhile, which in Mathew and his family's memory pretty top-shelf even on midrange cruise lines like Royal Caribbean, nowadays doesn't measure up to dining options you might find in mid-range restaurants back home. Even the ship's Johnny Rockets, an outpost of the popular burger franchise, didn't compare to its onshore counterparts—or even to the same such spot we dined at on this ship's sister vessel over three years ago. Oh, and the air conditioning in our cabin wasn't operating correctly when we boarded, necessitating a wait for a service call. Ugh.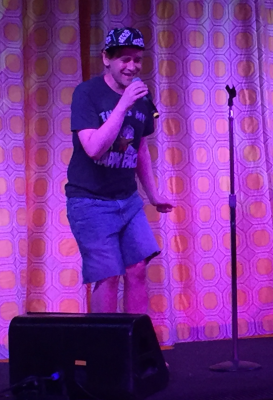 Later that night, we tried to shake off our frustrations with some dancing and karaoke. Mathew sang a Britney Spears tune, natch; I did a Beatles melody. But not long after hitting the sheets, Mathew awoke… feeling like hell. After a full day of misery, we decided to visit the ship's medical center. It had just closed, prompting an "oh shit" moment: is this gonna be another nightmare? Happily not: the ship's on-call nurse came out immediately and assessed Mathew's symptoms. A shot of Odasentron (a.k.a. Zofran) and some anti-nausea pills, and he was feeling a lot better in short order. Having had these identical symptoms before even without any out-of-the-ordinary foods, we suspect he may suffer from abdominal migraines, which are analogous to the cranial migraines I know all too well. Ah, the perils of getting on in years.
In spite of that diagnosis (which likely ruled out food poisoning), the ship wasn't taking any chances: per their protocol, they confined Mathew to our cabin until the following evening. Good thing these were quieter days at sea. One plus: the ship's staff offered up free movies and room service to keep Mathew fed and occupied. Kudos to them there.
Good Morning Vietnam!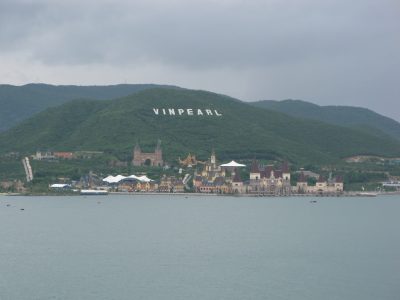 With Mathew back in action, we went ashore at our next port: Nha Trang, our first on this cruise's marquee destination country.
I so wanted to go to Vietnam on my big world trip, but time and timing didn't quite work out. I still got a good sense of that portion of Asia from travels in Thailand and Cambodia… but Vietnam has especially intrigued me for two reasons: one, the obvious, is its checkered history with the United States (and colonial powers before it) as a country that fought hard for its independence and unification; two, it's reputed to have really come into its own over the past couple decades. As part of my research for Wander the Rainbow I read the (really excellent) memoir Catfish and Mandala by Bay Area resident Andrew X. Pham… but it was set over twenty years ago, and depicted the country as something of a challenge for the overseas visitor.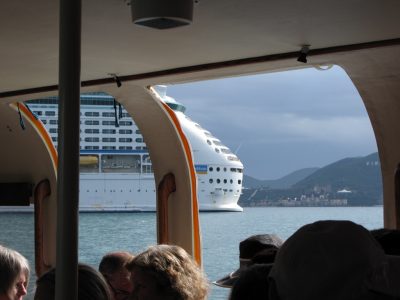 As our ship sailed into Nha Trang Bay, I beheld a theme park—yup, Vietnam's got one too, though not of the Disney variety. Vinpearl, a resort complex, sits on Hòn Tre island, just across the bay from the city proper.
Arrival in this port offered me another new travel experience: shuttling to the mainland via tender. Nha Trang doesn't have a full-size port, so cruise ships must moor offshore and transfer passengers via smaller boats. These are often rented from the port itself, but in this instance we were taken in on the ship's lifeboats. These have come a long, long, long way from the rickety wooden vessels of the Titanic days: they're neutrally buoyant, 150-person motorized mini-ships with rows of seating front to back. As we stepped ashore, a chatty, fortysomething guide reminiscent of our fellow in Taiwan ushered us onto a bus, and we rolled into town.
If I thought Kaohsiung, Taiwan sported an impressive array of scooters, it had nothing on this place: it seemed the whole city was on two wheels; cars and buses were the minority. And though Nha Trang's metro area—itself an amalgamation of several ancient villages—numbers in the half-million range, traffic here made it feel like a much bigger city: loud, chaotic, horns honking every few seconds. A native-born Montrealer, I'm occasionally frustrated by too many unhurried, oft inconsiderate vehicles and pedestrians in California, who often traverse the road unawares, fully expecting—nay, demanding—vehicles to stop for them like Moses parting the sea; traffic in Nha Trang almost made me feel more at home than my current home.
Temples and Pagodas, Redux
Our tour started out with some historic spots… something you don't see too often in beach towns back home. We began at Long Sơn Pagoda, a Buddhist shrine with adjoining big white Buddha statue atop a small hill. Yup, yet another Big Buddha following Po Lin in Hong Kong. We had to don robes and sarongs to enter the place, something Mathew had never done before, and, I'd say, confidently rocked as a look.
Next spot reminded us that, modern resorts notwithstanding, we're in a part of the world that's been settled for millennia: the Po Nagar Hindu temple, dating back to the 700s AD, built by the Champa empire that ruled what is now Vietnam for over 1500 years. Po Nagar faintly reminded me of Angkor over in Cambodia, though the structures here are built almost entirely of low-slung bricks. The buildings and carvings remain, while weathered and faded, as exquisite as anything I'd seen from Rome or Angkor in my past voyages. Vendors out front peddling prickly, odiferous durian and jackfruit added to the effect.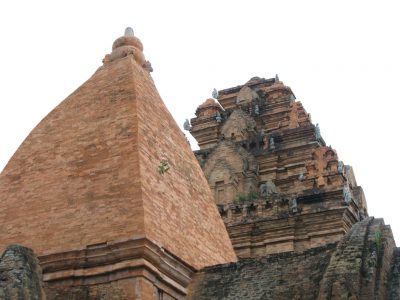 "No mortar!" Our guide exclaimed, noting the unique building processes used to lay the bricks. As a Hindu spot, altars to the usual deities (or their Vietnam variations) were present: Shiva, Durga, and, of course, my favorite, the elephant obstacle-remover Ganesh.
Shop to Beach
A sampling of sights made us hanker for some shopping, and that's just what this tour served up next. We headed to the local city market, housed in a couple of gritty structures that gave us more of a local flavor. The fakes here were actually of better quality than those in the Hong Kong night markets, and we enjoyed picking up a few souvenirs and doing a bit of light haggling—far less stressful here than it had been for me in India or Egypt.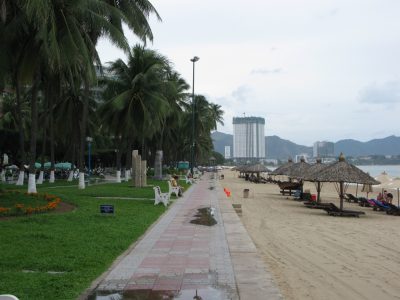 Nha Trang became something of a resort town back in the Soviet Communist days, and Russian tourists still make up a significant proportion of its visitors; we spotted almost as many signs in Russian as we did in English. Our next stop took us to an open-air eatery along the town's main beachfront road, Trần Phú Avenue. As with when I arrived in Bangkok and wondered, "is this Asia or Los Angeles?" Nah Trang's main beachfront drag almost felt like Collins Avenue in Miami Beach, or Ocean Avenue in Santa Monica: a broad boulevard with glorious sandy treelined beach on one side, and clusters of high-rise hotels and apartments on the other. Travel guides may say "this is not a westernized resort town," but don't believe them: we spotted a Sheraton, an Inter-Continental, and scores of other local chains both on and off the main strip.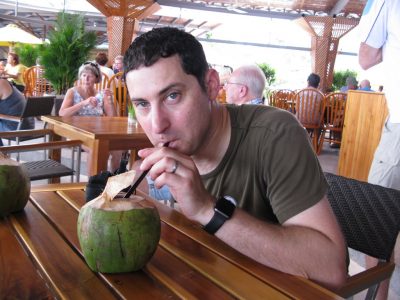 For me, however, the greatest surprise was gastronomic: we made our short stop at a seafront restaurant for coconut water served out of an actual coconut. Those who know me may recall my profound dislike, nay, utterly irrational hatred of the flavors of the tropical fruit. The smell of macaroons is enough to make me retch. I'd even tried some coconut water back in Mexico but couldn't get over that aroma. Even Malibu Rum makes me cringe.
Well… color me surprised, because the ultra-fresh coconut—Mathew's Mom swears it's the freshest she's ever had—actually met with my approval. I sipped it, savored the sweet essence, and, dare I say it, actually liked it. Vietnam might make a coconut convert of me yet (though I doubt I'll ever find a stale macaroon desirable).
Past and Future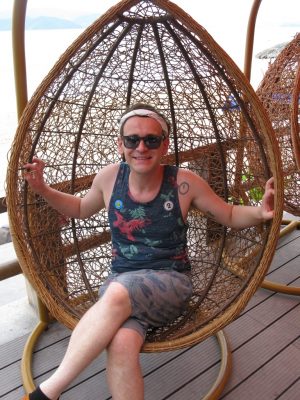 I'd read in Vietnam travel guides not to mention the war, as Basil Fawlty might have put it. Nonetheless, our amiable guide had no trouble discussing those years.
"For first ten years after the war, north and south hate each other!" He exclaimed. "But now, we are friends, and we look to build a future Vietnam together." He emphasized how the Vietnamese pride themselves on their friendliness. Although the country is nominally Communist, the presence of all those hotels and resorts suggests, like mainland China, that they're a lot less hung up on ideology. As a final touch, our guide sang us a song, a lyrical little ditty about Ho Chi Minh and Vietnam. He even got a bunch of us to sing the chorus. The sight of Western tourists singing "Ho Chi Minh / Viet NAM!" was definitely one to remember.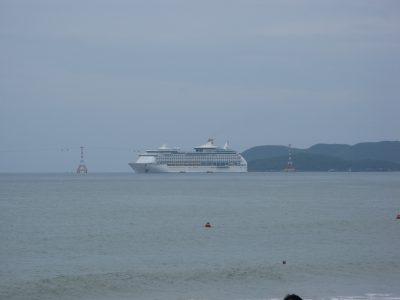 With a fond farewell, we boarded a tender back to the mothership, setting sail for more ports on this coastal nation and beyond.

Tags: No Comments