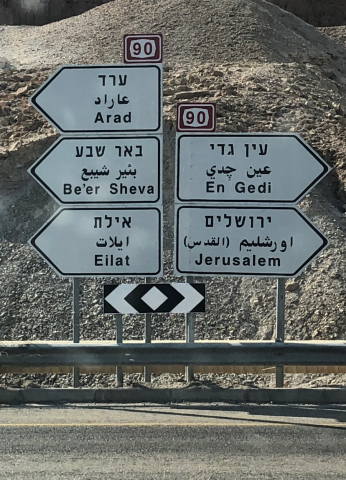 Our band of California adventurers wanted to see more of the country than just its ancient center. With that in mind, we rose even earlier the next morning for the next phase of the trip.
Our guide for this excursion, a wonderfully hippie-ish fellow also named David from Desert Eco Tours, picked us up in a van and drove us through eastern Jerusalem and into a tunnel leading to the West Bank. We got to see up close how the divided country operates: in the 1990s the Oslo Accords laid out a framework for different parts of the West Bank, a swath of territory cut out of old Palestine that had been originally designated for part of an Arab state, then was occupied by Jordan, then by Israel. Some sections were to be exclusively under Palestinian control; others were partly administered by Israel. Obscured by the troubling news headlines is how people live and work under these conditions: it's difficult for many, but an uneasy coexistence nonetheless is in place. From the long line of vehicles waiting in the other direction, to enter West Jerusalem and sovereign Israel, however, it's clear this is a challenging arrangement for many.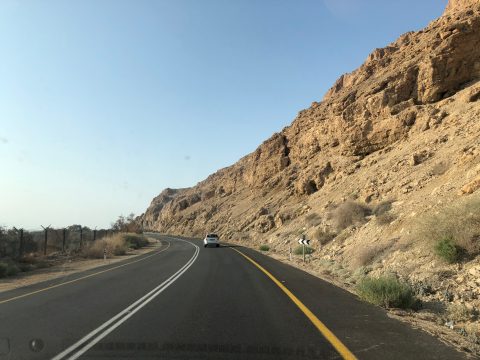 As we left the city, the verdant mountains were replaced by arid, rocky hillsides. The Judaean Desert is a small sliver of the greatest hot, arid region on Earth, stretching from Morocco to India. This particular desert lies in the rain shadow of the Judaean Hills, and receives far less rainfall than points north and west. Flash floods from the mountains, however, periodically inundate the region, running through dry riverbeds known as wadis that are analogous to California's arroyos.
Chasing Waterfalls and Climbing Mountains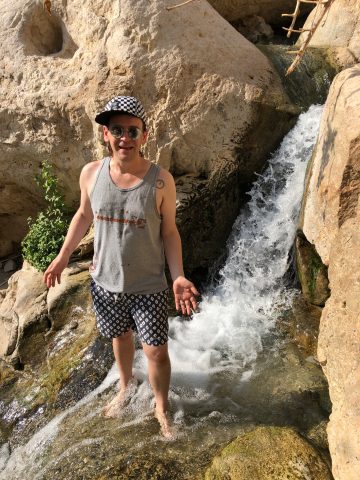 Our first stop was a hillside oasis and nature reserve at Ein Gedi. A mountain spring runs through here, tumbling into cascades of small waterfalls that made for a refreshing morning dip. Ibex and Rock Hyrax—last see by me in South Africa for you dedicated readers—roamed the hills. The air had an almost thick quality: at hundreds of feet below sea level, the lowest spot in the world, the region boasts an atmosphere that's richer in oxygen than at sea level or above.
The nearby Dead Sea, meanwhile, is a shrunken remnant of its former self. Water diversion projects starting in the 1960s have led to the hypersaline basin losing a good deal of its water; many of the beaches I visited as a youth are no longer swimmable, the water having retreated and the shoreline swallowed by sinkholes.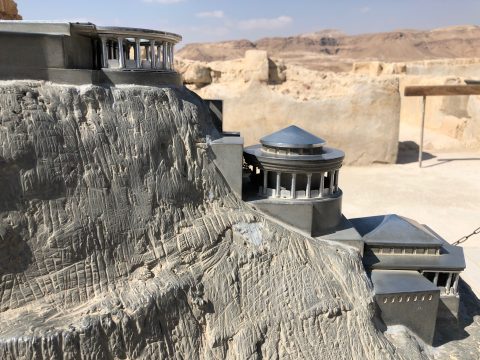 Our next destination, however, involved going up again: to Masada, that is, a mesa-like plateau that's separate from the adjacent mountains. Begun as a pleasure retreat at its mostly-flat top by Roman King Herod, it was also the site of a last stand by Judaean rebels following the fall of the Second Temple. In my youth I remember visiting and taking in the epic TV miniseries starring Peter O'Toole as the Roman general. After lying mostly abandoned for millennia, the place was rediscovered in the 19th century and became a symbol of Jewish resistance following the establishment of the country in the latter half of the 20th century.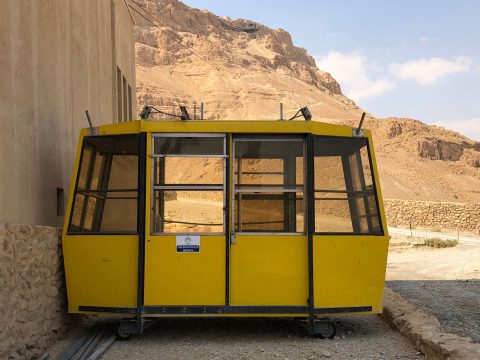 When I last visited, however, my technology-mad younger self thrilled at the ride on the rickety cable car to the summit; that's been replaced by a modern, ski-lift-quality Swiss tramway that whisked us up to the summit in a few minutes. I've often remarked how so many places I'd taken in as a boy seem a lot smaller when I rediscovered them as an adult; not so this haunting place. Its summit some twelve hundred feet above the valley floor and sweeping vistas of the barren desert are as grand and breathtaking as I remember, and are comparable in scale to similar such spots in the American Southwest… though no American mesa ever had a Roman Legion laying siege to it, of course. Pro tip: I neglected to bring sunglasses and regretted it. The desert sun reflecting off the limestone cliffs renders this spot thermonuclear-bright.
Afloat in Briny Seas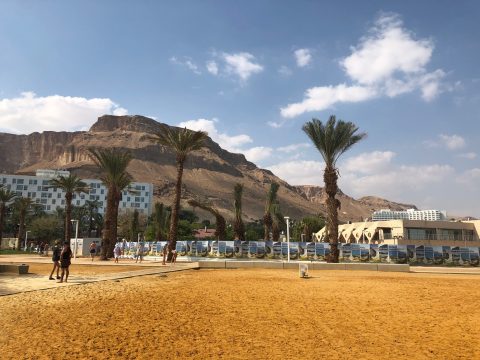 Although the Dead Sea isn't what it was, the southern branch of the ultra-saline lake has been crisscrossed by levees and has water diverted to it by aqueducts to retain its size and composition. This serves the needs of industry to its south, which continues to mine the place for minerals; and for the ever-hungry tourist business, for which a new colony of hotels and beaches in the town of Ein Bokek was largely developed in the 1990s. We made our final stop there for yet another iconic activity of the region: a dunk in the briny waters of the sea.
I remember doing this as a kid and having a grand old time with it; everyone in our party was likewise enchanted. The water's so full of salt and other minerals that it has an almost soupy feeling. Buoyancy is such that the only real way to navigate the waters is to lie on one's back and float. Only challenge: avoid getting it in your face and eyes. The stuff's so inhospitable to life—hence the name—that even small drops of it sting like a mofo. I discovered that the hard way.
Our full day of sightseeing complete, we settled in for a longish drive down Israel's desert highway to the bottom of this long, thin nation.
Relaxation Down South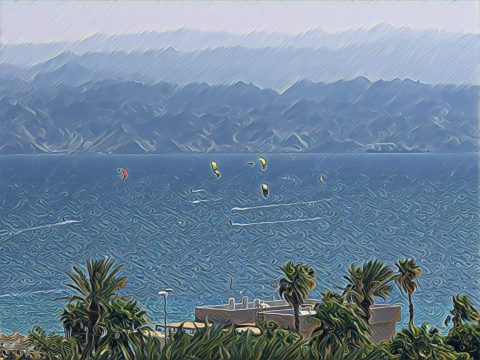 At the southern tip of Israel lies the beach town of Eilat, a place distant enough from the rest of the country even I hadn't been there since the 1970s. Ironically, for a city encircled by Egypt and Jordan—and its own resort towns of Taba and Aqaba, respectively—it's a far mellower place, geopolitically and otherwise, than the rest of the country. Peace accords between all three nations mean the Red Sea region is actually quite navigable, with residents and visitors alike crossing back and forth regularly. All three towns have commensurately seen significant growth and development. In fact, Eilat's little in-town airport has outgrown its capacity, and a new facility, capable of handling robust international traffic, is set to open in a few months.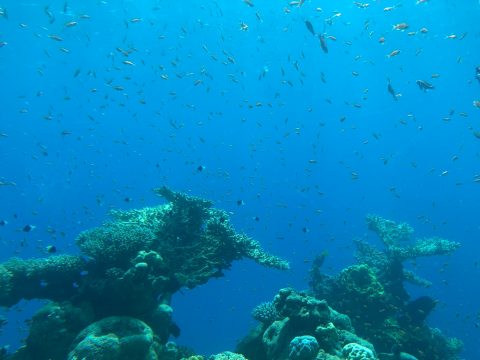 Coming to Eilat also satisfied our passion for a bit of R&R after those hefty days spent exploring. Mathew and I settled in at a resort right by the coral reefs while the rest of the gang opted for a more in-town spot. I've often written of my love of the sea, and on our first day I made good on that: I snagged a mask and snorkel from our accommodations, entered the water… and found myself surrounded by fish. Lots and lots of fish in glorious colors. Eilat sits at the northwestern tip of the Indo-Pacific ocean system, and I had no trouble spotting numerous varieties of the same sorts of sea life I saw in Australia a few years back.
Back to the Med
We continued the chill vibe as we caught a short-haul flight from Eilat back up to the country's center. It's a glorious, short flight to Tel Aviv, recapping some of our earlier drive, before turning westward and landing close to the burgeoning city's skyscrapers along the Mediterranean at the soon-to-be-closed Sde Dov Airport.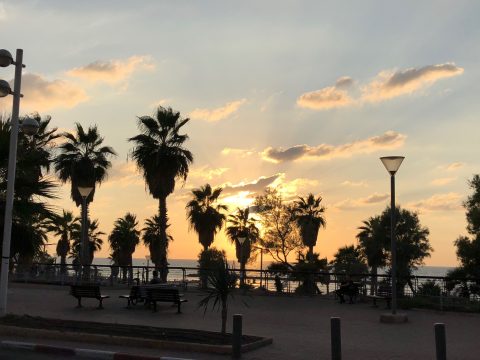 All of us caught a final dunk in the third sea of the trip: the soft sands along Tel Aviv's magnificent beachfront promenade welcomed us into the warm waters of the sea. This was the first oceanic body I'd ever encountered while still a toddler, and coming back here likewise floods me with so many memories.
We closed out Tel Aviv with similar such reminiscences, meeting up with assorted family and friends who live in this small country's biggest metropolis—a place that now compares in population with metro Seattle or Sydney, Australia. About the only hitch was my futile quest to savor the famed Israeli iced coffee, which in years past was served like a float or milkshake with a dollop of ice cream inside. Seems the Aroma coffee chain, which once offered those up everywhere, isn't quite what I remembered. Oh, well.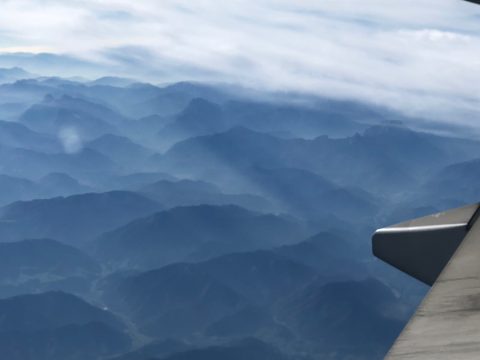 With that, we bade an early-morning farewell to the little country; as I write this, we're winging our way westward—the first time I've made an uninterrupted return trip from Israel to North America since 1977. As we wrapped up this trip of memories new and old, I was reminded of that scene from The Sum of Us, the Australian play-turned-film that was the first LGBT-themed movie I saw as an out gay adult. The accepting father of a young gay man—played by an early Russell Crowe—turns to the camera and says:
"Our children are only the sum of us. What we add up to. Us, and our parents. And our grandparents and theirs. All the generations."
Here's to making ever more sums.
Tags: 2 Comments