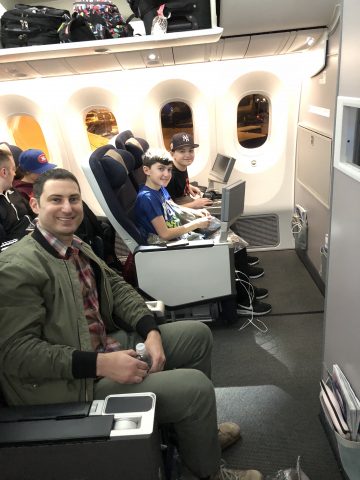 After Mathew's and my successful bit of initial travel, it was time for the big adventure: this was to be the third entrant in my "take the kids overseas at age 12" odysseys… and for this one timing and circumstances dictated mixing it up. For one thing, I had two nephews (from two different siblings) around that age with similar tastes and attitudes. Having two kids likewise made Mathew an integral travel companion. And as for destinations, Jacob and Sam suggested a spot near and dear to our family's heart, having been the place where their granddad, my father, lived and was so strongly influenced by as a teen: Italy.
London Calling
To get there, we hopped a flight on old reliable: British Airways, who by this point have hauled me back and forth across the Atlantic innumerable times over the past decade. In fact, this very flight from Montreal to London — which due to Montreal's northeasterly position is one of the shortest on the carrier's North America roster — is the same one that took me and both these kids' moms to London for the very first time some three decades ago. Although they're considered a midgrade carrier in the international airline derby of "who's the best," their service has always impressed me, especially in comparison to the legacy North American airlines. Both British this go-round and United on our overnighter to Orlando offered same-day upgrades. The British one, however, even only as a bump to Premium Economy, still far outshone United's offering on practically every level.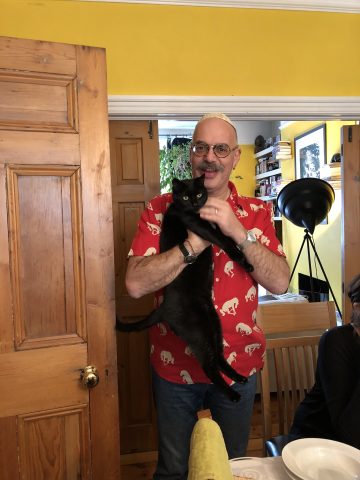 After clearing Heathrow's fiendishly long immigration line, we popped on the Heathrow Express (still the fastest and most economical way to get to Central London, even with four people), dropped our bags at our accommodations, and tooled around town a bit. It was chillier on this outing that it had been the last bunch of times I've been to the British capital: like North America's Northeast, Europe's had a pretty substantial winter, with sizable snows in London and flooding of the Seine in Paris. All that was double incentive to head northward (and indoors) for a fabulous home-cooked lunch care of our family's historic friends — the Lightmans. Sydney, patriarch of the clan, turned 94 that week and still seems as crisp and with-it as he was when he first showed us around London thirty years ago. It's been almost five decades since my twentysomething Mom stayed at their home and was encouraged to call back that man with the funny-sounding name. In all the years of hearing my clan's origin story I'd never quite connected how much a product of the then-new Jet Age my parents' union had been; I guess it makes sense that it's spawned generations of new world explorers, and the ties that connect them, across the globe.
Added bonus: one of the Lightman clan had a black cat whom I saw a few visits ago; this time I got to meet another one, David and Kate's elderly Freddie, who also seemed impressively spry for his age. Hopefully our Khaleesi back home will age as gracefully.
Pisa Surprise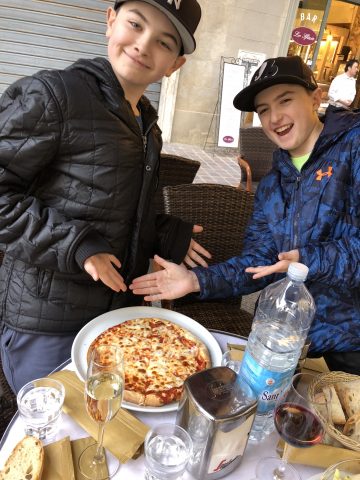 Next morning we headed southeastward… but not the way we'd expected. I'd initially booked an over-the-top rail journey across Europe, Eurostar-ing it to Paris then to Italy by overnight train, sleeper cabins and all. Alas, the French industrial strikes mucked with our plans and canceled a number of our rail connections. But hey, one good thing about Europe: travel options are abundant. We managed to score pretty good last-minute fares to Tuscany's largest airport and stay overnight somewhere we'd only planned to do as a side day excursion: Pisa.
Score one for the serendipity of travel. Although I'd heard so-so things about Pisa the town, we quickly grew to love it: glorious Tuscan feel, with eave-roofed orange-hued buildings framing narrow, winding streets overlooking the same River Arno as Florence. We found all the food options we'd been seeking (the boys are big fans of pasta and pizza); I even kicked off an Instagram Gelato Olympiad to see which city and gelateria would offer the best frozen, creamy concoction. Right out of the gate, Pisa made a strong showing at the two spots we visited.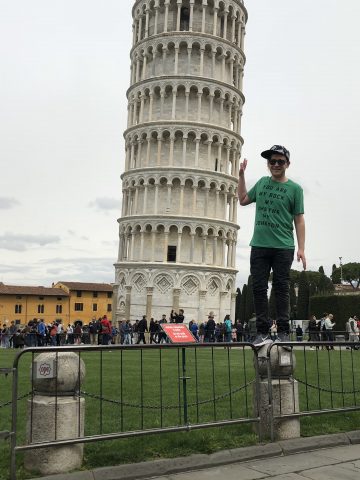 The town's main attraction is impressive in its own right: originally intended as the city cathedral's bell tower, the 900-year-old Leaning Tower is a striking, many-arched white structure soaring into the blue Tuscan sky. I didn't make it here on my big world trip as I'd been mistakenly led to believe that climbing the tower was no longer possible. That was indeed true in the early 2000s, when the tower's increasing lean was stabilized; now, climbing the off-angle steps is a delight so popular that we had to snag timed tickets for it in advance.
As with so many "touristy" destinations the world over, I always go in asking the question: "Does it still have the magic that drew people here in the first place?" The answer from all four of us was an unqualified "yes." From the oh-so-obvious photos of us "holding" the tower in forced perspective, to the glorious views of the town and surrounding hills, Pisa's Tower was definitely worthwhile. The same holds true for other spots in that main cathedral square, all great examples of medieval Tuscan architecture.
Florentine Family Ties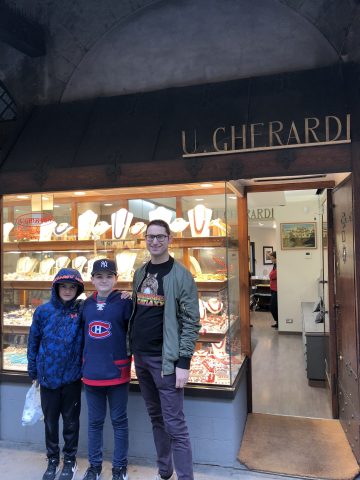 From tranquil Pisa we hopped a local train inland, to Tuscany's biggest destination and home to our family's paterfamilias in his younger days: Florence. Although a modest-sized place these days (under 400,000, though with a metro area of 1.5 million, about the size of Salt Lake City), its bustling train station gave us the impression of a much larger place. Once again, however, as travelers in during the busy Spring Break holiday, we encountered crowds the likes of which compared with those at Disney parks.
Nevertheless, we were determined to take a walk down memory lane: we headed for the Ponte Vecchio, visiting Ugo Gherardi's jewelry shop. Now ten years older than when I saw him last, Ugo himself was there and happy to see us — and especially proud to encounter two of the grandchildren. Here, again, there are connections going back generations, as both Ugo's grandfather, and my grandfather, the boys' great granddad, had known and done business together. We bought a few gifts to mark our visit, and got some great views of the famed bridge. We've all seen medieval bridges with buildings built on on them, but it was Mathew's and the boys' first time actually walking on one.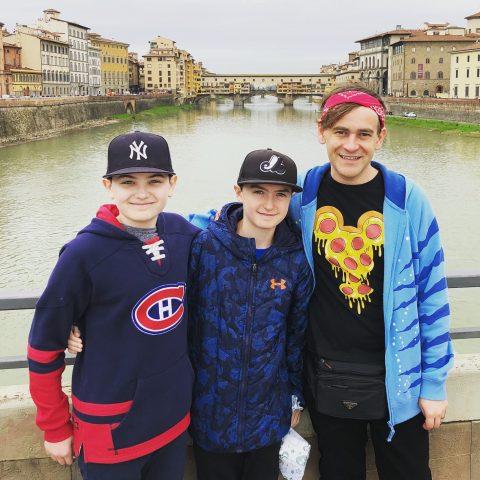 Nearby lay another bit of family history. My Dad's family ended up in Italy almost by accident. They were living in Shanghai, China during World War II, and apparently my grandfather had done some secret business with the Italian underground. Consequently, they were given entry visas to Italy and decamped for there in 1947. My grandparents settled in Rome and sent my Dad to school in Florence. He was only a couple years older then than Jacob and Sam were on this trip now, so we could only imagine the vivid, rich experiences he must've had in this city as it recovered from the depredations of war. He went to one of those expat schools, Miss Barry's on the Via Dei Bardi. It's no longer a school these days but the building still exuded that institutional feel tempered by its Tuscan glory. We could only imagine fourteen-year-old Leon cruising the narrow streets on his moped back in the day.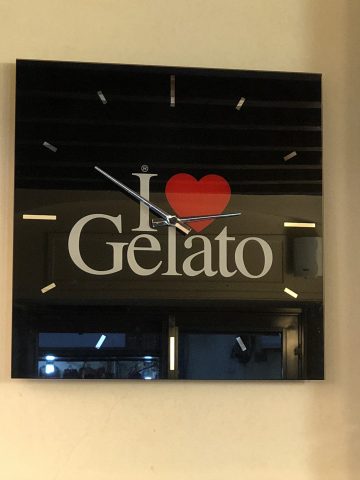 While Florence remains glorious and is still something of a center in Italian life, one thing became apparent in our time there: with the throngs of tourists clustered at all the big attractions — we couldn't get near the Cathedral or climb its clock tower, though we did get a good peek at the Medici Chapel in spite of a surly ticket-taker who, in true Italian fashion, spoke only Italian —the place somewhat disturbingly reminded me of my time in Venice a decade ago. I find when places lose their relevance in the present (as Venice has) but remain popular with out-of-town visitors, they start to resemble theme park versions of themselves. Nothing wrong with that — I retain a fondness for the artistry of Renaissance masters and Disney Imagineers alike. But when real-life places lose the hum of the everyday, I find they rob the visitor of a certain authenticity as well. For that reason, even with the family connection and all that glorious art, we found Pisa — a living, working college town in addition to a moderate tourist spot — to be a more enchanting place than Florence.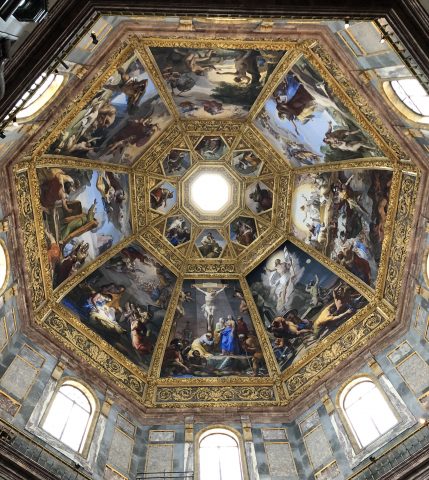 Plus another detail: in our ongoing Gelato Olympiad, Pisa still managed to nudge out its bigger Tuscan sibling, at least for the places we visited. As we packed that last night in Tuscany, we wondered what we'd be in for at our next and busiest stop.
Tags: No Comments