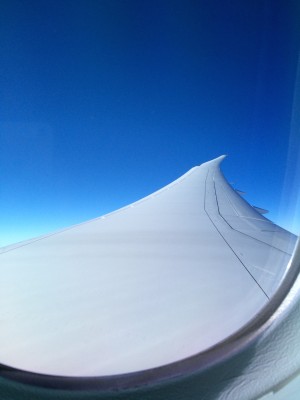 Following the success of my trip last spring with my nephew Jackson, I'd plotted a reprise for the next of the next generation: my niece Lola, oldest of another of my three sisters. A part of me, the ever-superstitious part, worried: would it work? Could I take two different children, offspring of different siblings, and expect similar results?
We arrived at Montreal's airport on a surprisingly quiet Sunday night; though it was still Spring Break time it was also Easter Sunday. Having suffered through the misery of a sleepless airplane ride in a middle seat last go-round, this time I opted to pay a nominal fee for an upgrade to British Airways' premium economy service, World Traveller Plus.
Well, that was worth it: Not only were seats more spacious in this cabin, but we were also flying on one of the airline's brand-spanking new 787 aircraft that have become quite popular on "long thin" routes such as Montreal, Philadelphia, or Austin to the U.K. Big, widescreen in-seat TVs, an upgraded meal, and extra-tall windows added to the experience. We both managed a few hours of sleep on the flight over.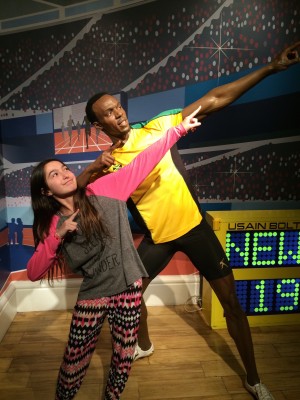 Our hotel – same as the one last year, the Lancaster Gate – had a room ready for us on arrival, so we took a quick nap then headed out in the afternoon for a preliminary reconnoiter. A bit of a stroll down Oxford Street to indulge Lola some of her shopping passion, then a trip to one of London's more kid-friendly touristy spots that I'd missed last year: the iconic Madame Tussauds.
Malign it though people sometimes do, the legendary wax museum holds a special place in my heart: it was the first stop on my first trip to London as a lad some (gasp!) thirty years ago. Well, the place has changed a lot, incorporating no shortage of Hollywood razzle-dazzle: a London history ride a la Disney; an Avengers 4-D CGI flick in the old planetarium, and (of course) a hefty dose of waxworks of the rich and famous. The place was packed, but, as with so many spots worldwide that see large crowds, it handled the throngs efficiently. A perfect place to take a young 'un on that brain-fogged, jetlagged first day in this great city.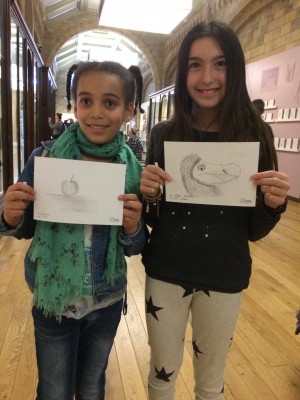 Next morning was sunny and glorious as we crossed Hyde Park into South Kensington. We enjoyed a splendid meal of crêpes (one of Lola's and my favorite foods) before meeting two members of our family-friend Lightman clan, Joy and Bella. With Joy a few years older than me, and Bella a few younger than Lola, everyone had lots in common. Skipping the ever-present queues at the Natural History Museum, we flashed our timed ticket for a special coral reef exhibit. Bella and Lola, accomplished artists both, drew some remarkably proficient renditions of what we'd seen; after, we enjoyed the nice weather with a stroll through the museum's butterfly exhibit and the wildlife garden just outside.
As I discovered in past travels, London's culinary diversity has long banished tired clichés of flavorless British fare. However, even I find myself surprised by the city's offerings. Like, who knew this city had a Chinatown? Well, Joy did, and took us to one of its old-school dim sum joints. Amid red-painted walls and paper chandeliers we feasted on a variety of bite-sized dishes. Food-adventurous Lola found everything to her liking, right down to the Chinese tea. Heck, she even outdid her klutzy uncle in her use of chopsticks.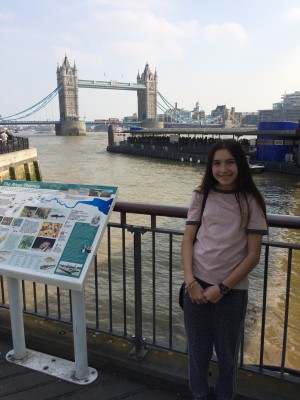 Next morning was a struggle for us both getting out of bed – jetlag persisted, and Lola's more a typical human than her cousin Jackson, who seemed to thrive on something like five hours of sleep a night. We hauled ourselves by Tube across the city to the Tower of London, reprising the Beefeater tour I'd done last year. Only difference? It felt like half of Europe (and North America) has descended on the city and its eponymous Tower. Our tour group filled the place up, and the line for the Crown Jewels seemed to stretch halfway across the Thames. So we did what flexible world travelers do and gave it a miss, instead checking out the suits of armor in the iconic White Tower and browsing in the gift shop for charm bracelets and other goodies.
Passing the Monument to the city's Great Fire, we hopped back on the Tube and headed north, to Golders Green, for yet a bit of personal family London history: a visit to the elder Lightmans, who are looking well and proceeded to ply us with goodies and old family photos from get-togethers of years past.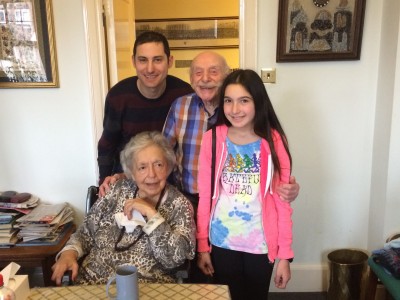 A quick bit of shopping on chock-ablock Oxford Street, then a quick-change act at the hotel for our evening activity: a bit of West End theatre.
First things first, though: a bite of pre-show dinner. Given that our musical was playing right around Covent Garden, I figured there'd be oodles of spots for dinner nearby. Oh, there were, but seemed the rest of the city had the same idea: place after place sported long lines, and we were barely an hour from showtime. Ugh. I was having visions of us sitting through a 2 1/2-hour spectacle with rumbling stomachs. Happily, a nearby "Italian-style tapas" place, all done up with arty lighting and walls made of wine corks, had availability, great food, and speedy service to boot. Heck, we even had time to squeeze in a pre-show gelato (chocolate, of course).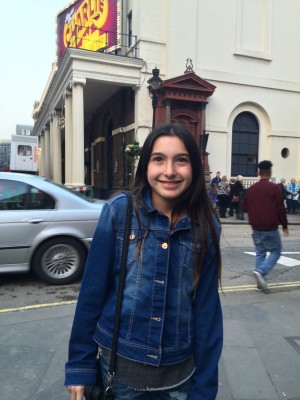 Cacoa was the theme of the evening, in fact, as the musical in question was Charlie and the Chocolate Factory. This rendition's been put together by Hollywood heavyweights, director Sam Mendes and composer Marc Shaiman. Lighter in tone than the book or the more recent movie, it proved a perfect fit for Lola and me (chocaholics both, natch).
Our final day in the city was a predictably full one: we headed across the park once more to the museums to meet a second set of our family-friend clan – this time, the museum was the Victoria & Albert.
Lola and Susan (older sister of Joy, whom we'd hung out with two days before) got on famously, as the two inspected the sizable collection of historic jewels, fashions and glassworks in the museum's massive collection. We were there for a couple of hours and I think barely scratched the surface of the place. One highlight, a motif in so many of my travels across the globe: the museum rotunda's entry chandelier by renowned Seattle artist Dale Chihuly.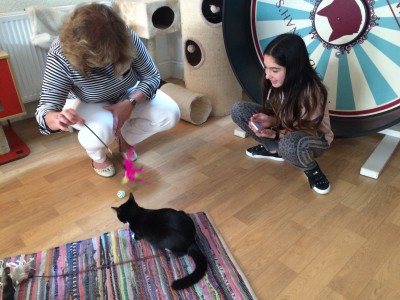 After that, a Tube ride across town to Bethnal Green for what for me has become the highlight of these travels: a rendezvous with feline-kind at London's first (and, so far, only) cat café.
The two-story establishment in a storefront on Bethnal Green Road more closely resembles its cousin across the Channel in Paris that I'd visited last spring: a sit-down eatery where cats and humans commingle in a shared space. In North America regulations mandate separation between food and animals… but are also more permissive on the cat-rescue front, allowing cafés to double as adoption centers. Best part: hot chocolate with cocoa cat faces sprinkled on top. Second-best part: a cat treadmill used extensively by one of the felines to get some afternoon cardio. Hey, girl's gotta stay in shape.
Heading south again, we arrived at the Thames to catch one of the numerous river buses that ply the waterway, serving as both commuter transit and tourist attraction. We alighted just south of Westminster for our afternoon activity and (we hoped) perfect finale for our time in this city: the London Eye.
We'd already snagged tickets to this event the other day, and were hoping to breeze past the queues and get right on. We were even more hopeful when the lady at the counter said the magic words:
"You've gotten the last two tickets for the four-thirty entry."
A glance at Lola's watch revealed that was just fifteen minutes away. Perfect, I thought… until I glanced at the ticket and saw that the time was in fact… five thirty. A halfhearted apology from the counter clerk and a mammoth queue for the attraction left us both feeling rather disheartened. Now what?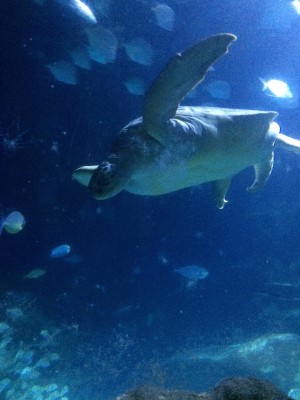 While both blue about it all, Lola, fast acquiring the improvisational skills so vital in world travel, pointed to a nearby spot attraction and said, "how about we go there?"
The London Sea Life Aquarium didn't seem like much on first glance: clustered amid a row of other tourist traps, I had visions of some dumpy little spot that, like so many zoological establishments, cared less about its creatures than about its hefty entry fees. Well, never say never: the place was one of the better aquariums I'd seen, featuring huge, elaborate tanks with truly impressive specimens. Best part: oodles of information about conservation of endangered species, including the Aquarium's own efforts at rescue and rehabilitation. To commemorate the spontaneous visit, Lola got herself a glitter tattoo (temporary, of course) of her favorite sea creature, the seahorse.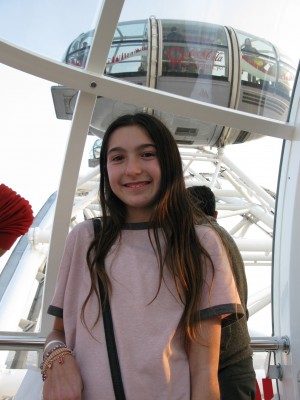 The line had subsided some as we returned to the Eye, and we boarded rather speedily as the sun sank lower on the horizon. The orange, late-afternoon light gorgeously lit up the cityscape as our Eye capsule rose slowly over the river and the Houses of Parliament. As with so many popular tourist spots worldwide, this place remains massively popular for good reason. Lola professed a fright that was shortly eclipsed by wonderment as the view transfixed us all.
The day ended with a final, lovely surprise: my old pal Michelangelo, a.k.a. "Renaissance Man," who proved so instrumental in my big world trip, was in town and met us for a tasty Middle Eastern meal on London's center for such spots, Edgware Road. We caught up on our travels and relocations of the past years (which for him included a stint in India); Lola even managed to give him a life coaching lesson or two.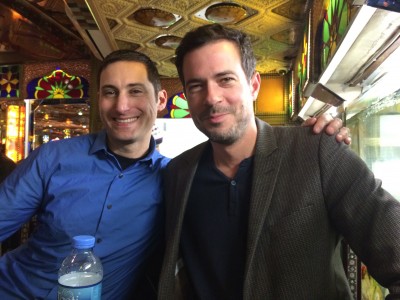 It all made for a fitting end to a return to one of my favorite cities: new spots, old favorites, reunions with old friends… and, of course, the reason for it all: another of the next generation of world travelers.
Tags: 4 Comments