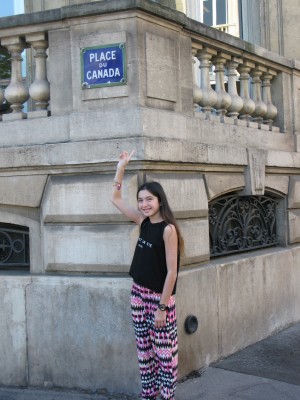 As with my trip last year, Lola's twelfth birthday present included a visit across the Channel. Lola and I began the journey between Western Europe's two largest cities with the fastest, most comfortable way there is: by Eurostar. The speedy train rocketed us from London's St. Pancras to Paris's Gare du Nord smoothly and punctually. Emerging at street level from the Metro near our accommodations, Lola had the same reaction I did all those years ago on my big world trip:
"It's so beautiful!"
I firmly believe that, for maximum effect, one must not only travel by rail to Paris but also immediately submerge into the Metro and only emerge on some gorgeous Paris thoroughfare (read: most of them) and be appropriately wowed.
It was mid-afternoon when we arrived, perfect for an easing in to the city the best way a girl (and her gay uncle) know how: a bit of shopping.
We ambled over to the Champs Élysées, where Lola did her thing, finding trinkets and apparel enough to whet her appetites. I needed nothing as I came prepared for the weather: it was nice enough in London, to be sure, but it was absolutely magnificent on the Friday afternoon we arrived in Paris. We crossed the Seine as the sun was going down and geared up for fun times in this incredible city.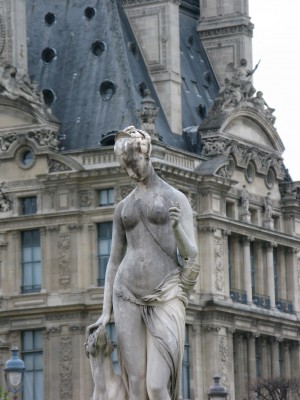 Next morning dawned cloudy and cooler – a reminder it's still early spring here in northern France. Nonetheless, we crossed the Jardins des Tuileries and stood in the moderate but not impossible line for security at the Louvre. To pass the time under the ominous skies, Lola recounted to me a couple of ghost stories she'd heard at summer camp; I myself have memories of hearing such tales as a lad, and remember them scaring me more than I let on.
The treasures inside blew the gloom away for a spell, however, as we took in the usual big stuff: the Mona Lisa ("it's so small!" Lola remarked, a familiar refrain for first-time visitors to the art world's supercelebrity); the Winged Victory of Samothrace (beautifully restored since my last visit); and the ever-armless Venus de Milo. Lola also took an interest in the archeological excavations of the original medieval Louvre castle that had bewitched her cousin (and me) on initial viewing.
It was chilly outside still, and a bit of a walk to our next attraction, so Lola pointed to a conveyance waiting on the street and asked, "can we take that?"
She was pointing at a bicycle rickshaw, one of many that can be found in tourist centers the world over. I normally shun such vehicles as they feel somewhat exploitative, but our driver seemed amiable and the price wasn't too terrible, so why not? We headed across the Pont Neuf (Paris's oldest standing bridge), then up to Île de la Cité for the Gothic monster at its center: Notre Dame cathedral.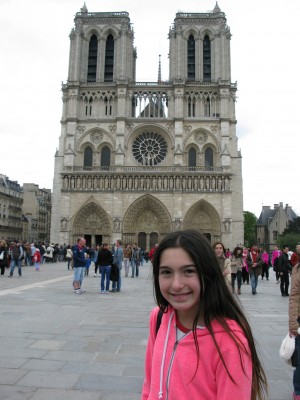 The line here was long as well, but it moved quickly and we were soon inside the cavernous structure. Lola found the stained glass windows remarkable ("I made one at camp!", she remarked, though no doubt not quite as ornate), and did some more gift shop browsing. Afterward, we hopped over to the next island in the Seine, Île Saint-Louis, for its modern-day Parisian treasure: Berthillon ice cream at a café next to the fabled scoop shop.
It had begun to rain and, sadly, the weather change was playing havoc with my head. Call it the by-product of aging (and heredity), as over the past couple of years my occasional headaches have mutated into full-on migraine attacks. One was poking at the sidelines on this moody Saturday, but as we headed back through the rainy streets it got worse and worse. We went for a brief dinner nearby, but by that point my head was pounding like a jackhammer. We returned back to our hotel… to discover we'd left Lola's bag back at the restaurant. We scurried back, amid her earnest apologies (no bother, really: it was minutes away, and heck, if I had a dime for every time I'd done that before).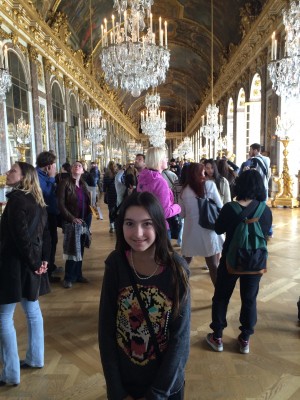 On our return I switched off the lights and cradled my pounding head. After a short while I emerged… to find Lola herself quite perturbed. It was nothing more than a brief pang of homesickness (and her own fears from those ghost stories she recounted earlier); we talked through it all, and it actually turned out to be bit of a bonding moment for us both. We soon hit our respective pillows, slept soundly, and emerged rested (and migraine- and homesickness-free) the next morning.
Meanwhile, the sun and warmth had returned, so off we went to a suitably summery place: the warm-weather abode of King Louis XIV, just outside town, the Palace of Versailles.
The throngs had descended on the Grand Apartments, but that didn't stop us from marveling at the over-the-top elegance of it all: King's Bedchamber, Queen's Bedchamber, Hall of Mirrors… Lola drank it all in.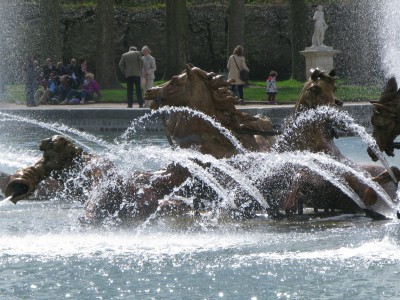 But what really blew us both away were the gardens. Last time I was here was on my big world trip, on a moody October afternoon, and the gardens were lovely but muted, subdued. Now, in the April sunshine, with trees in bloom, the place came to life. Best part: musical accompaniment, featuring period-appropriate Baroque melodies, piped in throughout the gardens. Better yet: these melodies synchronized with the fountains that I've so longed to see switched on. Once more, Lola put it best, what with music, fountains and all, "it really sets the mood!"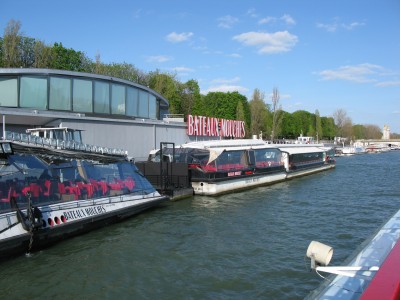 We headed back on the RER commuter train, then continued our outdoor explorations: we boarded one of the Bateaux-Mouches for an hourlong tour of the city along the River Seine. The near-perfect weather, magical architecture, and clusters of people sitting along the city's perfectly-sculpted riverbanks made for a most epic early-evening ride.
Next morning we rose early for a reprise of a military-style operation: a vertical assault on the hulking steel structure nearby, the Eiffel Tower.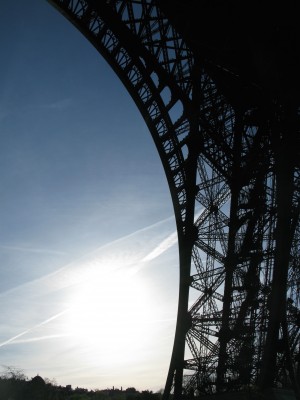 We arrived at the base about an hour before opening. Fortified with some take-away coffee and pastries, we encountered a line of barely a couple dozen people ahead of us — though not long after we showed up, the line quadrupled in length. Chatting amiably with a couple from Connecticut (and their baby boy) who were on assignment in Brussels, we watched the Tower staff open the place up for the day. At 9:30, the gates opened up, and we were in the first-level elevator minutes afterward.
We transferred to the smaller elevator at the core of the structure and rose smoothly to the top through the steel latticework. The view was even clearer than last year, and Lola gasped in awe as we beheld the broad blanket of Parisian avenues and mansard roofs stretching to the horizon. As I'd found with so many hugely popular attractions the world over, this one – if you time it right and minimize your wait – makes your effort eminently worthwhile.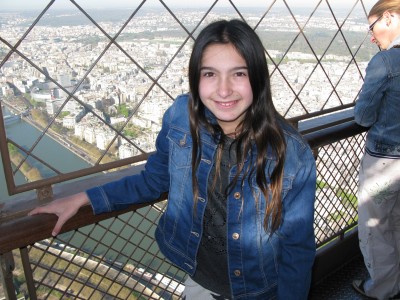 Last year the first level of the Tower was being remodeled, and this go-round we were able to savor the fruits of this initiative: glass walls and floors offer a view of the serpentine lines below; a small theatre shows film of the tower through history, including those amazing fireworks they shot off for the Year 2000 celebrations. Realizing that these took place three years before my travel companion's birth made me feel decidedly, uhm, chronologically enhanced.
From old landmark to new: we hopped on the Metro westward, just out of the city to the close-in suburb of Neuilly-sur-Seine, to visit a stunning new modern art museum designed by star architect Frank Gehry: the Fondation Louis Vuitton.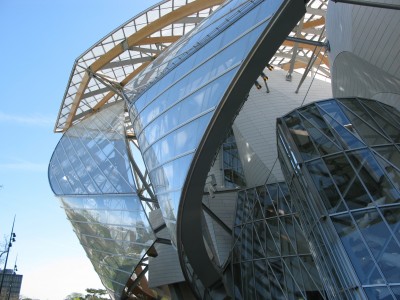 Predictably, the building was Gehry's usual eye-popping mix of glass, steel, and wood in curvilinear shapes. Somewhat less predictably, for us at least, was that the rest of the city's museum-hungry visitors seem to have had the same idea: a long line wended its way through the park into the museum, many with white parasols to guard against the bright sun.
"If you go into the park and pay the admission for it, there's no waiting!" explained a guard to us in French. Right he was: for three Euros a pop, we gained access into the Jardin d'Acclimatation, the gardens next to the museum that date back to Napoleon III, and discovered a couple of automated ticket machines for the museum with only a few people in line.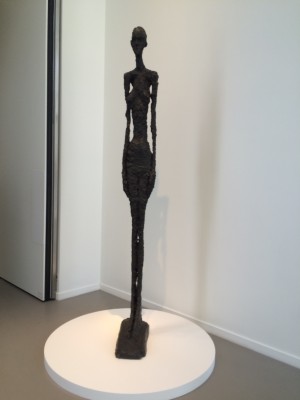 As one of the world's top tourist destinations, Paris and its better-known attractions are no strangers to crowd control. Well, the same couldn't be said of this fetching new museum, whose staffers seemed overwhelmed by the throngs. First they allowed small napsacks into the place; then they did not; then they prohibited smaller items from their cloackroom as it had gotten overfilled with bigger items. Stern guards stood surly watch over some rather testy patrons. I can only hope that, as the years go by and this facility becomes more ingrained into the Paris scene, it learns how to handle the mobs as well as its counterparts across town.
Fortunately, the exhibits themselves were beguiling: though we didn't make the Orsay on this go-round, the Fondation offered up respectable surrogates: some Picasso, some Léger, some Matisse, some Monet, a bit of Giacometti… even one of Edvard Munch's The Scream… about which Lola remarked: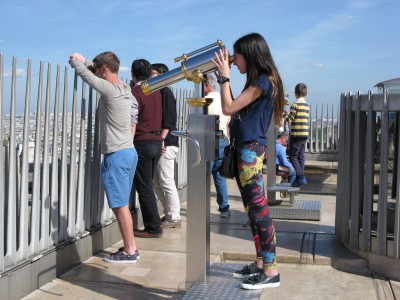 "Did you see the version of this one where it's Batman and Robin behind the screaming man, and there's a Bat symbol in the sky?"
As a child of a post-modern, high-culture/low culture generation myself, I can appreciate.
A nice bite of lunch at a nearby café, then off for a different perspective on the city: alighting back at the Champs-Elysées, we did a bit more shopping then strode to the Étoile for a spiral-staircase romp up the Arc de Triomphe. Here again, glorious views – and though not quite as high as its towering cousin nearby, the Arc offers one advantage: you can see the Eiffel Tower from it.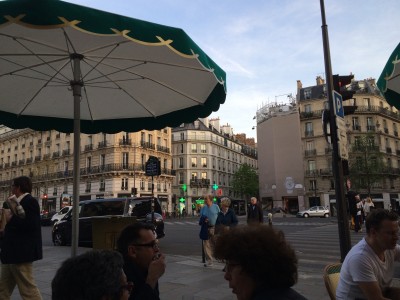 For our final dinner in the city, we took a recommendation from Lola's Mom and headed over to nearby Saint-Germain-des-Prés to the Deux Magots. It was the nicest evening of the trip so far as we took in the vista of St-Germain Square, with its shops, galleries, and medieval abbey. We chatted about life and family and cities and such, as people often do during that contemplative final evening of a big trip. Afterward, we strolled past the boutiques of St-Germain back toward our accommodations. As we reached the park of the Champ de Mars, we beheld the lit-up Eiffel Tower just as its twinkling light show was starting. I'd never seen the sparkle-fest up-close before; it bewitched and beguiled us both as we strode slowly away, back to our hotel, on our final night in this wondrous, magical City of Light.

Tags: 5 Comments