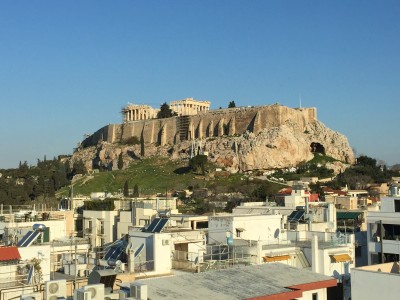 Like Istanbul, Rome and Jerusalem, the word "Athens" brings up a host of legendary associations: ruins of ancient civilizations; Mediterranean weather; and dirty, modern-day hustle and bustle. Having hit the previous three cities in previous and current travels, I wanted to see how things compared in the ancient and modern capital of Greece.
I was equally curious given recent events: while the global economic crisis had its Ground Zero in America, its shock waves took a while to ripple across the globe. They hadn't yet quite reached Europe's shores on my big 2008-2009 trip, but now, almost seven years on, they've been the focus of a fight between Europe's big-dog nation, Germany, and its hapless debt-plagued counterpart, Greece. I'm not enough of an economics expert to know just what is going on, exactly, but the narrative is that years of Greek profligacy have led to the nation's near insolvency – threatening their exit from the Eurozone and a crisis in the EU overall.
So on top of all that culture and archeology, I was curious to check out what times were like in the capital city of Europe's economic bad boy.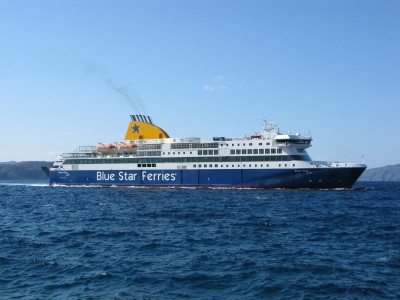 Although I wasn't able to take a ferry from Turkey to Santorini, taking one back to Athens proved eminently doable. Ferries in the Med have gotten a bad rap lately, what with the Norman Atlantic last year and the Costa Concordia in 2012 (though the latter was a cruise ship, not a ferry). So I did my homework: the ship that now plies the route between Santorini and Pireaus (the port of Athens) happens to be a recently launched, Korean-built vessel that had gotten stellar reviews.
I arrived at the ferry port in Santorini to find a much busier place than the off-season island would suggest. As the Blue Star Delos piloted itself into port, I waited with gaggles of foreign tourists and Greek locals before clambering aboard. As with the mammoth ships in Ireland and New Zealand that I'd taken in my past travels, this one had multiple garage decks for cars and trucks as well as space for passengers.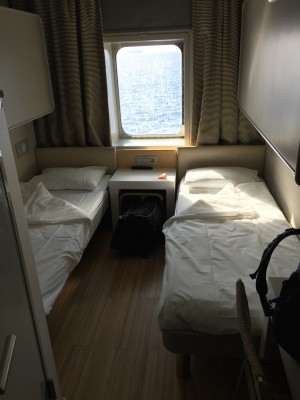 As I rode the escalators to the main deck, any worries about this being a sketchy conveyance evaporated: the ship was at least as nicely fitted out as the cruise ship I'd been on last spring. I even spluged an extra €50 for a private cabin – not strictly necessary as this wasn't an overnight journey, but for an eight-hour sunset trip it made for a stellar sanctuary.
As the ship approached Piraeus, we were ushered into the cavernous garage decks to disembark; as we began to dock, ramps descended in a blaze of warning sirens like something like an invasion force or a sci-fi craft on an alien planet.
I had one final work day left in this trip, but beforehand again managed to engage in a morning recon of the city. Unlike sprawling Rome or Istanbul, Athens' modern center is compactly organized around the hills of the Acropolis. I strode through Plaka, the tourist district nearest the historical monuments, and found a charming collection of narrow neoclassical streetscapes; the place looks recently fixed up, with the odd splash of quite creative graffiti here and there. Spotless, new trams rolled down larger thoroughfares.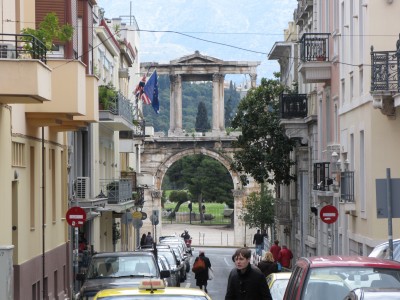 As I headed northwest, toward Syntagma Square and the shopping district of Omonia, I saw a bit more grit – and the odd cluster of protestors. But it definitely felt safe, energetic, decidedly southern European in all the best ways. For a place in the grip of a massive economic depression, things seemed shockingly, refreshingly mundane.
Next morning at breakfast, my goal for the day presented itself from the top-floor terrace of my hotel: the city's star attraction, the Acropolis.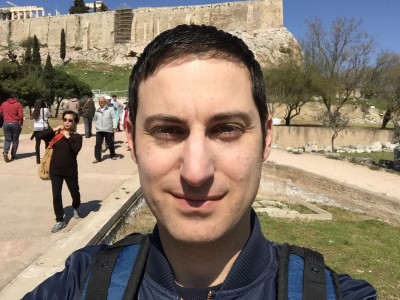 Another similarity with Rome, Istanbul, and Jerusalem (and my current hometown, San Francisco): Athens is ringed by mountains. The Acropolis's 500-foot outcrop has been a citadel for millenia, though it only took its current form in the Classical Greek era. As with many ancient monuments, it's seen its share of damage and looting through the ages – from a gunpowder explosion in 1687 from when the Ottoman Turks used the place as a weapons depot, to British Lord Elgin making off with its frieze in 1811 – to this day the "Elgin Marbles" still reside in the British Museum in London.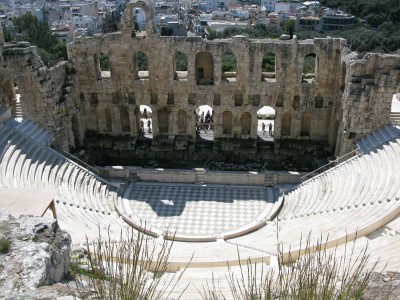 I've mentioned before how ruins often leave me uninspired: a pile of rubble seems like so sorry a way to commemorate the architectural and engineering achievements of past civilizations. Likewise, the Acropolis is notorious for its huge crowds; at times I'm actually okay with that – as I wrote when I visited the Colosseum in Rome, places that were designed as gathering spots feel right with even today with large herds of visitors.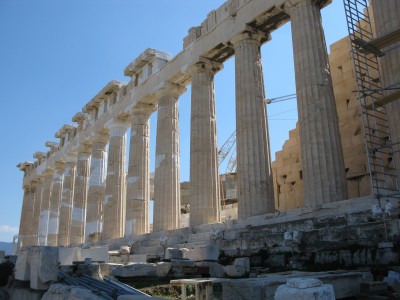 Well, I'd say the effect here was about halfway between the Colosseum and the Sistine Chapel – where, when I visited, loud packs of tourists had to be repeatedly shushed by guards; the temples of the Acropolis were places of religious activity, and while I'm no big practitioner of such, I can appreciate the aura of serenity and contemplation they offer. Plus, for me, Greek deities have a double significance: I totally dug Greek mythology in my youth; also, for sci-fi nuts, their appropriation in the Battlestar Galactica franchise left me wondering if the Cylons were going to show up during my visit (thankfully, no).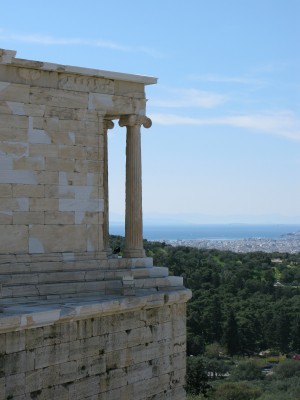 Climbing the hill, past the Theatre of Dionysus and the Odeon of Herodes, I followed the crowds into the grand hilltop entrance – and beheld it in its partly ruined glory: the Parthenon.
Maybe it's just fame and aura talking, but the place blew me away. The chattering tourists faded and I was able to focus on the grandeur of the temple. I was heartened to see that it and surrounding structures are the subject of significant restoration works; heck, if it was up to me I'd build the place back to the way it was in the time of Pericles, statue of Athena and all.
Afterward I strode down the opposite side, toward the neighborhood of Monastiraki: more fetching 19th Century narrow streets lined with eateries and souvenir shops offering some rather creative T-shirts for sale.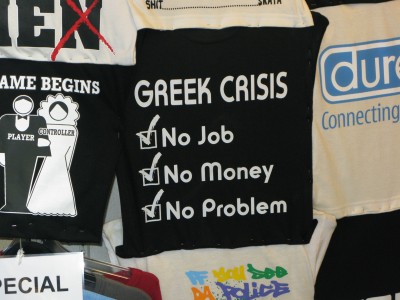 Although older than Tel Aviv, Athens bears some similarity to its Israeli neighbor across the Med: it too is a revived city of relatively recent lineage. The place was under the thumb of the Ottomans for centuries, and relations with Turkey, though improving, remain prickly (item of note: there are no mosques to be seen anywhere in the surrounding cityscape). Only in the last couple of centuries has Athens regained some of its ancient-era stature, though even today it's a significantly smaller place than Paris, London, or post-Ottoman Istanbul.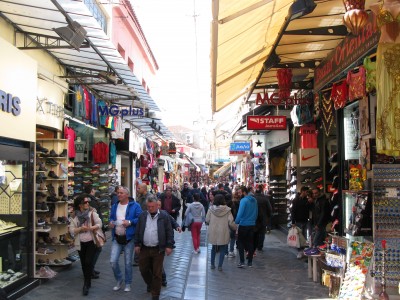 Still, it offers its own charms: the flea market, where I strolled before having lunch at a rather good café near the Temple of Hephaestus (how many eateries can make that boast?) echoed the back streets of Kadıköy in Istanbul; the graffiti here is at least as creative… even finding its way to the odd railcar on the city's tidy Metro system. It too is a relatively new expansion of an old rail line from Piraeus, and is now roughly equivalent in size and ridership to the system in my native hometown, Montreal.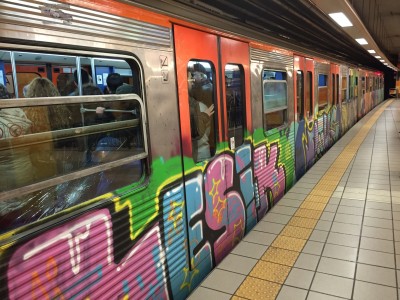 After dark, I opted to head off the tourist path a bit and walk around Makrigianni, the residential neighborhood southeast of the Acropolis. Here the Tel Aviv analogy was especially apt, with mid-rise apartment blocks fronting narrow streets… again presided over by the occasional cat. Plus, for €5 I managed to snag a tasty take-away meal that would have been triple the price in neighboring Plaka.
Having seen the city's marquee attraction, I figured I should learn more about it: next morning I headed over to the new Acropolis Museum, a modern, somewhat severe-looking edifice lying just yards away from the base of the great outcropping. Underneath its glass and steel walls lie ruins of ancient Athens; in this regard, this city differs slightly from Jerusalem, Rome, or Delhi, all of which had been repeatedly sacked and rebuilt throughout history, always in a slightly different spot. Ancient Athens was always right here – surrounding the Acropolis itself.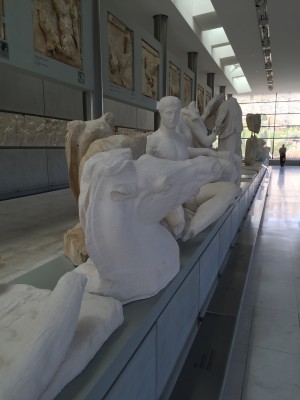 But why? I wondered. Well, the answer lies with water: as with ancient settlements throughout the Mediterranean basin, Athens began in a secure spot with access to fresh water – which just so happens to be the Acropolis itself. Only later did the hilltop become a place of worship and communion with the Greek deities – and stayed that way right through the Roman period; unlike so many places of conquest and destruction, the later empire across the Aegean doggedly retained, and even enhanced, the Greek capital as a center of learning and culture. I guess that's why they call it "Greco/Roman."
I've never been one to spend days upon days in art and antiquities museums inspecting every detail of this or that artwork or artifact. So, evading the legions of bored schoolchildren being lectured by myriad docents, I sleuthed out one modestly-marked attraction on the map: the virtual reality theater. Cool. I was having visions of 3-D movie re-enactments of temples in ancient days. I strode across the building, past what looked like some kids' play area, into the theatre, where a show was already in progress. No prob, I figured; I'd just wait for the next showing.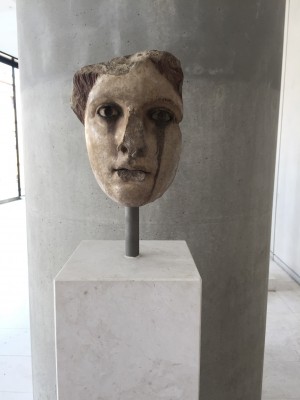 "What do you want!?" snarled a young, scruffy museum official who'd followed me out of the theatre. Whoa, dude. I asked him when the next show was taking place.
"There are no more showings today! Only at 11 and 12!" he barked. Glancing at the crowd, I noticed more schoolchildren – looks like this was designed as a kiddie attraction, probably to retain the attention of those inattentive youths I'd seen upstairs.
It was a minor incident at best, but something about it rattled me. The hostility, the rudeness… I can appreciate and accept that not all cultures interact identically; that Yankee-style friendliness isn't the norm in other places; and that likewise, English is not the mother tongue in these parts. But still, I can't help but wonder if this museum's ambassadors to the world couldn't have gotten at least a little briefing on globally-accepted manners.
I continued my wander of the city back past the Greek Parliament – and here, too, it was all business: a marching-band military processional of some kind. On side streets, I spotted the odd police paddy wagon and rifle-toting officers; didn't seem like any protests were happening but looks like they weren't taking any chances.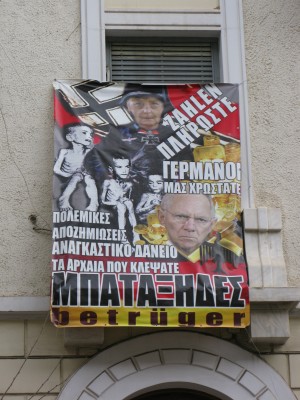 A stroll through the leafy National Gardens and up the hilly streets of the upscale Kolonaki neighborhood proved something of a tonic… until I came upon it: a poster on an apartment building across from the German Embassy. On it, a Swastika and a picture of German Chancellor Angela Merkel dolled up in military garb.
Yikes.
Obviously, it's ludicrious to make a connection between one random rude museum docent and the political ramifications of what I was seeing… but then I thought back to Israel and its oft-surly customer-service scenarios, and wondered if I'd been sensing the tip of a rather turbulent socio-political iceberg. This place looks and feels like a dynamic, lively southern European capital, to be sure… but there's something unhappy lurking beneath the charming narrow streets and historic relics.
I continued my meander uphill, reaching the underground funicular that climbs the slope of Mount Lycabettus. A mixed crowd of locals and some visitors made it clear that this spot is on the radar, to be sure, but not to the degree as other attractions a short distance away.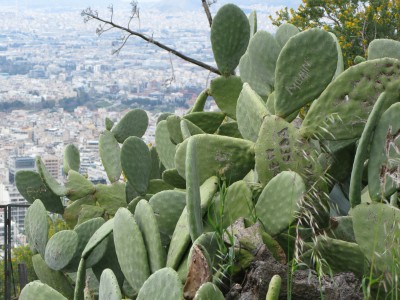 Stepping out of the funicular clinched it: the hordes don't know what they're missing. The Acropolis gets the glory for its historic and archeological past… but Lycabettus, the highest point in the city, is a wonder, unfurling a glorious, mystical panorama of the city like nowhere else. Like Mount Carmel in Haifa, Victoria Peak in Hong Kong, or Twin Peaks back home in San Francisco (which is almost exactly the same height), this spot floats above the masses of the city's apartment blocks. In the hazy distance I saw the sea and ships of Pireaus, where I'd made landfall just a few days ago.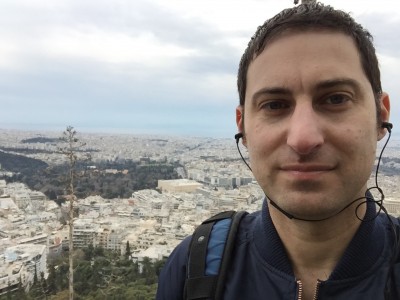 This urban Mount Olympus is crowned by a small quintessentially Greek Orthodox chapel, and a modern-day amphitheatre to do its ancient counterparts on the Acropolis proud; the place has hosted numerous latter-day pop performances. An ethereal blend of succulents and flowering plants cover the slopes. I wandered down the meandering path back to Kolonaki, played the Imagine Dragons song "On Top of the World" on repeat, and felt the jarring scenes from earlier in the day simply melt away in my brain.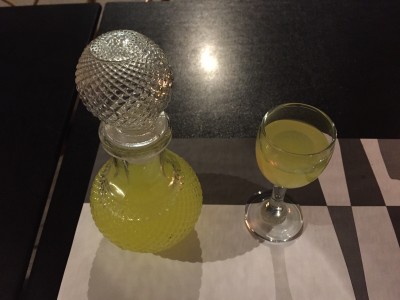 After dark I wandered the streets of Plaka one last time. The Acropolis was lit up, jewel-like, on the hilltop above. Although I often obey the "five block rule" about restaurants near tourist spots, I broke it this time… and was richly rewarded. I had a fabulous final meal in Athens, accompanied by warm, receptive service and a complimentary Limoncello as a digestif. And all within view of the Acropolis Museum where I'd encountered that surly docent… proving again that, in travel, as in life, there really are no absolutes.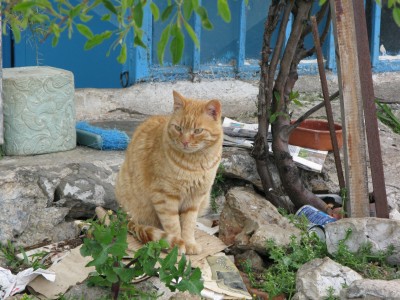 My morning departure from Athens held one final treat: having ridden the speedy, reliable Metro in from the city, I stood in line at security behind a young Russian fellow traveling with his family – and their cat. He hauled kitty out of her crate and walked her through the X-ray – just as I'd done a number of times with my Khaleesi (though, alas, not this time).
Seems the cats of southern Europe and the Middle East, who'd been ever-present throughout this trip, were gently guiding me back home.

Tags: 4 Comments