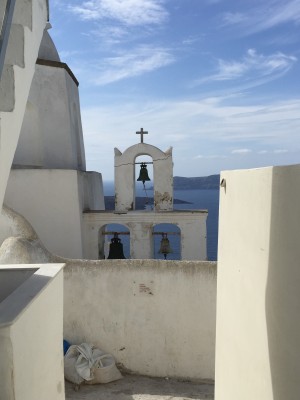 Santorini is one of those ludicrously photogenic places featured in innumerable travel magazines, feature films, and (I'm told) Greek fashion shoots and music videos. I therefore have been determined to include it on a jaunt around the Med, and this trip proved the opportune time.
I'd hoped to hop a ferry to get there, either from Istanbul itself (nope, too far – would have required a cruise) or from one of Turkey's southern cities. Alas, a scour of travel websites yielded practically nothing until later in the season. So a plane ride it was, with a change in Athens, just as I'd done to get to Ko Phangan in Thailand from Cambodia back on my world trip.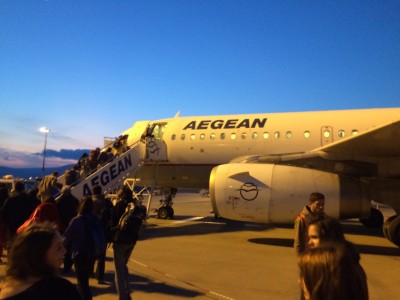 Comparison with the Thai islands is apt: both they and the scatter-pattern of craggy dots in the Aegean Sea are big destinations for sun-seeking Brits and northern Europeans. Indeed, the brief flight to the island was packed… though the crowd onboard featured a surprising number of Americans as well as tourists from outside Europe. Interesting, I mused, though I didn't think much of it at the time.
I arrived at my accommodations, one of those gorgeous cliffside cavelike structures hugging the top of the mountainside in Fira, Santorini's main town. It was a cool, quiet evening, with shuttered shops lining back alleyways; in the distance, lights of other islands towns twinkled in the distance. As the sun rose the next morning, I saw it from my windows: a small peak jutting out of the Aegean waters, surrounded by the semicircular island. Santorini is in fact the caldera of a collapsed volcano that erupted some 3,500 years ago; it apparently led to the downfall of the Minoan civilization – and some say it's the legend that inspired tales of the lost city of Atlantis.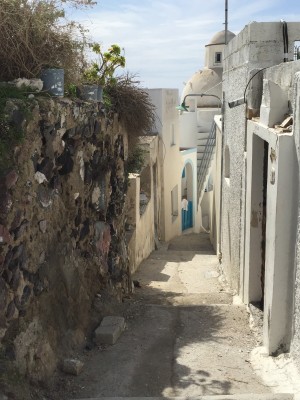 Well, on a windy, cool March morning, Atlantis remained as quiet as the night before: most shops remained shut during the day, and only small scatterings of visitors were to be seen. Most of the folks out and about were locals – laborers busily repainting and remodeling in preparation for the summer season.
Then it hit me: Santorini's off-season is really an off-season – more like, say, the Hamptons near New York than the beaches near San Diego. Points to consider: Europe's freakishly high latitude, made possible by the warming effects of the Gulf Stream, means its climate is milder than it would otherwise be (to wit: Montreal and Marseille are almost at the same latitude). This at times misleads me to think of the Continent – at least its Mediterranean bits – as mirroring California's coast. However… not all Mediterranean climes are created equal: whereas, say, Santa Monica can count on daytime highs between 65°F and 75°F practically year-round, that's not as true of locales in the actual Med, a much smaller body of water than the mammoth Pacific. Here, seasonal swings are greater, even right by the sea.
So that explained the missing Brits, and general emptiness of the place overall. Santorini in mid-March is chilly. Its famed winds made it feel even colder than Istanbul. I'm told the converse is true here in summer, where it can reach 40 °C (over 100 °F) – almost unheard of along the American West Coast but no doubt a godsend to sun-starved north Europeans.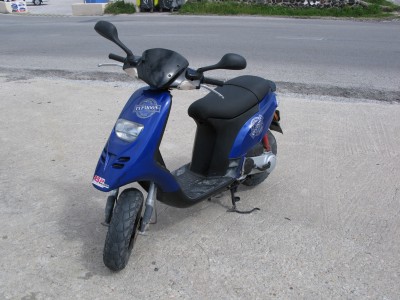 Nonetheless, I opted to brave the elements, renting a motor scooter to do some exploring. Riding south, I took curving mountain roads down to the island's ferry port. Aside from a small freight vessel, the place was likewise deserted… and that's when my scooter chose to die.
Crap, I thought. Fumbling around in my pockets, I located the receipt from the rental place and gave them a ring; a few tries with the manual kickstarter thankfully did the trick, and I was on my way. Another reminder this was the off-season: the thing looked like they'd just hauled it out of storage (though it behaved quite nicely the rest of the day, thank heavens).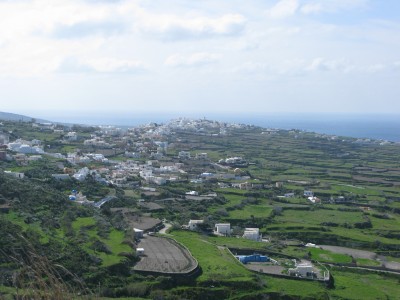 Braving blasts of wind that would do Chicago proud, I headed north to the island's tip. While the inner rim of the island hugging the caldera is mountainous, the outer parts are verdant plains: I looked over beautifully terraced farms leading out to blue seas. In the distance, some of the other islands of the Cyclades chain were visible; it was easy to see how humans of early history settled these islands one by one, forming one of humankind's first civilizations.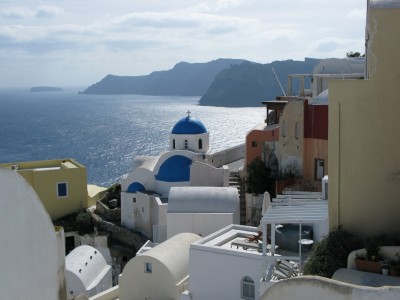 Meanwhile, my destination lay perched in the distance: the town of Oia (pronounced "EE-ya"), another clifftop settlement, this one blanketing the island's northwesternmost point. Fira is pretty, to be sure, but Oia is the place dreams are made of: a dense thicket of whitewashed buildings tumbling down the cliffs toward the azure sea. Here and there, blue-domed churches added vivid splashes of color. Here the peace and quiet of the off-season was a blessing: the town was magical, bewitching, everything those travel brochures advertised and then some. Like a number of other spots on this journey, Oia has catapulted to what is now an increasingly crowded roster of my Most Beautiful Spots On Earth.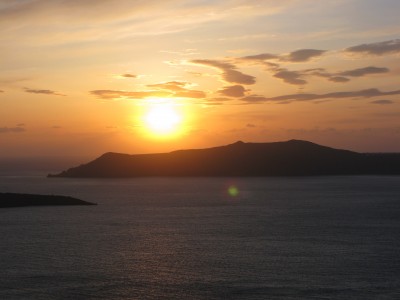 But surely, I wondered, a place like this didn't just spring, fully-formed, as a photogenic tourist destination. Actually, its history has a thing or two in common with Valparaíso, Chile, a city I'd visited almost exactly six years ago which also sports a Mediterranean climate and structures climbing steep hillsides. Both were good-sized 19th century port towns – in Oia's case, as a stopover point on the trade route between Russia and Egypt. Most of the fine structures – now repurposed as hotels, shops, and restaurants – were once the homes of mariners. Alas, as with Valparaíso and the opening of the Panama Canal, the arrival of steam and the growth of Athens' port of Pireaus hastened Oia's decline; it was only in the last few decades that the place rebirthed itself as a holiday destination.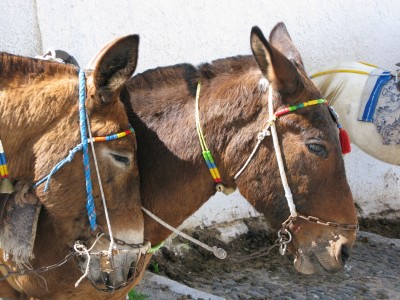 Over the next couple of days, I joined my local counterparts, and rolled up my sleeves to do more remote work; ironically, being in a vacation spot during a quieter time made for a perfect productivity enhancer – to say nothing of having a killer view of the blue Aegean. The weather improved some on my last day on the island, so I opted to hit a couple more spots before I was set to head off.
Although the new ferry port is some ways away from Fira town, the old port, where some boats still alight for caldera tours, lay just down the hill from where I was staying. I walked down the winding paths, dodging the odd pile of manure and paying my greetings to the beasts responsible for them. Yes, mules, donkeys, and horses are still used on the island to haul sacks of goods up from the old harbor. Meanwhile, anchored in the harbor, a filmic reminder: one boat named "Melina," same as the Bond girl in the set-partly-in-Greece film For Your Eyes Only.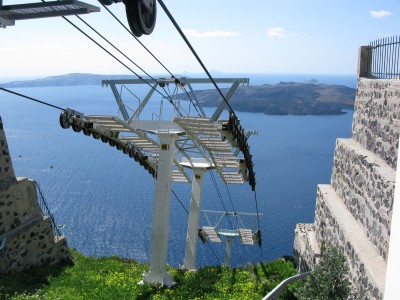 Reaching the bottom, I opted for a higher-tech conveyance to climb back up: the Santorini Cable Car – really more a chain of ski-lift-type gondolas – was said to run only a few times a day in the off-season… but luckily one of those times was mere minutes from when I stopped in. The elderly lift operator ushered me and a family from Vancouver into a cabin, and up we went for the brief journey up the mountain.
From there I hoofed it over to the town's Prehistory Museum. Well, sort-of prehistory, as it mostly featured artifacts from the island's Minoan-era past… but the effect was nonetheless spectacular: astonishingly vivid, beautiful ceramics and frescoes from Akrotiri, the island's onetime center circa, oh, four thousand years ago. Archeological work here in past decades has corroborated that the island's volcanic eruption was indeed what toppled the Minoan civilization… though no confirmation on whether this was in fact Atlantis. A part of me chooses to believe it was: a place this stunning would have made a perfect spot for a lost civilization to set up shop… only to ultimately, mysteriously disappear beneath the waves and winds.

Tags: 4 Comments