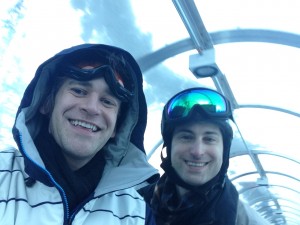 In 2013, my life changed in a number of very big ways.
The biggest shift, I'd say, was when a new man entered my life… which, course, begged the obvious question: what'll it do to my status as Inveterate Solo Traveler?
Well, only one way to find out: as a Christmas gift, I booked Mathew on a trip with me to a well-trodden (for me) but mostly undiscovered (for him) place: the Colorado Rockies.
I hit on a way for both of us to enjoy our collective passions: I'd snowboard some of the time; he'd go in for more earthbound diversions – cooking/food blogging (baking at high-altitude was something he'd always been curious to try), plus some time at a local day spa where I'd snagged him a gift certificate.
Getting there involved the usual mix of efficiency and chaos: a daredevil car service driver in an SUV dodged traffic to SFO by mountaineering over a freeway exit on the 101 to get to the airport; our flight was packed with the usual range of vacationers taking to the Rockies; the rental-car place at the Denver airport was a morass of families milling about as uniformed agents ushered them into waiting vehicles. Driving to the mountains after a full day of work, a two-hour plane ride, and adjustment to elevations above 5,000 feet left us exhausted and headachy as we checked into our ski condo on Friday night. A part of me worried: will my first big vacation with a new partner be a disaster?
Well, a good night's sleep cures much, and I arose the next morning (with the help of a triple-shot coffee drink) to experience something I never thought I'd see in the United States: the ability to purchase cannabis products legally for recreational use.
A number of episodes in Wander the Rainbow involved drug use — something that raised a few eyebrows, but had become (recreationally) routine to my formerly straight-edge self. All that doors of perception stuff actually rang true to me when I first experimented with various substances in years past. While I acknowledge addiction is a very real problem, I've failed to see the point of criminalizing such behavior.
It's been remarkable to watch American society gradually come around to this point of view: Colorado — and, soon, Washington State — are the first places to actually legalize the sale of pot after almost 70 years of prohibition. Suffice it to say, that was part of my motivation for coming out here to check it out. And so, bright and early on Saturday morning, I headed over to the Breckenridge Cannabis Club right on Main Street to check it all out.
Legal weed isn't cheap: substantial taxes levied on it, coupled with strong demand, has pushed the price to double that of the medicinal stuff. Still, it was so gratifying to walk in and purchase openly and legally, just as I had in Amsterdam some five years ago on my big world trip. I asked our "budtender" if there had been any negative fallout from this landmark change.
"Yeah, we had one guy with a fake ID a few days ago," she said. Something my sisters used to do to get into clubs in their teens back home in Montreal, I thought.
With, uhm, necessities taken care of, I walked Mathew to his spa appointment, then headed up on the lift (our rental condo was walking distance to both) to explore Breckenridge.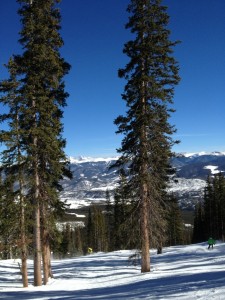 The Colorado Rockies, with sun-soaked, lower-latitude, high-elevation bases (Breck's at 9,600 feet) don't possess the same dizzying vertical drops or above-treeline acreage of the European Alps. However, they offer similar rugged terrain and some of the driest, fluffiest snow around. The peaks of Summit County were where I'd first learned to snowboard a decade back, and it had been awhile since my board had touched their slopes. Breckenridge specifically was a draw, as the resort had just opened up vast swatches of new terrain, including intermediate-level trails from peak to base. The experience, for me, was a satisfying blend of old and new, as I beheld the Tenmile Range that Breck sprawls across from new vantage points, while also reliving the first time I'd stumbled onto the Peak 9 chairlift strapped into my then-virgin board.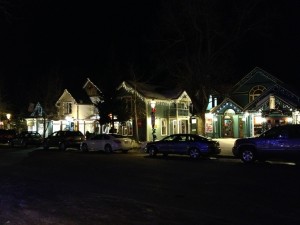 Breckenridge is one of a number of historic mountain towns that just happened to abut slopes offering a just-right combination of steepness and snow to make skiing ideal (Aspen, Telluride, and Zermatt are other examples). Like those other spots, Breck has an air of exclusivity about it… but unlike most of them, Breck's also managed to retain something of a youthful, grungy, fun-loving vibe. My ride-mates on various lifts up the mountain discussed hopes for a "Stoner Bowl" (the Denver Broncos versus the Seattle Seahawks in the Super Bowl); bedroom activities with girlfriends the night before (a bit TMI for me at two in the afternoon, but hey, why not?); and overt admiration for my youthful countenance (and somewhat younger boyfriend).
"The Coug!" shouted the two drunk guys with whom I'd just shared a gondola.
Oh, Breck, I smiled. How I've missed thee.
Saturday night we opted to hit up the town for a bit of dinner and shopping. Mathew's a highly-creative vegetarian chef, which in a way facilitated our choice of restaurant: the fondue joint right on Main Street proved a good pick. Slightly slow, European-style service (the place is owned by some Belgians these days) but truly delectable melted cheese and (what else?) chocolate fondue for dessert.
A longer slope day for me on Sunday was punctuated by some home-cooked meals. Mathew had taken control of the condo kitchen and cooked breakfast, lunch, dinner, and a next-day's breakfast to boot. His high-altitude experiments (all delicious) are to be found here on his food blog. The experience of coming home, after a day spent riding the slopes, to a boyfriend's cooking was a new and marvelous experience I certainly hope to repeat.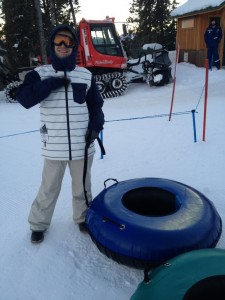 One goal on this trip was to include Mathew on winter adventures. It began even before we departed, when I helped him buy some winter apparel ("I need a jacket that's this bulky?" he asked. Oh, native Californians). It reached a crescendo on Sunday night, when we scampered onto the gondola at Keystone (Breckenridge's sister resort) to enjoy the latter-day variant of sledding: alpine tubing, basically riding down half-pipe-style trails in an oversized inner tube. With some pop dance music playing and the setting sun coloring the mountains and sky intense shades of orange, it was a fabulous blend of childlike fun and ethereal, Rocky Mountain magic.
I've often said that it's the people that make a journey. One reason I'd continued coming to Colorado to snowboard was the cluster of friends I'd made out here over the years. Time and circumstances had caused a number of us to lose touch, so on Monday we beat the traffic and headed out of the mountains at midday to reconnect with a couple of them. It's gratifying to see that everyone's doing quite well in their various affairs – though as with my life, it seems that the only constant in everyone's is change. My punk-rock friend Eric is making his longstanding dream happen and is recording music and touring with a band. Tony, a former colleague from my harrowing days in Michigan a decade back, is engaged to a new gal, and both are exploring possible new places to live and work. Even Mathew, on this trip, concluded a round of job-hunting and interviewing and received a job offer.
It just never stops.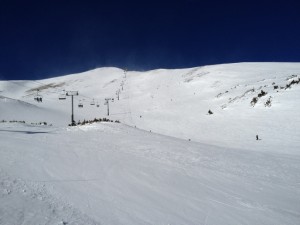 Heading down my final run of the weekend, I mused about it all as I often do while beholding Zarathustra-scale scenery. Our final day in the mountains would have been my father's eighty-first birthday. He loved snowsports, loved the boreal wonder of the great peaks, loved the exhilaration of gliding down trails amid glades of evergreens. All the recent changes in life, changes this journey both affirmed and offered escape from, spoke to his sense of wonder and curiosity about the world. These are traits I'm proud to have adopted. And now, with my newfound partner, am able to share in a whole new way.

Tags: 2 Comments