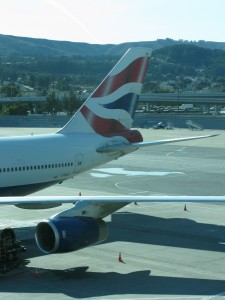 They call it a travel bug, but it's really more of a lifelong illness (though happily benign).
At least that's what I thought as I boarded yet another "Speedbird" (the British Airways callsign) from SFO back to the U.K. and beyond. It's my third such international trip this year, and my second to Europe.
To which more lucid observers might say: Europe in early-March?
This is particularly true this year, a winter that's seen much of continental Europe bounce from near-drought, to epic mountain snow, to extreme cold and snow as far south as Rome, to returning warmth (and a bit more snow in spots). For you climate change skeptics, I present you the Continent, 2012. And yet in that meteorological stew lay the seeds of this latest journey.
Well before I was born, my father was an avid skier. So avid, in fact, that, craving an experience beyond the local mountains of eastern Canada and New England, he visited the Swiss resort town of Zermatt in 1966 and has spoken of the journey all my life: the gorgeous, utterly genuine, car-free village;  the three cable cars to get to the top of mountains flanking the iconic Matterhorn; the above-treeline splendor; the descent taking almost an afternoon in itself. Even though I'd switched to snowboarding a few years back, and have been all around North America's Rockies, Sierras, Appalachians, Laurentians — heck, even did a stint in Hakuba, Japan on my great world journey — I knew a visit to Switzerland was in the cards for me one day.
This year, with some huge dumps of snow having fallen in the Alps mid-season, coupled with relatively dry conditions throughout much of North America, I felt nature was literally calling. But before the mountains, a visit to one of my favorite cities (and home of a number of friends old and new) was on the agenda.
Two days in London proved a perfect spot to chill out and (mostly) get over jetlag. Sadly, my compatriot, partner in crime, and confidante from prior journeys, the fabled "Renaissance Man," had flown the coop for new job opportunities in warmer (and noisier) climes: he moved to Mumbai a few months back. So this time around, I stayed in suburban North London with old family friends.
"Don't let me sleep," I exhorted to my pals as I arrived at their home midafternoon Saturday. I was determined to ward off jetlag the old-fashioned way: by getting onto the destination's daily rhythms.
As it got dark, however, I had something more to keep me going: A rendezvous with some pals in the now-burgeoning Southwark district (I finally figured out how to pronounce it, too: "SOUTH-erk".)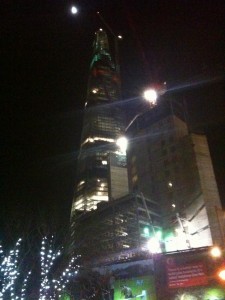 A train and Tube ride later and I was there – and, as I always am when discovering a new neighborhood in this town, suitably impressed: London's noisy vibrancy and wall-to-wall shops on commercial arteries feel just right for a city boy like me. Southwark is a melange of old and new, from a cathedral that bills itself as one of the first Gothic incarnations in Europe, to historic commercial structures fronting the Thames, to the still-under-construction Shard of Glass (set to become the tallest building in the EU), to The George, where we were to meet — a historic pub with roots in Chaucer, Shakespeare and Dickens. It was a cool but not overly frigid night, and people tippled along outdoor tables beneath gas-fired heat lamps that I associate with California more than moody Northern Europe.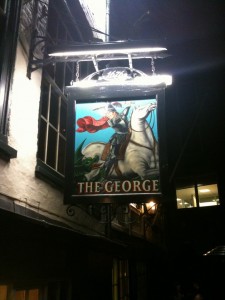 Gus and Adam showed up a few minutes later. Handsome, gregarious, intelligent late-twentysomethings from Sydney, they moved to Old Blighty a year or so back and are currently making a home for themselves in Winchester.
"It's like a rite of passage," Gus said, Aussies coming to the U.K. to live for a year or two. I maintain that London is a New York for the rest of the world, as it seems practically everyone, from so many different nationalities, seems to do the same. In their case, Gus's engineering job brought him here, and Adam continued his career and studies in journalism. But their biggest leap into the brave new world is more romantic:
"We're getting married in Vancouver this September," Adam said.
Whoah, I thought. They're twenty-nine (and look even younger). How long have they been together?
"Nine years," Gus added. That was heartening to hear: with the struggle for gay marriage at a fever pitch in the States, I maintain that the gay community is waging its own internal battles in this area. Having been denied this form of emancipation for so long, the current crop of young and youngish gays back home seems almost hell-bent on "marriage or else." A noble sentiment, sure, but for the fact that it echoes the notion of the dog chasing a car. What will he do if he catches it? I've watched so many of my contemporaries back home pine for a marriage that feels positively retrograde – housewifery, children, a home in the suburbs. Yet most of them also lack emotional maturity, and lurch back and forth between dysfunctional serial monogamy and guilty, furtive one-night-stands.
But these guys seem different. So eloquent, so well-spoken, so genuinely happy together without that forced artifice of "couplehood" I've seen in so many of my peers back home. Maybe it's also the connection we nomads feel with each other: Gus, Adam and I spent  over three hours eating, drinking, comparing life experiences, political viewpoints, and a million other things. They even invited me to the ceremony they plan to hold in Canada and by golly, I plan to do my damndest to show up.
A hefty pile of sleep later, and it was time for a social Sunday with the remainder of the Lightman clan.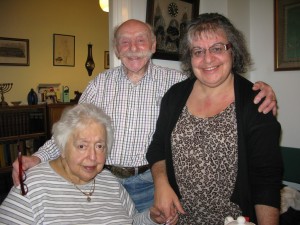 We started out in Golders Green, where I again paid a visit to the octagenarian Ray and Sidney. Ray's hanging in there, warding off a myriad of health problems with a brave staunchness and a surprisingly lucid disposition. Keep calm and carry on, indeed. Sidney, meanwhile, remains a wonder: pushing ninety, he retains youthful energy and mental acuity and is still working (!) as a freelance translator; we managed to get into a discussion about, of all things, the coffee in Israel. The Jewish state has got a big café culture, and when Starbucks tried to move in there, they flopped (same story in Australia, too). While he wasn't sad to see big American corporate coffee fail to conquer another land, he did have one regret.
"I had the contract to do their translation… and suffice it to say the pay was alright!"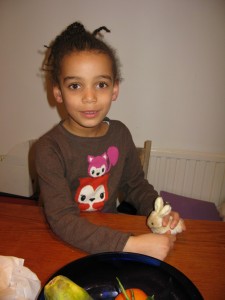 Our next stop was East Finchley, where the Lightman family member closest to me in age, Joy, had just moved into a new home with her still-adorable daughter, Bella. It's a cheerful two-story townhome that's a bit remniscient of my home across the pond. Once again, I'm reminded of how similar we can be to those near and dear to us, even separated by great distances.
And so, that was it for my London sojourn. Up next: how I got to my snow destination (an insane day of travel!), and my reactions to the place once I got there. Stay tuned, snowsports (and train travel) fans.

Tags: 2 Comments