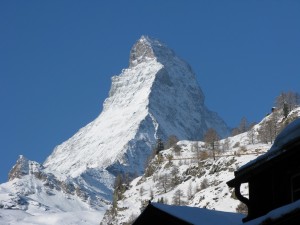 Okay, I (sort-of) lied: my tale of the voyage from London to Zermatt won't be found here. I'll be posting that story, along with videos and images, as an upcoming guest blog on my travel cohort Brock Groombridge's site, Backpack With Brock. He too went around the world solo and blogged about his adventures, and is now parlaying his experiences into a career in travel coaching. Oh, and he's Canadian, too!
They say first impressions are everything, and if so, the initial night-time glimpse I got of Zermatt after my long, long, long day of travel offered hope. Still, I wasn't sure quite what to expect from this place; it had been so built up in my mind and in the hosannas of others  that disappointment seemed entirely possible (look no further than here for an example of such a letdown).
All that evaporated next morning inside of ten minutes.
Zermatt's a pricey place: snowsports are not cheap to begin with, and above and beyond that there have always been a cadre of top-flight resorts catering to the elite. We know their names all too well: St. Moritz, Vail, Aspen. I've had mixed feelings about such places: on the one hand, they're often situated astride some of the best skiing around; on the other hand… well, I'm not a fan of snootery. Back in the States I've had mostly good times at such spots, but a few experiences marred the total: at Aspen, one of the last mountains to allow snowboarding, two middle-aged, agro New Yorkers let forth venom and vitriol at those of us who've migrated over to the board side. At another Colorado resort, a gaggle of Texans on a chairlift gave me an earful on how global warming was a hoax cooked up by "liberals who don't have god in their lives."
Yes, really.
I was hoping for something different here, even in oft-dour Switzerland. For one thing, I'd heard Europeans welcomed snowboarding, or indeed any contraption people have dreamed up to get down a mountain. For another, although prices did seem rather steep, they didn't seem greater than at posh Stateside spots such as Aspen or Vail. Oh, sure, Zermatt's got its glorious belle epoque hotels that command rates at least as as high as its brethren back home – but the town also offers some budget lodgings. At Le Petit Hotel, my chosen spot, I found a tiny room (fitting its name), uber-friendly staff, excellent breakfast (how oh how do Europeans do bread so well?), even a separate ski room (complete with boot warmers) for storing gear. All at the price of a Best Western back home – if one could ever find such a creature walking distance from an elite ski slope.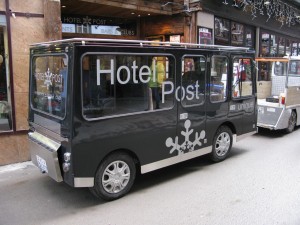 And here, too, Zermatt enchants: to prevent L.A.-style smog in the valley, internal-combustion vehicles were banned from the city ages ago. The odd taxi or service vehicle is miniaturized, electric, and downright adorable. The town is a maze of narrow, pedestrian-friendly streets and byways; elevators allow access to some of the hilltop chalets stairstepping their way up the valley. It's no wonder North American ski towns like Vail and Whistler have tried to mimic this formula: it's the way all cities ought to be built, if you ask me, the way humans lived in urban agglomerations for millennia before the advent of the automobile. Don't get me wrong, I'm no car-hater; I relish the periodic road trip. But I feel that urban spaces work best with less vehicle traffic, and hope that, as the effort goes on to perfect the electric car, urban planning goes the way of towns like Zermatt.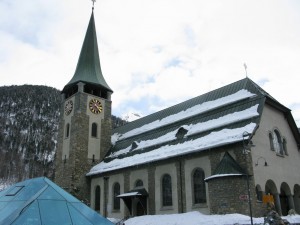 The town continued to work its charm as I marched down Bahnhofstrasse, its main drag. The old church a stone's throw from my accommodations played the opening bars from "Three Blind Mice" on the quarter hour. The Matterhorn – that bewitching, Platonic ideal of a mountain – peeked its corkscrew top out from between the chalets as I headed, snowboard in hand, to a most unique ski lift. Not a lift at all, in fact, but a cog railway: the Gornergratbahn.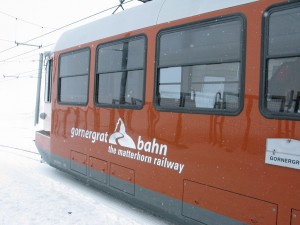 Completed in 1891, long before snowsports had taken hold, the railway now ferries tourists, skiers, and snowboarders from the village base (at 1,620 meters, around 5,200 feet, or about the same elevation as Denver) to the top of the Gornergrat (elevation 3,089 meters, around 9,900 feet). That's a vertical rise of 4,700 feet – more than practically any ski area in North America – and far more vertical than can be achieved with a single aerial lift. And this isn't even the highest point this resort offers. For now, however, it was plenty.
As we rose above the town the treeline quickly faded away, and all in front of the twisting tracks was a wall of white. Zermatt's had a bit of an odd season this year, with huge dumps of snow in December and January; extreme cold in February (but no snow); then significant warmth over the past two weeks (and still no snow). Luckily, they got a healthy bit of the white stuff right before my arrival; sometimes providence does shine on the traveler.
With wide open spaces and no trees, where does one go? Fortunately, trails are marked with fluorescent poles, thogh a few brave souls can always venture "off-piste" (alas, I'm not one of them). Zermatt has been faulted, in the snowboarding community, for a plethora of long, narrow-ish, moderate runs with occasional flat bits (a nuisance on skis but a nightmare on a snowboard). For me, however, this was heaven: I've constantly sought out bigger and bigger mountains and endless intermediate "cruiser" trails. I think I've found my mountain.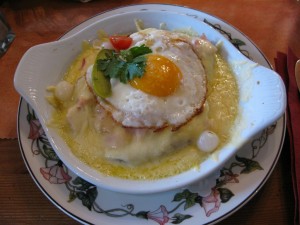 After a bit of riding, time for lunch. Here Zermatt shone as well, ofering mountain restaurants offering delectable (albeit not cheap) dining; no flavorless ski-hill cafeteria fare here. I stopped at Berghaus Grünsee and had a melted ham-and-cheesy-something-topped-with-fried-egg bit of yumminess that saw me handily through the rest of the afternoon.
And what an afternoon! I soon discovered that this place must be vying for the title of "most insanely diverse set of ski lifts." In addition to the cog railway, there's an underground funicular, several bubble-canopied chairlifts, and a combo gondola and chairlift running on the same line. Each lift, though only going a fraction of the way up the sprawling expanse of mountains (it takes roughly three to reach the several different peaks), is about equal to one of the bigger resorts back home. My father's tale of taking all afternoon to do one run down the mountain wasn't apocryphal.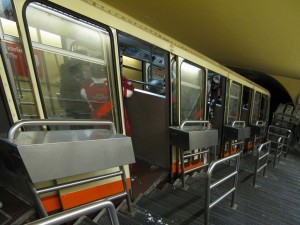 Only issue: the massive vertical comes at some cost. As with Whistler, the only North American resort to approach Zermatt's top-to-bottom immensity, conditions and trails vary enormously between bottom and top. As I descended toward the village, the runs became narrow, flat, and icy. Skiers raced by as I struggled to both maintain speed and not cause a collision with a sudden turn. I mostly succeeded on that front, though one move by me earned me an angry "achtung!" from an athletic local lady coming up behind me.
The bottom of the mountains does offer its pleasures, however: mountainside bars dot the lower runs, including – oh, Europe! – a champagne bar.
Next morning, all lingering travel weariness vanquished, I walked to the other side of town to experience this resort's signature experience: a ride all the way to the top of its highest skiable terrain (indeed, the highest in Europe), and a descent into –yes, really – neighboring Italy.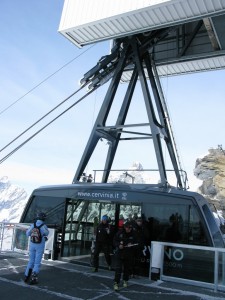 The slow cable cars of yore have been mostly replaced by efficient high-speed gondolas or newer, bigger cable cars. Riding to the top, I watched the Matterhorn change shape, its iconic kinked summit transforming into a more conventional peak as our perspective changed. Then, a transfer onto the highest cable car in Europe, up Klein Matterhorn. Not the huge peak itself (it's too steep and rocky to be skied) but a neighboring mountain whose rocky pyramidal pile does echo its larger sibling nearby. At the top, a walk through a tunnel dug into the mountain before emerging out onto the other side's glorious vistas.
The Matterhorn – known in Italian as Monte Cervino – sits astride the Italian/Swiss border. So too the resort, whose pistes meet with the Italian resort of Breuil-Cervinia/Valtournenche. Even though Switzerland isn't in the EU it's still part of the Schengen Zone, and so crossing into another country involved no greater formality than hopping across U.S. states. Now… when are Canada and the United States (my native country and my current homeland) going to go the way of Old Europe and do the same?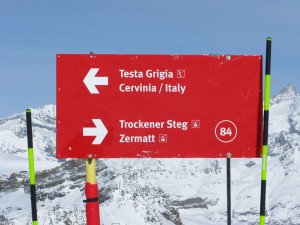 And I thought yesterday's runs were long. It took me well over an hour to get down to Cervinia (it's at a slightly higher elevation than Zermatt – "only" a 5,800 ft drop from the top). At the bottom I found a disappointingly generic ski town: a cluster of modern-looking ski condos shaped in the familiar broad triangle of a Swiss chalet; rows of parked cars; nothing much in the way of on-mountain dining. Change the signage and this could be Montana.
One other problem with a mountain with massive verticals: the planned "last run to get down" needs to be, well, planned differently than I'm accustomed. After another long up-and-down, I was starting to feel peaked and a bit dizzy – and I still had the long, long trek back to Zermatt ahead. I powered through it, though, feeling increasingly out of sorts. Even though this was my second day here, the unprecedented exertion – coupled with the 12,000-plus-foot altitude at the top and the mile-high elevation at the base – translated into my contracting a touch of altitude sickness. I trundled back to my hotel (score another for centrally-located lodging) and called it another early night. Haven't felt this woozy since Cusco, Peru. That's another thing to remember when traveling: too much of a good thing…
Up next, a bit of a break from the snow, as I discovered what really put this town on the map (as well as a bit of fraternizing with the locals).
Tags: No Comments