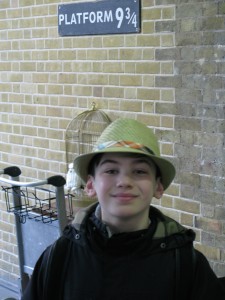 For many visitors from North America, London's where their Europe experience begins and ends. Grand though London may be, however, I wanted to give my nephews and nieces a bit of a broader perspective. Throw in the fact that we all speak French (coming from Montreal) and the proximity of Europe's two largest cities…and Paris starts to look like a no-brainer.
Getting there was equally simple: we rose bright and early last Friday morning, checked out of our London hotel…and two quick Tube trains later we arrived at the monumental St. Pancras sta74tion. But first – a hop across the way to neighboring Kings Cross station to get a picture in front of the famed Platform Nine and Three-Quarters of Harry Potter lore. When I last visited, there was a simple trolley stuck halfway into a brick wall; well, they've made a bigger show of it of late, with a clutter of Asian tourists lined up to have the photo professionally taken, House Gryffindor scarf and all. We opted to skip that and took our own photos, thank you very much.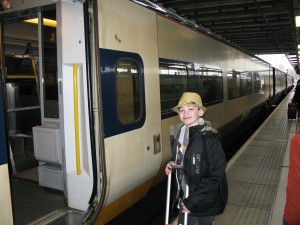 After that, a re-enactment of my own discovery of real-life wizardry: Jackson and I rode up the angled moving sidewalk to the long conveyance emblazoned with the "Eurostar" logo. We found our appointed seat, and – right on time – rolled out of St. Pancras and were soon racing along the English countryside before disappearing into the tunnel connecting England with France.
Suffice it to say, Jackson was as impressed as I was five years back.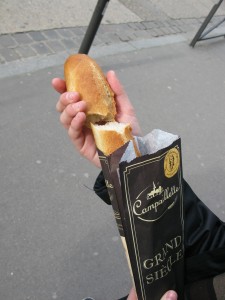 We rolled into Paris a few minutes early, and a couple of hops on the Metro got us to our hotel near the Invalides on the Left Bank. Just as it did when I first laid eyes on this city's streets, the beauty and majesty of the place overwhelmed us. So did the bread: we stopped in at a local boulanger to have our first taste of Paris baguettes. As good as I remember them.
As it got dark, we strolled to the Champs de Mars nearby. All atwinkle at the end of the park lay the city's biggest, if not most famous, landmark: that bit of witchery in iron brought to us by Monsieur Eiffel.
As when I was last here, the lines to get into the place, even after dark, were long. This remained the case the next morning, when we strolled past after a breakfast of yummy crepes (banane et chocolat, thank you very much). Vowing to try again at a more off-peak hour, we crossed the Seine and strolled through the 16th Arrondissement to another of the big Paris landmarks: the Arc de Triomphe.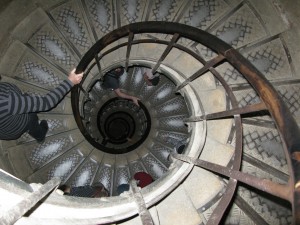 Jackson's an avid hockey player, and a goalie to boot, so his legs were in fine shape to make the climb along the narrow spiral staircase to the top of the Arc. Parts of it were closed for restoration (a never-ending battle in monument-saturated European capitals) but enough was open, and the day fine and clear, for us to behold the French capital all around us. 
We then had a most pressing appointment: in Japan a few years back, land of sushi-boat eateries and "maid cafés," some enterprising restauranteurs had concocted something called a "cat café." Partnering with local shelters, these establishments served a variety of snacky treats (to the humans) while an array of felines – specially selected for their social demeanor – roamed the place freely and interacted with the patrons. The concept has now spread to Europe, where one opened in Paris last fall and was instantly booked up for weeks. Suffice it to say, crazy cat lady that I have become, a visit to Le Café des Chats was a mandatory part of our agenda. Again, I'm not sure if Jackson obliged out of actual interest or merely to pacify his nutty Uncle David.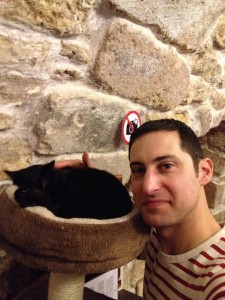 The place, occupying a couple of floors of an ancient building in the Marais, was a delight, serving tasty lunches amid the watchful eyes of the furry creatures (no feeding the animals permitted). The cats are indeed friendly – some curl up on people's laps; others meander the place, brushing up against random chairs and human legs. Atop one cat tree dozed a small tabby – before another black cat jumped up and began eagerly grooming his mate before she decided she'd had enough and jumped off.
A splendid spectacle for all us humans, to be sure. 
"Can we rent a bike?"
Jackson had been asking me that since we got to Paris, the city that was one of the first to introduce bike sharing. The principle is simple: sign up online (one-day "memberships" are now available for less than the cost of a Metro ticket); proceed to a bike sharing station (they're scattered throughout the city); punch in your membership code at the automated kiosk; select a bike, and voila! You have your own set of two wheels to ride about town. Rentals are by the half-hour, and the bike can be returned to any station with free space.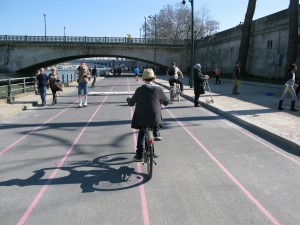 We rode along the Champs de Mars, passing the Eiffel Tower and its massive queues yet again. We then turned east and rode along the Seine, all the way to the Jardin des Tuileries. After a bit of a hunt of a free Velib station, we ditched the bikes and headed over to the next Paris landmark: The Louvre.
I wasn't much of an arts/museum nut as a boy, so I made sure not to inflict Jackson with too much of the massive complex's treasures. We once again snagged the multimedia audioguides I'd rented some five years back. Technology having changed so quickly, however, the then-high-tech guides felt dated and clumsy. We used them to navigate to the Mona Lisa and the Venus de Milo, then pretty much abandoned them as we strolled through the medieval castle ruins and exhibits chronicling the centuries-long growth of the Louvre.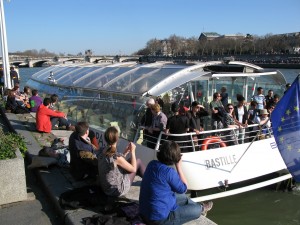 A bite of lunch, then home via a different scenic route: although the Seine isn't a much of a commuter river as the Thames in London, there is a river ferry service that (more languidly) makes several stops around the city. We hopped on the Batobus near Notre Dame, rounded the islands of the Seine where Paris began millennia ago, then headed back westward before getting off at the Pont Alexandre. We crossed the magnificent bridge and ambled over the great lawn in front of the Invalides. It was glorious out, and Parisians of all ages were sunning themselves or playing soccer (what else?).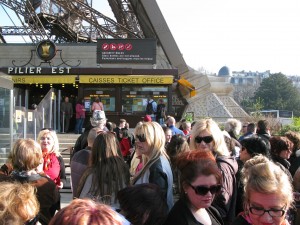 The next morning, we willed ourselves to get up early to see the ever-crowded Paris icon that beckoned so close to our accommodations. Grabbing some juice from a local Carrefour market, some pain au chocolat from a local bakery, and some coffee to go from a nearby café, we marched up the Champs de Mars and planted ourselves in the blessedly short (but rapidly growing) line for la Tour Eiffel.
"Do you know how tall it is?" asked some Dutch visitors in line beside us. Surprisingly, I got the height (almost) right; the tower's about a thousand feet tall (uhm, three hundred meters), a bit shorter than the John Hancock Center in Chicago. Only a moderately tall structure today, in the age of the Burj Khalifa and Shanghai Tower – but consider that it was built 125 years ago and remained the manmade-structure champ for over forty years after its construction, and its impact appears clear.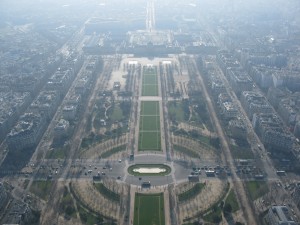 Our impulse to come early was right-on: as the place opened at 9:30 we had a very short wait to buy tickets and clamber aboard the inclined elevators that ascend smoothly to the first level.
The view was splendid from the mid-level platform, but things really kicked into high gear as we reached the top. The day was a bit hazy, but that only added to the magic of the scene: with no tall buildings nearby, Paris was laid out like a blanket before us, curving mansard roofs wrapping around buildings like giant gift boxes. In the hazy distance, the modern towers of La Defense stood like soldiers massed on the city's perimeter. The hill of Montmartre crouched toylike in the distance. And the grounds of the Champs de Mars and the Trocadéro across the Seine bracketed the tower with jewel-like symmetry. As with so many so many spots dubbed "grand" or "breathtaking" around the world, photos can only capture a fragment of the true experience.
As I've said to Jackson many times, this is one reason why we must travel.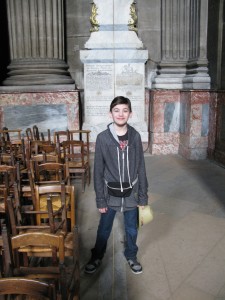 When in Europe, one must visit churches — if only for their sheer majesty, beauty, and architectural innovation. We were already blown away by Winchester Cathedral back in England, but Notre Dame still managed to hold its own in that no-doubnt Middle Ages my-church-is-bigger-than-yours competition. Not too far away, around the Latin Quarter, was a landmark made famous by the movie we'd seen last night: the Church of Saint-Sulpice, the spot alleged to contain part of the "Rose Line" that marked a onetime Prime Meridian running through Paris. Though much of the mythology depicted in the book and film have been debunked (and the Archdiocese of Paris apparently forbade filming in the church – the film scenes are sets and reconstructions), it was still fun to imagine this spot as part of some vast, shadowy conspiracy. No dramatic chase scenes with albino monks for us, though the shaft of sunlight filtering its way through church windows did add a bit of witchery to this neoclassical behemoth perched quietly in a Paris neighborhood.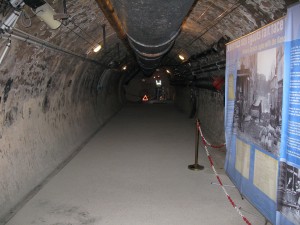 Many friends and family have been impressed with my going-on-twelve nephew's fascination with a myriad of subjects, from hockey (he is Canadian, after all) to subways to, shall we say, some other subterranean urban infrastructure. With that in mind, we headed back across town to an attraction Jackson had been curious to check out: les Egouts de Paris, the Paris sewer museum.
Rambling across some old (and thankfully disused) sewer tunnels astride some still-operational storm channels under the Pont de l'Alma, the exhibits were actually incredibly informative. Like urban rail and road networks, sewage is in fact a critical part of what makes modern cities function. Without proper mechanisms to efficiently remove and treat waste, cities in the Middle Ages had become breeding grounds for plagues and disease. It was only in the later 19th Century, care of engineer Eugène Belgrand in the Baron Haussmann era of urban rebuilding, that the mostly modern techniques of sewage and water were perfected.
Best of all, unlike most Paris attractions, the place was deserted. One tip from this humble visitor that might boost attendance: provide nose plugs. Even though the, shall we say, hardest-working parts of the system aren't on view, the scent in some areas is still rather ripe.
I guess it's no wonder we waited a bit to have lunch.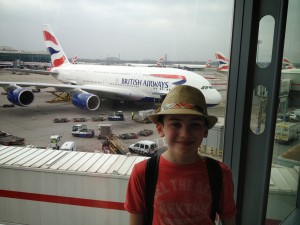 A night's sleep and a breakfast baguette later, and time to go home: we clambered aboard multiple RER commuter trains and airport connectors to Paris's second airport, the aging but functional Orly. We got in to Heathrow a few minutes early and had a minor delay there – my first ever with British Airways. But boy, did they make up for it: in addition to favorable winds cutting our arrival delay to barely half an hour, they also, upon learning that it was Jackson's birthday, gave him a business class meal, an announcement over the PA, a birthday cake with a card signed by the entire flight crew, and a tour of the cockpit after we landed.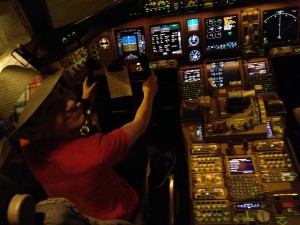 Suffice it to say they've re-won my loyalty for all future such trips.
We were greeted by Jackson's entire family at the airport in Montreal. It was an emotional reunion; he's the eldest and the first family member to take such a voyage. After a bit of birthday cake, the usual parceling out of travel gifts, and much catching up, we collapsed into jetlag-induced slumber.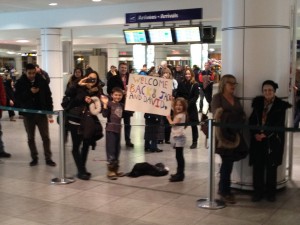 Okay, I can do this was the thought that went through my head as it hit the pillow.
Much as I'd felt after my first outing on my world trip, I've got that "moonshot feeling" — that it's indeed possible to take a niece or nephew to London and Paris, show them a great time, and deliver them safely home. I aim to make this the first of many journeys across the pond (and possibly elsewhere) with my kin's new generation of world travelers.

Tags: 5 Comments