Since coming home from my big world journey in 2009, I've dreamed and contemplated the next big adventure. I keep coming back to the notion of a multi-monther around the Med, hitting up many spots on my still-long bucket list: Spain, Portugal (not quite the Med but close enough), Morocco (ditto), Turkey, Greece, Lebanon… I could go on.
With work and life keeping a longer trip at bay, however, I positively jumped at the chance to accompany Mathew, my boyfriend of almost a year, when he said he and a friend of his teaching in Egypt wanted to meet somewhere not too distant from Cairo. We looked on a map and found what looked to be a perfect meeting point for both the time of year and our tight springtime schedules.
The first leg of the journey revisited the familiar: a 747 British Airways Speedbird across North America and out over the far North Atlantic. Unlike my journey last month with my nephew, I actually got a respectable few hours sleep on the plane, awakening with the coast of Ireland on the moving map's right-hand side. Mathew, alas, wasn't so lucky: coming off a month-long raw food cleanse, and having had some rather cheesy pasta for dinner, he began feeling ill partway into the flight and spent much of it nauseous and worse. Given his normally hardy constitution, I was a bit concerned as we rode the Heathrow Express into the city and headed to our hotel in South Kensington. But he held his own, and after a short rest was ready to head to our one scheduled event on this overnight stopover.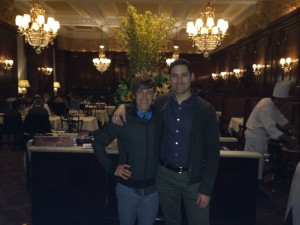 My parents met for the first time in the British capital in 1968, and their 18-hour first date has become the stuff of family legend. They went for dinner at an old-fashioned English carvery that's still around in all its old-world glory. When we discovered the place was still very much around, Mathew suggested we check it out… And so, dressed in our slightly-fabulous best, we took an incredibly-crowded Tube over to Simpson's in the Strand and relived my family's origin story.
And then, off to Malta. A reasonably quick, half-empty flight on the nation's flag carrier, then a drive to our accommodations in St. Julian's, a seafront district adjacent the Maltese tourist hub of Paceville. Malta's distinctive architecture — white limestone buildings with square painted bay windows — was everywhere apparent. Mathew's friend Jasmin met us at the tidy two-bedroom apartment we'd booked for the week for dinner and a catch-up on the past nine months.
"It's been really different since the Revolution," Jasmin said. The hope of the Arab Spring has faded in Egypt. Most of the big foreign universities and embassies located near Tahrir Square that I spotted (and occasionally tried to photograph) in my travels back in 2008 have relocated out of the city center.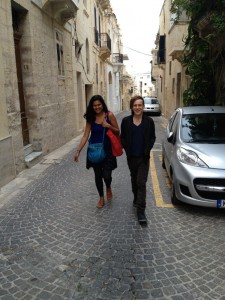 "I guess I was a bit naive going in," she added, having only visited the country once before some five years back. While her safety has generally not been in question – well-to-do enclaves in even the most dangerous of places typically know how to keep themselves protected – the generalized stress of living in a land of protests and gunfire, of curfews and marginalized rights for women, inevitably takes its toll.
And yet… I know many who may judge, who may leap to say "I told you so," but as a global trekker I disagree: it's those experiences in foreign (and sometimes uncomfortable) locales that make the life of a traveler vital, interesting, precious. Mathew, ever the Internet marketer, seized upon her situation – doing work as beneficial yet prosaic as education amid a backdrop of historic turmoil and change – as a fantastic opportunity to document, to chronicle her experiences living history firsthand. Having had forebears who endured World Wars and national struggles for independence across the globe, I can attest to the importance of telling those stories.
Next day, with the weather humid but a bit cloudy, we crossed Paceville on foot in search of coffee and breakfast… and ran smack into the "we're not in California  (or big-city Europe) anymore". Mathew tried in vain to find a cafe with almond or soy milk. Abandoning that quest, we whiled away some of the afternoon at the charming little sandy beach nearby on St. George's Bay.
Better beach luck tomorrow, we hoped… or maybe not. We again woke to cloudy skies, initially putting a damper on our plans to visit Golden Bay and Malta's one fabled, secluded nude beach (unlike a lot of Europe, the island nation is a mite conservative on such matters). Still, we decided to go for it: we boarded one of the island's efficient buses and rode through narrow medieval streets and across vineyards sprawling across rolling hillsides to the western shore.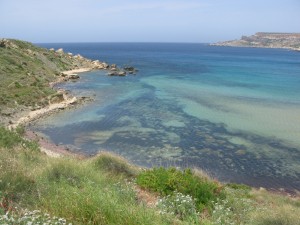 Once more, the weather deities cooperated: the cloud layer thinned, revealing dazzling blue waters splashing against bright limestone cliffs. Google Maps pointed us toward some narrow, steep hiking trails over one bay and into another. Over hill and dale, we finally reached an isolated tongue of land with a telltale marker that we'd reached Point Nude: carved into the soft rock was a big cock-and-balls.
The Mediterranean's still pretty chilly in late-April, and my water princess self normally refuses to dunk in seas colder than 75 degrees Fahrenheit. Unfortunately, Mathew's baseball cap had other plans: it flew off his head in the wind and landed in the seas below.
"It's my favorite one!" He cried, with a pizza design he later discovered Beyonce wearing on a shirt. Suffice it to say we went in after it. The things we do for love.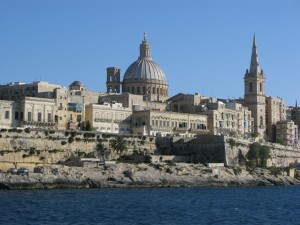 Next day, some stuff closer in: a bit of shopping in Sliema (note to self: do not bring clothes-aholic boyfriend to European Zara ever again). Then a bus around the bay to Valletta, Malta's capital and the inner core of the urban area where we were based. Its narrow maze of streets — grid-style, a rarity in the old world — stretched out like medieval webbing across the tip of a narrow peninsula. After discovering the city's cathedral was closed at the hour we visited, we nonetheless made it to the Sanctuary Basilica of Our Lady of Mount Carmel, taking in its glorious dome and vaguely eastern-style Christian iconography. We walked along the medieval ramparts, imagining ourselves as old-time knights or mythical characters from the Books and TV series Game of Thrones (the first season of which was filmed partly around here).
"Hey check it out," Mathew said, pointing at a restaurant listing on his laptop. "This place has a vegetarian menu!"
We were hopeful that the upscale Thai joint he discovered would offer more options… but when we got to the establishment — a theme-y eatery in the Hilton with soft Asian music playing in the background — we got the sense they kinda didn't want us there. After waiting and waiting and feeling more and more brushed off, we hoofed it out of there and went uber-casual for dinner instead. I'm still not quite sure what happened, but I get the sense that old-school notions still persist here, and our youthful appearance and casual (though not too casual) attire may have been to blame.
After all, it's not everywhere that a hoodie-clad twentysomething could be a software billionaire.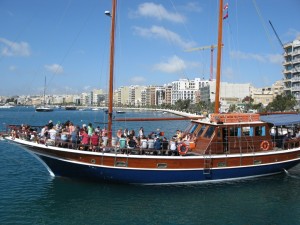 Something else you should do on an island is get off it for a spell. So, next morning, we hopped on a vintage Turkish Gulet for a boat tour. Although both Jasmin and Mathew suffer occasional seasickness (I don't, interestingly enough; bumpy cars and planes are my Achilles heel), they were confident they'd be alright to make this journey… that is, until it became apparent that this was no quick ferry trip but potentially a daylong odyssey on a boat with relatively choppy seas.
"Will we be getting off the boat?" I inquired to the fellows piloting the craft as I popped my head into the ship's mini-bridge.
"Maybe, if we get lucky," one replied. That didn't seem like much of a response, so I inquired a bit further.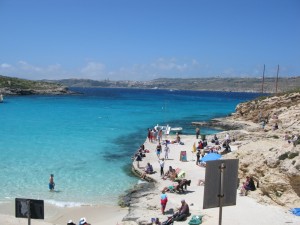 "You say only one question, now you ask three!" snapped the skipper, a salty seadog with persona inspired by Robert Shaw's character in Jaws. I returned to my concerned (and slightly ill) party, who were starting to kick themselves for us not researching this further. As we cruised away from Malta Island and through the harbor in neighboring Gozo, I was starting to worry as well. Finally we turned and — yes — did make landfall at the Blue Lagoon, a suitably gorgeous, azure stretch of water between the island of Comino and a smaller neighboring islet. Blue, sandy seas gently enveloped rocky yet verdant hillsides. We ate a rather tasty buffet lunch onboard ship (vegetarian options included, to Mathew's relief) and made Notes To Self: on future such excursions, investigate both off-ship and dining options. Yet another adjustment for us both; for Mathew, this is his first overseas trip not done en famille; for me, well, it's my first such trip with a partner and friend.
One bit of interesting narration from the crew: Malta's history as a Christian nation is almost as old as Christianity itself. St. Paul, the religion's marketing genius, is said to have been shipwrecked here. To this day the islet where that happened (and the bay surrounding it) are named after him.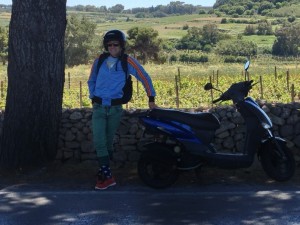 We bade Jasmin farewell the next morning for her flight home, then on our last day did something that's become almost old hat for me from Nice to Cape Town to Ko Phangan to Vancouver: we rented a scooter for the afternoon.
Although a similar 125cc number to the one I have back home, this one was had a finicky starter that took some finesse navigating Malta's stop-and-go traffic. Nonetheless, we made it partway across the island to the country's ancient capital, Mdina, a tiny walled city with armsbreadth-narrow laneways (no cars allowed, mostly), glorious ancient churches, and one of the most heavenly spots to enjoy lunch, alfresco overlooking the verdant plains and densely-populated seacoast.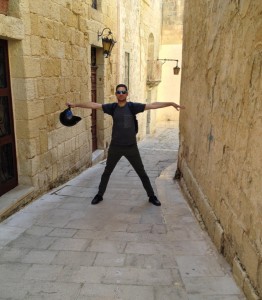 From the sublime to the prosaic: I was running low on clothes and figured I'd try my hand at  laundry. Our apartment came with one of those compact European-style wash-and-dry all-in-one units… and it was here that my fondness for new-Old World contraptions came undone. The thing possessed a bewildering array of knobs and meaningless pictograms – and, of course, the one-page set of instructions for the rental unit included nothing on how to work the dratted appliance. Through trial and error, I got my clothes to wash and (sort of) rinse and spin.
Fun times.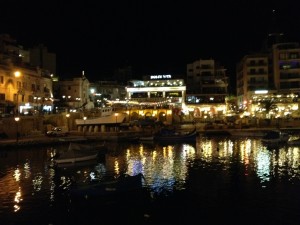 After a stellar, friendly dinner (unlike the previous night) at a nearby eatery later that evening, Mathew and I strolled the seafront promenade abutting Spinola Bay and pondered the journey and destination. Malta's indeed a stellar spot, with millennia of history married to jaw-droppingly beautiful seafront locales. But its integration into Greater Europe still feels incomplete. A British expat on our boat ride the other day explained away some of it to the island nation's past, of eons of subjugation and occupation by foreign overlords that (he felt) left a populace that's a bit brusque and wary of outsiders. Fair enough. But I can only hope the Maltese adopt some of the vibe of the Thai, the Khmer, or the Jordanians of my travels, all of whom, in spite of having lived in lands of hardship and adversity, nonetheless put forth a warm, friendly welcome to we errant wanderers of the globe.

Tags: 9 Comments