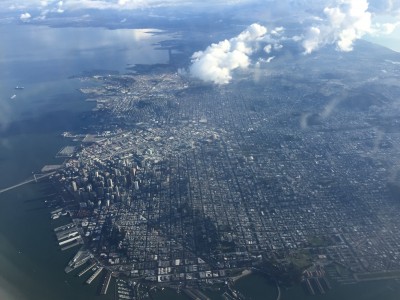 Travel, I always say, has many mothers. My big world voyage was planned in the wake of a failed relationship; my sojourns to London & Paris last spring kicked off my nephews' and nieces' intro to world travel; another trip last spring, to Malta, originated in my boyfriend Mathew's desire to meet up with his friend teaching English in Cairo somewhere in the Mediterranean.
I'd long plotted a return to Israel, one of my past homelands, and where much of my (actual) mother's extended family still resides. Opportunity came knocking this year, when the last of my cousins over there announced wedding plans, and some work transition afforded a window. And so it began again, with a smooth liftoff from San Francisco and an overnighter across North America and the North Atlantic.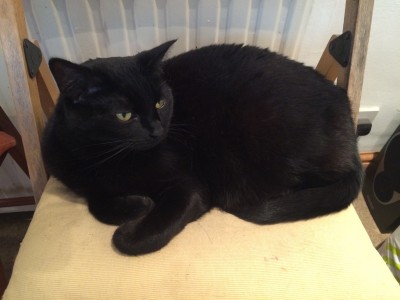 As in my big world journey, I opted to stay over in London with a member of my multi-generational family friend clan who once aided and abetted my parents' first meetup. Good choice: on arrival, the true master – er, mistress – of the abode presented herself to me: Pushkin, the family's black cat, a near doppelganger for my furball back home. This elegant creature just may have snatched the Cat For Dog People award from my "Khaleesi": sweet, loving, eager to have her belly rubbed (a rarity among cats).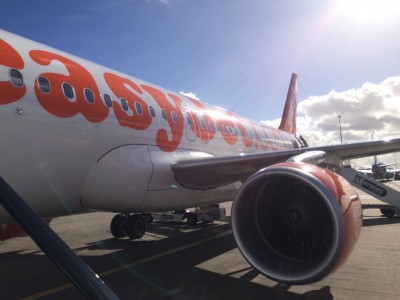 Next morning, back in the saddle: a remarkably speedy commuter train whisked me to Luton Airport, now my fourth London-area airfield. A surprisingly intimate place, basically a big airplane (ahem, "aeroplane") barn well north of London proper. Together with oodles of Orthodox Jews, I boarded an easyJet Airbus A320 for the hop across Europe and the Mediterranean to the Levant. It still amazes me how the Southwest Airlines model has so thoroughly taken root across the globe: EasyJet's no-frills service offered up decent for-pay food and drink, and slim yet comfortable Recaro seats.
As in so many spots around the world, Israel has its own form of SuperShuttle-esque shared taxis, known locally as the sherut. Since my first destination in this little country was in Jerusalem, some 40 miles away, I parked myself in one, and soon after we were off. Signs of a nation on the move were once more apparent, as they had been for me back in 2008: new highways being built together with a high-speed rail link between the country's two biggest cities, Tel Aviv and Jerusalem; a soaring Santiago Calatrava viaduct carrying Jerusalem's new light-rail network. And some other, less desirable artifacts of a nation founded by tough-minded immigrants: from the rude driver of the sherut to an angry fat man at the airport who demanded directions from me. I was reminded how much I appreciate American-style congeniality, even when it's a bit fake.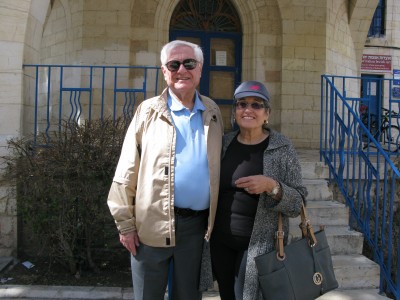 Meanwhile, congeniality galore was on tap at my Uncle Sammy's place, where I gobbled up the last bits of a stellar Israeli meal (tomato/cucumber salad; tahini; pita bread), caught up with him and the rest of the family, and beheld a highlight of this particular Promised Land outing: the simultaneous visit by my mother, the first time we've both been in this place since I was seven. After a night's sleep, we spent a pleasant few hours strolling around the central part of Jerusalem, shopping, enjoying stellar fruit drinks and iced coffee, and hearing my mother's reminiscences of the place from decades ago. Afterward, I ambled back to our accommodations, passing the Montefiore windmill — part of the first settlement outside Jerusalem's walls in the 19th century — and the old railway station, an Ottoman-era stone structure now repurposed as a shopping/dining hub. The old train tracks have likewise been made into a rail trail, not unlike Missouri's Katy Trail or New York's High Line.
Annd… that was it with sightseeing for me: since I'd found a new job so soon after I'd made plans for this trip, we agreed that I would work part of the time remotely. In the years since my big world travels this has become an increasingly common trend. Over the next two days I was able to get a lot done – all the while corresponding with co-workers via e-mail, online, chat and videoconference. It remains to be seen whether this will further solidify a trend that'll make world travel ever more accessible for busy working professionals… but I, for one, am all for it.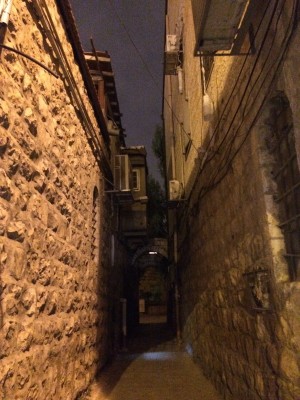 The following evening, a taste of old Jerusalem: my uncle drove us across town to Mahane Yehuda, the old market, for a traditional (and delicious) meal of skewers, hummus, highly-addictive pita bread, and a range of marinated vegetables. Here, too, old and new collide: this traditional market has "gone hipster," as my uncle and cousin Adar indicated: when the produce shops close, a range of eateries, bars and cafés stay open late into the night.
We wandered back through Beit Ya'akov, one of West Jerusalem's oldest neighborhoods outside the the walls of the Old City. Men in religious garb strolled through narrow alleyways flanked by stone houses. A stealthy yet surprisingly social army of stray cats eyed us curiously; the African wildcat, from which most modern strains of domestic cat originate, is indigenous to this region. While Israelis profess to be indifferent to them ("we are a dog country," said my uncle), they're often fed by locals, and generally seem content to live as their forebears have for eons in these parts.
The next morning I met my cousin Adar, a newly-minted occupational therapist with a gift for languages and an interesting, broad perspective on this country. Sitting over a couple of iced coffees – a misnomer; the drink is rich and creamy like a Frappuccino, though even comparing it to that doesn't do it justice – I learned more about the region's troubles, from the never-ending geopolitical conflict to the high cost of living and income inequality – yes, that's a problem in high-tech Israel just as it is back home.
And yet… people still manage to find time to celebrate. This was the week of Purim, the Jewish holiday celebrating the Hebrews' salvation (yet again) in ancient Persia. The holiday was always something of a Jewish Halloween, with costumes, merriment, and substantial boozing for a normally not-too-terribly-tipply people. In recent years, it's become bigger still: even in buttoned-down Jerusalem, gaily-decorated youths roamed the streets while festive music blared out from street fairs and shops. Fittingly, my cousin Binyamin, whose wedding I'd come to attend, scheduled the event with his bride Zohar at an elegant hilltop wedding hall about an hour southwest of Jerusalem – and added a "wear a costume" theme.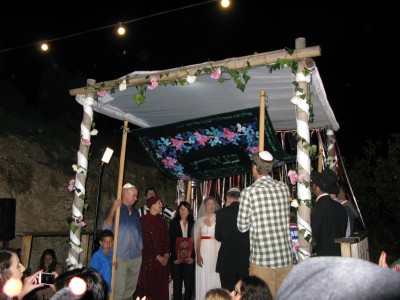 A marriage of two farming-community thirtysomethings probably sounds like a snoozefest – but here too, this nation surprises: for one thing, Israeli weddings are gargantuan; this one was considered smaller… at merely three hundred or so people. The ceremony itself – brief, as Jewish weddings typically are – was punctuated by whoops and hollers from the colorfully-attired crowd. Afterward, we piled into the cavernous, glass-walled hall for a delectable Mediterranean dinner and dancing to a blend of contemporary dance tunes of both local and American provenance.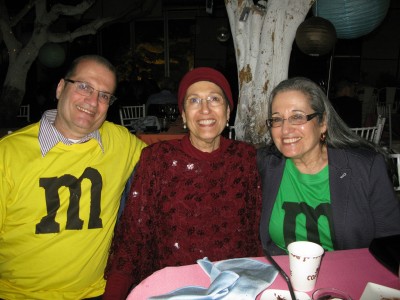 "Where's the hora?" asked Arthur, my Mom's new beau and lifelong Canadian. Alas, traditional Jewish folk dances are about as commonplace in Israel nowadays as the Charleston is at North American weddings. Avicii and Katy Perry are preferred. I ended up chatting with my various cousins, some of whom are still completing the country's mandatory military service. It's always a bit eerie, coming here and seeing this doppelgänger existence of my kin that could very well have been my own: my family lived here for three years when I was a lad, and I always wonder how I would have turned out in this land of great joys colliding with such tremendous sorrows.
As I'd discovered on arrival, if there's one place where those two forces oddly, maddeningly connect, it's this country's periodic lapses in customer service. The "Israelis are rude" cliché seemed to me in my last voyage to have been largely vanquished – but the one area where it stubbornly held on was in my car rental experience. In fairness, Israel's not alone: I find the entire affair of short-term car hire to be maddeningly inefficient, annoying, and slow the world over. It's become my least favorite part of travel, trouncing even flight delays and lost luggage.
I'd booked a car in Jerusalem for the early afternoon for a journey to Israel's north. Most of the major international agencies are well represented here; the plan was to take my Mom and Arthur (who was celebrating a milestone birthday) to lunch next door, then pick up the vehicle and head off.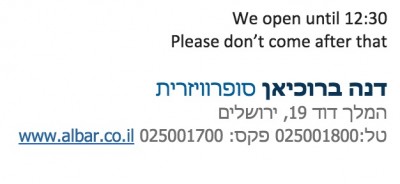 Alas, the best-laid plans. I received an e-mail at 12:06pm: "We're open until 12:30. Please don't come after that." A confirmation call from one of my Hebrew-speaking cousins confirmed it: my reservation would not be honored for the (later) hour it had been booked. We raced over there – I in the process stupidly forgetting my passport. A surly, bored-looking young woman greeted us and echoed what she'd said in her communiques; another agency next door was open for an additional half hour – but even though we retrieved my passport and made it back with a minute to spare, no dice:
"The garage closes at one. We have no control over it!" barked the young man behind the counter.
And so we hatched alternate plans: I grabbed a rather pricey taxi back to the airport and rented a vehicle from there. One bright spot: the airport rental counter, where I'd just booked the reservation online, was speedy and efficient. Plus, when the car rolled out at the pick-up spot in the airport garage, it was a brand-new, cute little Chevy Spark with manual transmission. Perfect. Others may scoff at such pint-sized little crates, but I love them. Heck, my vehicle back home is a scooter.
The ride down to Jerusalem to Ben-Gurion Airport proved worthwhile on an another level: to avoid the crazy traffic on Highway 1, the main Tel Aviv-Jerusalem thoroughfare, my driver took us down Route 443. Passing West Bank Palestinian villages and Israeli settlements, I saw it up-close and personal: the separation barrier, Israel's Berlin Wall. Miles of concrete and barbed wire, dotted by guard towers. Periodic signs on roads leading away from the highway warned "Palestinian Village not safe for Israeli Citizens." Suffice it to say, consternation about car-rental hassles dissipated. Living on a hair-trigger like this, I suppose, partly accounts for why some niceties go out the window. Meanwhile, finally equipped with a vehicle of my own, I headed off for the next phase of my Levantine adventure.

Tags: 3 Comments