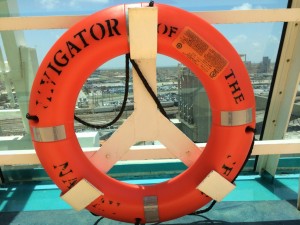 I begin this in the middle of the ocean. Well, on the pool deck of the Royal Caribbean cruise ship Navigator of the Seas to be exact. Mexico's Riviera Maya lies offshore in the hazy distance. Warm tropical winds blow around us as our 139,000-ton vessel exits the Gulf of Mexico into its firm's namesake waters.
For those familiar with my indie/solo traveler ways, your first reaction is probably "what are you doing on a Caribbean cruise?"
There's more to it than you'd think. For one thing, I've been a fan of great ships for ages — aided and abetted, no doubt, by a certain big-grossing epic from some fifteen years back. But, like so many travel dreams, this one languished — until last Christmas, when my partner Mathew's family announced that our gift for the season would be this seven-day excursion. They're experienced cruisers and a family of travel-and-transport fiends (like me). In fact, their plane ride out here included a fab flight on an all-new Boeing 787 aircraft.
As for us, I awoke at dawn on Saturday morning with a mantra on my lips: let this trip start out smoothly, dammit. My last two big voyages this year kicked off with flight delays, missing luggage (mine), food poisoning (Mathew), and the usual discombobulating jet-lag from crossing eight-plus time zones. As we bade our dog and cat farewell and checked in for our flight, everything looked like it was coming up aces.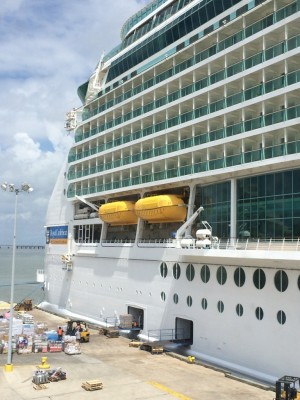 It was (predictably) a full flight, and being one of the last to board the plane meant I was keeping eyes open for scarce overhead bin space. As we approached our seat, I saw it: a near-virgin bin right above our row. I hurriedly hoisted the bag above our heads — and WHAM! I hit Mathew right in the arm. His still-full grande caramel latte flew out of his hands… and spilled all over the seat (and jacket) of a passenger right in front of us.
The crew were very nice about cleaning up the mess (with our help), and the passenger was quite understanding as well (we even offered to switch seats)… but we were both rattled by the event, and I felt that uneasy mixture of shame, embarrassment, and regret that inevitably bubbles up in situations like this. United Airlines has, in my eyes, partly redeemed itself for its own past bungling in my travel past for how pleasantly and efficiently they handled this (literally) sticky situation.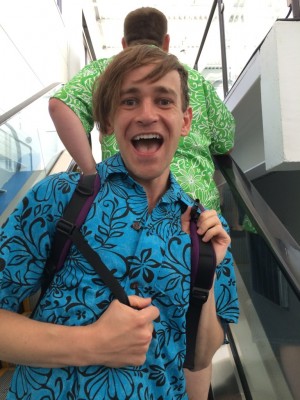 Next morning, we stuffed the car full of suitcases and the five of us, and crossed the Greater Houston area from north to south. Like many New South cities, Houston operates on a low-density sprawl model. Its downtown of gleaming new skyscrapers — product of its oil industry past and present — contrasted with pockets of poverty we saw throughout. Signs for subsidiaries of Halliburton were scattered around office parks everywhere we went.
Then, driving south along the causeway to Galveston, past steaming refineries and dun-colored freighters, we saw it, gleaming and white: our source of transport, accommodations, dining and entertainment for next week. At over one thousand feet in length, the Navigator and its three sister ships no longer hold the distinction as the largest passenger ships afloat (that now goes to Royal's newer Oasis class). Still, the sight of one of these behemoths up close is dazzling, a veritable skyscraper turned on its side capable of traveling twenty-plus knots across the waters of the world. The ship towered over Galveston Island and its low-slung historic city core just blocks from the cruise port.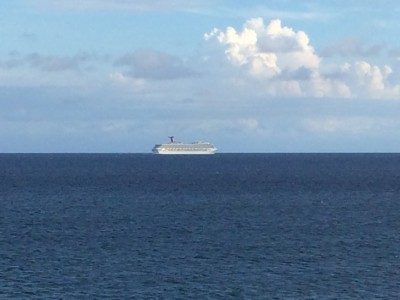 We sailed out of Galveston earlier than expected, and I sat for many minutes, watching the dun-colored waters of the harbor give way to the blue of the Gulf of Mexico. Yep, I admit it: the strains of James Horner's epic movie theme ran through my head as blue seas rushed past. As a boy reared on epic sci-fi novels and films, I could see where the inspiration for the huge spacecraft of those stories came from as well.
Shortly after came the first seating of one of ocean voyaging's hallmark events: dinner. Although cruise ships of today have relaxed some of their formal night practices (typically only some nights are dress-up) it's still a high-ceremony event, with jacketed waiters and personalized service.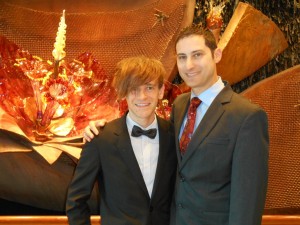 "It's how I learned about fine dining," said Mathew, who was inspired in part by elegant shipboard dining halls to learn to cook on his own. Malign it as some might, cruising has for many proved an entrée into the elegant ways of yesterday (and today).
The ship's sailing schedule gave us two full nights and days at sea before arriving at our first port of call. I wasn't sure what that entailed — but turns out I was in good hands. Mathew and his family have a well-oiled scheme for making the most of shipboard days and nights: I helped the family win at a couple of shipboard trivia games; saw an ice skating show and a Broadway-style revue; posed for formal (and informal) photos; and even had some fun (yes, really) in the shipboard casino. The ship's staff are selected for their cheerful, fun demeanor, and work hard to ensure that days on the waves are as full and fun as possible.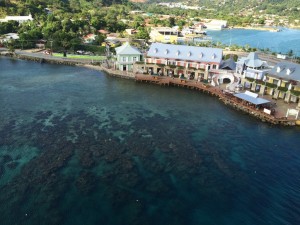 Day Four of the cruise began with me peering out the large window of our ocean view cabin… and, after two days of seeing nothing but water, I beheld mountainous, forested tropical landscapes passing by our window. It was our first port of call, the island of Roatán, Honduras.
The port was a pretty blend of tidy, pastel-tinted colonial-style buildings with shops (natch) flanking the dock for our ship. Giant blue mooring lines connected the ship to sturdy concrete anchor posts squatting in blue waters. As we disembarked, a lively, loud Caribbean drum circle pulsed out rapid beats as natively-clad dancers jigged and jumped. OK, a bit touristy for my taste.
We were soon whisked away for our onshore excursion for the day. A tidy, air-conditioned 26-seat Hyundai minibus pulled away from the port; as we departed and pulled through the (unfortunately named) town of Coxen Hole, our guide gave us a little background on the place.
"It was named after the pirate Coxen," he said in Spanish-accented English. While Honduras is nominally Spanish-speaking (one of our bus-mates asked if they ate Mexican food — oh, Americans and geography!) Roatán is something of a mix.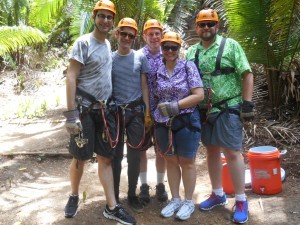 "There is Spanish, which is the Catholic religion," our guide explained. "But there is also black, who speak Creole English, and white English, who are Protestant." The British set up shop here centuries ago during the era of piracy and privateering (one way to build an empire in the shadow of incumbent Spain of the day: steal their stuff); apparently the island's riches are still controlled by a small number of white families. As if on cue, our guide pointed to a mansion, all white and curlicued columns, astride a hillside. The large homes I'd seen on the island's western point are apparently of similar ilk. Meanwhile, just outside the port, machine-gunned guards flanked the entryway.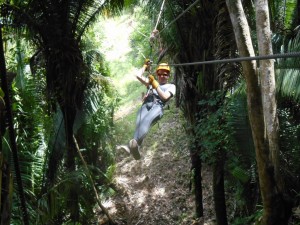 We drove up into the hills for the activity we'd booked for the day: I'd been meaning to go ziplining for years, and a hilly, tropical island seemed like the right place to do it. After a quick safety and maneuvering training session, our guides strapped on the bewildering array of harnesses and steel pulleys and hooks. The first line was short, more a training drill to get familiar with the vagaries of braking, foot positioning, and spin avoidance. But the second two lines were where it really got going: over 1,500 feet in length and flying dozens of feet over the tropical canopy, it offered a windy, exhilarating rush, couple with stellar views of green island and blue seas. We continued down, down, down through a series of shorter, connected ziplines, winding our way back to base camp. I may have even belted out my rendition of the Tarzan roar as we zipped across the canopy.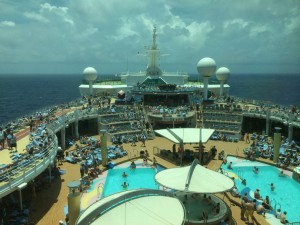 A change of pace for us the next day; we awoke to the ship anchored offshore from Belize City. Mathew and I decided to make this our "stay on the ship while it's in port" day. It's often a nice respite from the crowds on the vessel; as we chilled out at the deserted Cosmopolitan Lounge, the ship's panoramic spot on Deck 14, we spied an equally empty pool deck where just two days ago Mathew had to (somewhat sternly) remind a fellow who'd abandoned his family's set of deck chairs to go for a a swim that (per signs posted everywhere) deck chairs are not to be reserved on a limited-space pool area. Yeesh. I'm new to cruising but even I know that.
Next morning, we hit our last — and, for me, the most significant — port of call, a place where I'd already made quite a few memories: Cozumel, Mexico.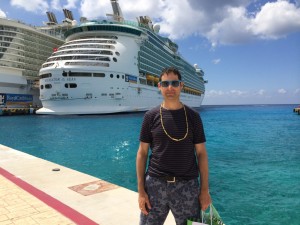 Compared to sleepy Roatán and distant, offshore Belize City, arriving in Cozumel felt like something of a return to civilization: in addition to a sizable vacation destination for both Mexicans and international visitors, it's arguably the biggest cruise ship stopover point in the Western Caribbean. Outside our stateroom window loomed the biggest passenger ship afloat, the Allure of the Seas, where just over a year ago my sister and her family (including my ship-nut nephew Jackson, who I took to Europe this winter) embarked on a cruise adventure of their own.
After clawing our way through the crowds, shops, and touts at the cruise pier, we snagged transport for the day. This time we did it indie-travel-style: we set off on a 110cc Honda motor scooter out toward San Miguel (Cozumel's main town), then straight across the island to its other side, Mezcalito's Beach overlooking the Caribbean.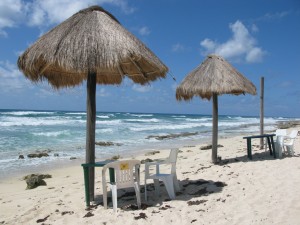 Beaches and oceans have long been a place of reflection and contemplation for me, a cathedral of sorts for we non-religionists. Last time I was here, I bade a tearful farewell to the man who helped give me life, taught me to love the sea. Now I'm here with a new job, a partner, more settled-ness in the city I now call home. A lot of changes since I last gazed upon these unending waves.
Some bodysurfing in the sea, a bit of shopping, then back to the ship for our remaining 36-hour cruise home.
Although I'm not quite the maritime buff as my nephew (who built a six-foot-long model of the Allure out of shirt cardboard), I'd been hoping to get on some sort of tour of the ship's innards during our journey. Alas, since 9/11 such forays have been suspended, but our captain, a friendly Norwegian fellow who's been sailing with Royal for some fifteen years, gave a talk that final afternoon that covered most of the bases. He even complimented my question to him in the Q&A, where I asked, in the wake of seeing the Allure (over 1,100 feet long and 200,000-plus tons) while now riding on a vessel that was once the world's biggest (1,000-plus feet long and 130,000-plus tons)… "How big can they get?"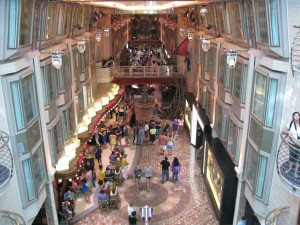 The answer proved fascinating: since the Titanic tragedy, an international maritime convention (SOLAS, Safety Of Life at Sea) has tightly regulated all minutiae of ship safety; one key determinant is lifeboat capacity — not only how many, but how many people they're allowed to hold. Oasis and Allure are too massive for standard 150-person lifeboats… so those intrepids shipbuilders, working with safety regulators, fashioned new ones.
As for how much bigger ships could get? Captain Klaus noted that the biggest oil tanker clocks in at around double the total tonnage of either Oasis and Allure… so it's anyone's guess what the future has in store.
I'd mostly missed all the past sunsets on the ship — we were busy with dinner or post-dinner activities each night. So I was determined, with the timing now just right, to catch a glimpse of the setting orb on our final dusk at sea. I've long since known that the legendary scene in Titanic, where Rose and Jack kiss for the first time above the bow of that great ship, was not only fictive but in fact impossible: ocean liners and cruise ships normally store anchors and heavy machinery up front, and passengers are barred from such places. With that in mind, I dragged Mathew and his brother to the ship's topmost deck, where I began this entry… only to spy a gaggle of other passengers some five decks below — right in front of the ship's helipad at the very, very prow of the great vessel.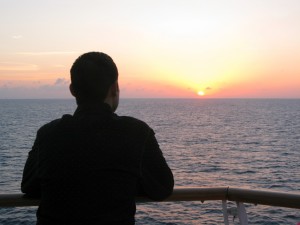 Oh yeah!
We scurried down to Deck Four, where, indeed, a semi-hidden stairway led to the triangular frontmost portion of the ship. A scattering of people were calmly taking in the orange fiery ball in front of us. I stood at the prow and felt myself go light, levitating as those James Cameron characters had done all those years ago before me on a silver screen. All that had been, all that was to be… it all came rushing to the fore of my psyche as I beheld the elemental passing of day into night.
Sometimes reality really does live up to our dreams, and life itself transforms into art.
Most cruises arrive back at home port early in the morning — sometimes hours before their scheduled arrival time. We were a model of punctuality — a treat for we newbie cruisers: I awoke to see our ship completing final maneuvers… not realizing one final surprise was in store.
It wasn't at Customs  — no problems there — but instead somewhere a lot more prosaic. Mathew's spider sense caught it first, as we left the cruise terminal and entered a slightly-worn minivan taxicab at the pier's taxi stand. It was piloted by a heavyset, gabby woman with missing front teeth and a strictly "cash only" policy. As we rode north along the Gulf Freeway toward Houston, we saw multiple warning signs indicating a massive accident and total freeway closure up ahead. A scan of Google Maps confirmed it: thick red lines up and down the freeway a few miles from our position. I had half a mind to notify our driver (who had nary a GPS unit nor smartphone in sight), but figured Houston on a holiday weekend morning after a cruise was no time to be playing backseat driver. I later learned that Brenda, Mathew's Mom, had also repeatedly pointed out the warnings to driver gal, only to have her wave them away as nothing.
We got to the congestion point — soon corroborated by the radio as a major fatality accident — and sure enough, traffic slowed to a standstill. Thirty minutes went by. Forty-five. An hour. I was already quite anxious, and by now so was the rest of the Guiver family. I tried to ask the driver if she knew what was up, if her dispatcher had any more information, and got a curt reply.
"I don't have a dispatcher. I got ma keys. I got ma meter. That's all!"
As Hour Two rolled on and we'd barely moved a few hundred feet, I began suggesting we perhaps exit the vehicle and haul ourselves and our luggage over to the next exit — now barely a quarter mile away but at the rate we were moving, probably well over an hour by car. We're gonna miss our flight, said my mind. Mathew and I agreed to do a quick reconnoiter and hopped out of the car, to our driver's irritation. Sure enough, we saw the exit just ahead through the apocalypse of frozen vehicles.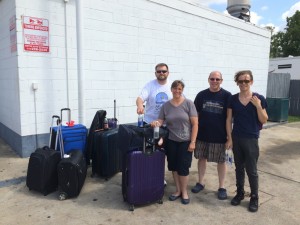 We hurried back to the vehicle, where we later learned our cabbie had begun asking Mathew's family if they were "good Christians," and to join her in prayer. Whether it was that or simple exasperation, the gang of us decided we'd had enough, and in spite of our driver barking at us to "get back in NOW," we threw a hundred bucks her way, grabbed our voluminous suitcases, and hauled ass down the freeway off-ramp, over the concrete divider to a nearby Shell station in the blazing, humid, Texas heat.
Houston, we have a problem indeed. With the freeway stil gridlocked, we found a (more competent) cabbie who got us to the airport on time. Another travel adventure complete. As we embraced farewell at the airport, I felt a bond had been cemented between us all… to say nothing of the fact that, after eons of wanting, waiting, wishing, I feel I've found my sea legs at last.
Tags: 10 Comments