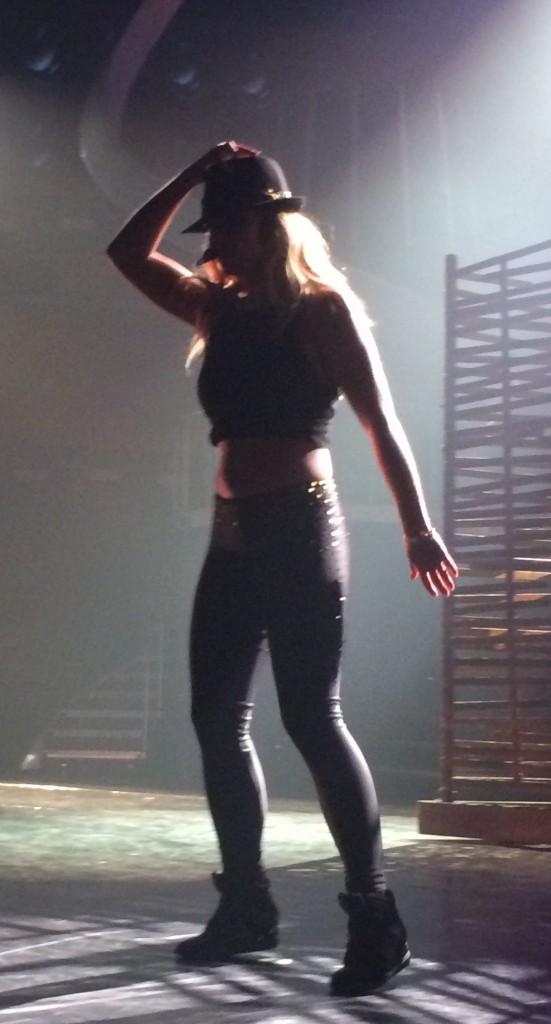 Las Vegas and Britney Spears have a thing or two in common: both are massive pop-culture icons that draw huge crowds, toss out loads of glitz and flash… and get no love from the higher-brow set. Both have had their ups and downs, their huge successes, their implosions.
Interestingly, I've often had similar reactions to both city and pop superstar: I've gleaned unexpected resonance from both, but I've never felt too strongly one way or the other about either. Vegas is, I feel, underappreciated: taken on its terms as an oversized adult playground, it delivers handily. Ditto BritBrit: I've long held the notion that high culture and pop culture are inextricably intertwined. Shakespeare wrote for the masses; classical music often drew on folk melodies; Dickens was a popular serial writer. For me, therefore, a certain appreciation for pop culture has always been a mainstay.
Amp that up a couple thousand notches for Mathew, my boyfriend of over one year. His devotion to and obsession with madame Spears is the stuff of legend — heck, he got his career start as a tech marketer building (and publicizing) a Britney fan site when he was a young teen. Britney was good to him: he sold that site and some others for a tidy sum a few years later.
With those notions in mind, I boarded a Southwest flight on Thursday afternoon for Sin City.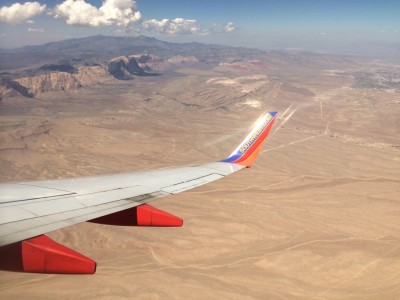 Chalk this trip up to yet another with an inauspicious beginning: a flight delay leaving San Francisco and heading east, into the desert; that disorienting feeling when arriving at one of the big Vegas hotels (we were staying at Planet Hollywood) and wandering through the ever-humming casino, where it's neither day nor night. Mathew and his friend Adrienne had arrived earlier in the day so there was the usual disconnect between not-quite-out-of-work mode me and everyone else, already in holiday frame of mind.
I slept fitfully through the night, wondering what the next day had in store. Mathew had paid a premium for up-close general admission seats that, he warned, would entail hours of waiting if we wanted a great view. Disclaimer: I don't like standing in line for anything. This is gonna be interesting, my mind wandered before finally nodding off.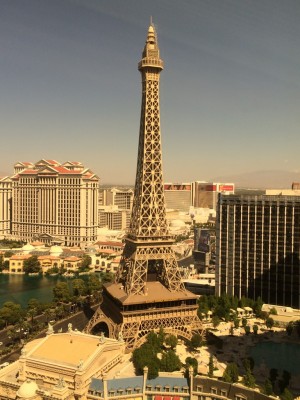 Next morning, I awoke to realize… I had positively nothing to wear for the evening's festivities. My ho-hum daily work duds would simply not do for an up-close encounter with my partner's Earthly deity. So off we went to some shopping up the street, the Forum Shops at Caesar's Palace.
When I first visited Vegas a few years back, I was pleasantly surprised by the density and walkability of the Strip… but that was in April. Now, in early September, the desert blast furnace was running on high, and Mathew and Adrienne were wilting from the heat. After our bout of shopping and lunch we cabbed it the two-thirds-of-a-mile back to Britneyland.
It was only mid-afternoon, but no rest for the die-hards: we changed into our concert gear and planted our butts on the floor outside the theatre some five hours before the 90-minute show was set to begin. Other than one other fellow on his headphones on the ground nearby, we were the first ones there.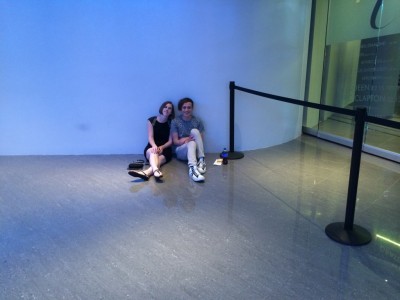 Not long after, a small clutter of others sat beside us in line. We soon struck up conversations, and I realized Mathew was not alone in his Britney fandom. Comparisons were made between the faithful: first album purchase; favorite concert moments; set lists for the upcoming show. Our cohorts hailed from everywhere: a drag queen from Alaska; a fellow and his galpal from Albany, NY; a gay couple from the Netherlands. A group behind us even briefed us on best-practices and etiquette for snagging the best viewing spot — though this latter group wasn't so honorable as concert time approached: after cautioning us not to run to the theatre, one of their number did so and ended up in front of us at the next collection point, by the doors to the theatre. Mathew was not amused.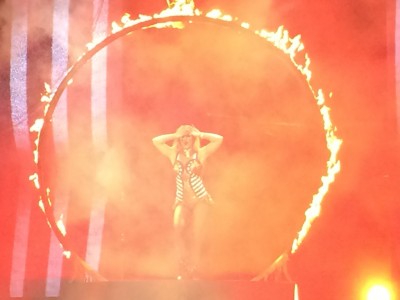 Still, once the final doors opened and we reached the general admission spot, we found a stellar perch by the catwalk leading off the stage. Showtime drew closer. A countdown popped up on the screen. And then… BAM!! To the strains of "Work Bitch," Britney and her dancers took the stage.
Confession: I've never been a huge fan of concerts. The notion of spending hours in a huge venue, surrounded by shrieking fans, waiting hours through opening acts and endless setups and sound checks only to endure loud, acousically mediocre renditions… no thanks.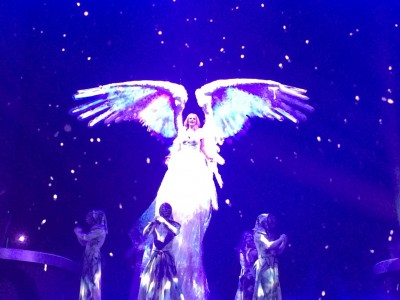 But this. This experience was something else.
Long known for her acrobatics and dazzling set design, Britney puts on a show few others can equal. Add the showmanship and production values Vegas spectaculars have long been known for (and a blessedly sweet 90-minute run time), and… wow. Britney emerging from a flame-ringed circle; Britney on the branch of a giant tree; Britney in angel wings; Britney leading some audience member (preselected in advance, I'm told) around on a leash — she called this one a "one-night stand" and managed to work in her recent breakup.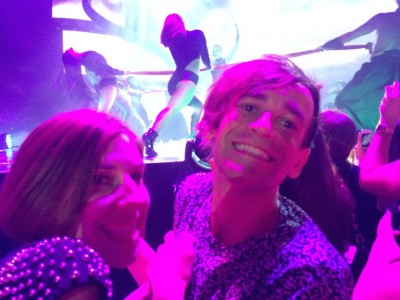 But the most energizing, magical part of the show had to be the reactions of the faithful: Mathew's face was pure bliss as Britney strode the stage and catwalk a couple of yards from where we stood. As a more intimate venue than a giant arena (Planet Hollywood's Axis Theatre has a long history of hosting musical acts, and was specially remodeled for this show), and engulfed by loving members of "Britney's Army," I couldn't help but be swept up in it all. By the time the finale, "Till the World Ends," rang out, I was cheering and whooping it up like a true fan — and found the strains of the concert haunting me in the coming days.
I guess you could call me a Private in Britney's Army now.

Tags: No Comments