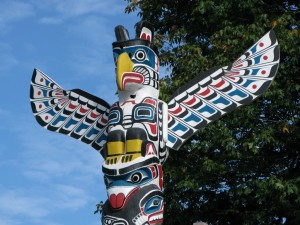 Canada's a small country, I always say, which typically provokes odd looks; yes, yes, it's the second-largest in land mass – but most of that is tundra and 90% of the populace lives in a narrow band hugging the U.S. border.
And yet, my notion of "small" is also, vaguely, blinkered. My entire youth and young adulthood was spent in what's known as the Quebec City-Windsor corridor, Canada's answer to the U.S. northeast. The West? It was always seen as far-off, smaller, irrelevant. Certainly as compared to the flashier U.S. West: Los Angeles, Silicon Valley, San Francisco Seattle. Images of surfers and movie stars and hipsters and computer wiz kids. What did Canada have? A nice, inoffensive little city called Vancouver.
A couple of friends aimed to alter that that when they said they were getting married there and invited me to join. I'd met Gus and Adam, Aussie natives, at a party in Sydney last year. We hung out a second time in London, and just hit it off — intellectually, socially, professionally… though in truth, I think the thing that united us most was our status as world wanderers: they live half a world away from home, and I… well, my past speaks for itself. So when they asked if I'd join in their "official" wedding (they were set to have a commitment ceremony in Sydney beforehand) in gay-marriage-legal Canada, I jumped at the chance.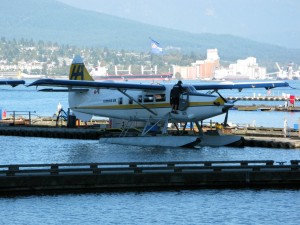 In my enthusiasm to avoid both United Airlines and Air Canada, I opted for a two-hop trip via regional fave Alaska Airlines. What looked like a connecting-flight nuisance, however, turned magical on leg two, arguably the shortest commercially-scheduled flight I've ever taken: Seattle to Vancouver, 127 miles on one of the bigger Bombardier prop planes. It was a clear, moonlit night as we lifted off from Sea-Tac. From my window perch I beheld the lights of Seattle's downtown; ahead, the San Juan Islands, surrounded by dark, ripply waters reflecting the moonlight; a languid descent into YVR (why oh why do Canadian airport codes all meaninglessly begin with the letter "Y"?), an easy customs/immigration pass-through (love that NEXUS card), and I was soon in a taxi headed toward town. As I stepped out of the cab, a waiting couple on the sidewalk politely inquired:
"Are you getting eout?"
Yup, I'm back home.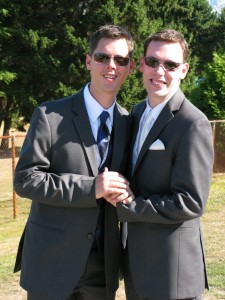 Vancouver may be known for rain, but the next day was as glorious-blue as any in Southern California. Dressed in my Sunday best, I hopped in a yellow Prius cab, out to a church in the posh western suburb of Point Grey. Rolling past elegant homes – newer steel & glass and older wooden Pacific Northwest-styled – we passed an elderly man on a motorized wheelchair; flapping from the back of his conveyance were two old-time Canadian Red Ensign flags.
I'm definitely back home.
Adam and Gus were on hand to greet us outside the church, as was their posse who'd come from near and far for this event: a (straight) couple from Australia who now live in Bangkok; two gals from middle-Canada (Edmonton & Winnipeg); a friend from Sydney who'd just moved to Vancouver; a fellow from Washington D.C.; two more Sydneysiders living in the U.K.; and one of the grooms' moms, a headstrong woman from a farm near Bathurst with a background in technology and education. Nomads indeed.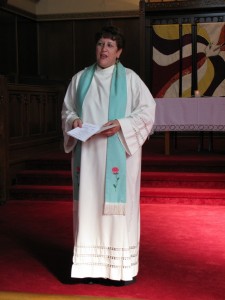 The ceremony was short and sweet: a female minister, a smattering of readings, the signature of some official papers. I'm not one of those mushy types at weddings, having been to around a hundred of them as a put-upon assistant videographer… but when this couple looked into each others eyes, kissed, and the church bells began to peal, I couldn't help but get choked up. I've known so many gay couples who play-act at marriage, and so many more who are legitimately fighting for the right, that it was wonderful to see it live and in person in my mother country.
I've never been so proud to be Canadian as I was at that moment.
After the ceremony we  bundled into a bunch more Prius cabs, and headed to a waterfront seafood restaurant in Coal Harbour for lunch. The glorious day was capped off with some drinks near the seaplane port nearby. We all parted around dusk – impressive that I spent a full, wonderful day with a gang of people I hardly met – and I called it an early night.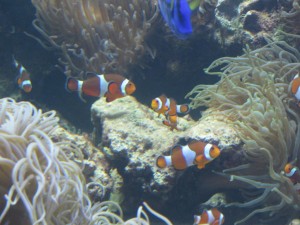 Next morning, Friday, I rose bright and early again to meet the two Canadian gals, Angie and Selena, for a bit of touristy fun at the Vancouver Aquarium. As befits a maritime city, Vancouver's got a pretty good one, and we spent a couple of pleasant hours communing with cute sea otters, majestic snow-white Beluga whales, and most of the cast of Finding Nemo. Having had at least one nephew who was totally bonkers for the film, I found myself able to recite a virtual play-by-play of the movie as we passed tank after tank of brightly-colored sea life. The ladies were duly impressed.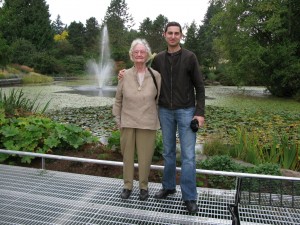 I then hopped in a cab across town to the Botanical Gardens to meet my sole relation here in Western Canada, my great-aunt Lou. She not only looks grand for a near-centenarian, but is of remarkably sound mind and body. I learned some more detail about my family's past, including how she met my great-uncle, their time in Japan (they were there before and after the Second World War, unlike my father's family), and their ultimate return to Canada (they came back in 1976, though Lou, who originally hails from Vancouver when it was a far smaller outpost, quipped "I practically belong in the Smithsonian.")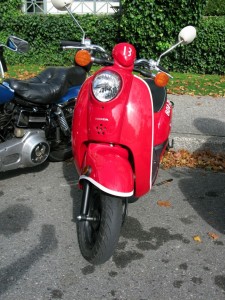 I started out my last full day in the city with a bit of uncertainty: Just about everybody from the wedding party had gone, and I'd done all the socializing I'd planned to do. What am I still doing here? rang the little voice in my head, particularly with a new kitten at home that I was missing terribly (though friends were seeing to her needs quite capably). Still, I was determined to make the most of it: Heading down to a quasi-industrial area not far from the old Expo site, I rented a scooter for a few hours and took myself around town. I opted for big circuits and farther-flung spots than I would have covered on foot, and in spite of a bit of chill at 30mph, that proved a stellar choice.
I rode north to Gastown, site of the original settlement (and not so named due to gaslit lamps, as I'd thought, but rather due to "Gassy Jack," a bit of a windbag who founded the place – I guess something of a Vancouver variant on Chicago's Windy City moniker). Touristy, in that way many revived historic settlements can be.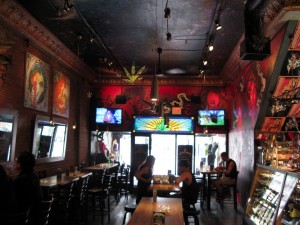 But up the road lay something more my speed: the city's "Vansterdam" block of shops dedicated to cannabis culture. In the case of one, literally Cannabis Culture, the magazine published here. The New Amsterdam Café is this city's answer to Holland's "coffeeshops," though here one can smoke or vaporize one's buds, but cannot buy any. Reminders that the seesaw battle for the legality and acceptance of this substance are, even in liberal Canada's pot capital, far from settled.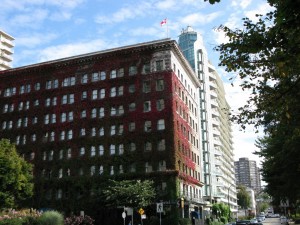 From greenery to more greenery: I rode across downtown to Stanley Park, the huge green space on the westernmost bulge of the peninsula that holds Vancouver's city center. Lots of cities sport majestic parks in their urban heart: New York's Central Park, San Francisco's Golden Gate Park, Montreal's landscaping of Mount Royal. But I think none quite hold a candle to Vancouver's entrant, both in sheer relative size (the park's about as big as the rest of the city's core), and in eye-popping natural beauty: giant coastal conifers with trunks as big as California redwoods form a thickly forested canopy enclosed by a stately seawall. It's as if California's Muir Woods (itself impressively close to urbanity) had just parked itself off San Francisco's Financial District.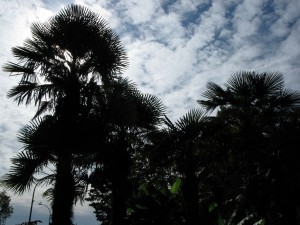 It's safe to say I was finding Vancouver fairly fetching — but as a mostly new city with oodles of steel-and-glass high-rises and only a smattering of historic architecture, it's not as dramatic as, say, Chicago's massive splendor or San Francisco's gingerbread Victoriana. But as I turned out of Stanley Park, I found the neighborhood to fall in love with: English Bay Beach.
A seafront community on the far side of the West End, its interplay of mostly older high rises fronting glorious waterfront evoked Sydney or Santa Monica by way of the cool Pacific Northwest. And palm trees – palm trees! – bunched on the green strip fronting the sand. Am I still in Canada? Should I ever choose to return to my homeland, I think that'll be my spot.
From there I crossed the Burrard Street Bridge, a thirties, deco-ish steel truss viaduct, toward the lower mainland. I tootled through Kitsilano and back toward Point Grey, then headed out all the way west, through more glorious forests, to the University of British Columbia. On the way back, nature called again. Literally – a stop in a parkside porta-potty came first – and then figuratively, as I took a stroll through Pacific Spirit Regional Park, Vancouver west side's mammoth dog park by way of Return of the Jedi's forest moon of Endor.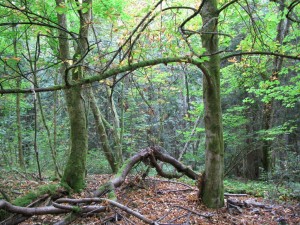 My mother and sisters had all had moments of reflection over the past few days — during the Jewish holiday of Yom Kippur — to remember my father, for whom that religious day held much significance. I think this walk, listening to the mix of somber melodies I'd compiled after his funeral, had something of the same effect for me. I remember going with him and my mother to Muir Woods some fifteen years back. A lifelong city dweller, he nevertheless held a reverence and fascination for nature that he instilled in us all. I sat on a log amid the ancient trees and wept.
Back in town, a nighttime meetup at a nearby watering hole with a couple of the fellows I'd met from the wedding who were still in town. After discovering a certain fondness for pear cider (and getting tipsy on two of them — I remain a cheap date), we headed to a nearby Malaysian spot for dinner (Vancouver really does have everything dining-wise), then off to the happening nightspot on Saturdays.
Happening indeed: the modest line was hardly moving, and only payment of a "premium" cover ($15) got us in relatively quickly. I was tempted by a couple of tipsy girls who introduced their (male) friends to us; one, a tall, very handsome film student, quickly caught my eye. Let's just say he proved those cliches about friendly, laid-back Western Canadians to be truer then ever.
Okay, staying an extra day was most definitely worthwhile.
An early-morning flight home (nonstop this time), over the craggy peaks of the Coast ranges back into California aridity. Sometimes I wonder if I'm a bit too demanding on my travels, aiming for always-contented, hitch-free journeys comprised solely of wonderful people. But this trio of days in Vancouver actually delivered on that promise, proving that nomads of the world can unite, marry, and form bonds and memories for the ages.

Tags: 1 Comment