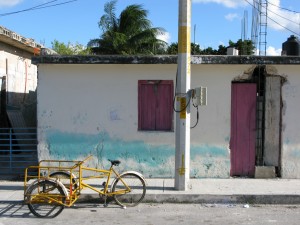 San Miguel de Cozumel, Dec 23-25, 2012
It's been something of a running joke with me that I've been everywhere in the world except places closest to home: as a native Montrealer, I've been almost nowhere in Canada outside the Quebec-Windsor corridor; as a Californian, I've never visited Yosemite, the Grand Canyon, or Mexico. Having finally made it to (and fallen in love with) Vancouver earlier this fall, I positively jumped at the chance to meet up with some family members spending Christmas holidays off the Riviera Maya, in Cozumel, Mexico.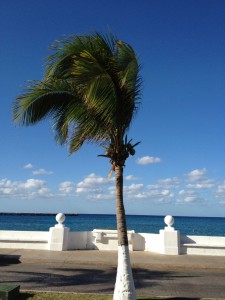 I have to admit, some of my foot dragging on visiting North America's third country was due to lingering preconceptions: In his book Smile When You're Lying (a very edifying exposé of the business of travel writing), author Chuck Thompson ponders "Why Latin America Isn't the World's Number-One Tourist Destination (and Probably Never Will Be)," citing American mythology about rampant kidnappings, Montezuma's Revenge, and "hey gringo" ripoff-ery.
For my part, too, while my round-the-world travels had vanquished any phobias about travel in developing countries, one concern remained: with such proximity to the U.S., does tourism to Mexico present an even more amplified form of the soft colonialism so frequently written about by travel writers? Can one even have an experience here that doesn't revolve around kitschy sombreros at Señor Frogs?
My sister, brother-in-law, and sleeping 20-month-old nephew picked me up at Cozumel's twee little airport. Even though it abuts the town, the field is sleepy enough to fit in almost unnoticed on the island. The broad, divided carriageway leading from the airport to the beach was typical of tropical sun destinations: a row of coconut palms running along the median line; dense, if low-lying, forest on either side. Cozumel was badly battered by Hurricane Wilma in 2005, and although the island looks to have returned to its normal self again, the wind-battered foliage offered clues to past devastation.
"Now here's somebody who knows how to travel," remarked my sister, spying my partly-loaded backpack and miniature daypack, both veterans of my global haul. They were not so blessed: between the needs of a toddler and trying to anticipate how well-stocked a Mexican Caribbean island would be, they were hauling a lot more gear – and had the misfortune of flying one of my least-favorite domestic U.S. airlines (hint: begins with a "U") at holiday time. Yes, it nearly came to blows at LAX on their trip out, and remained nightmarish right through the ride down to Playa del Carmen, the ferry ride over to the island, and the taxi to their friend's condo south of town (they flew into Cancun, which I'd be doing on my return leg).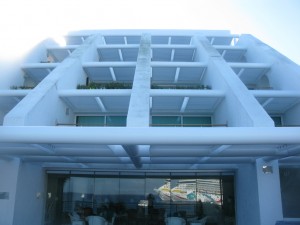 I, meanwhile, seem to have hit the flashpacker jackpot once more: Casa Mexicana, a vaguely nautical-looking, newish hotel right in the center of San Miguel, offered that great blend of comfortable and casual (and reasonable) I'd sought out on my global trek. A second-floor terrace offered a stellar view of blue seas, the town's "Malecón" oceanfront promenade, and myriad ferries and cruise ships coming and going. Although it got put on the travel map some three decades past thanks to its dive spots – the island sits right on the second-largest reef system in the world, after Australia's Great Barrier – it's perhaps best known to many as a cruise port of call (for better or worse).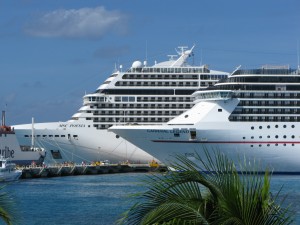 "For better or worse" seems to mean that the island does indeed possess what I feared: piles of restaurants and shops geared at the cruising set that would not feel out of place in a mall in Iowa. Don't get me wrong, I'm not one of those backpacking purists who fetishizes "authenticity" at the expense of everything else; and I'm acutely aware that "live like a local" tourism is just as much "tourism" as those loud-shirted cruisers at Carlos 'n Charlie's.
Turns out my kin were on the same wavelength: after practicing my few words of Spanish in ordering (and consuming) seafood pasta at a local Italian joint, we wandered across the way to a town square, colorfully decked out (to the delight of my talkative, ebullient toddler nephew) for navidad. Here the faces were more brown than white, the language more Español than Ingles: turns out Cozumel not only has a sizeable local populace, it also attracts a large proportion of Mexican tourists. Off the main drag, the vibe quietens, the buildings turn single-story and less tricked-out, and the "real" Cozumel presents itself. Could I have found it, as I had more often than not in my travels, a spot where foreign tourist and local resident (and transient) comingle happily and freely?
We took such musings to the beach the next day, heading several miles down the island to Playa Palancar. Cozumel's north side, where my kin was staying, and its central city, where I'd parked myself, mostly consist of rocky shorelines with bits of reef scattered about. For the sandy beach experience, one heads southward. Palancar's pretty – not quite top of my list, but definitely up there – with a scattering of retail shops, a narrow-ish strip of sand, an eatery, and a small menagerie of peacocks and Cozumel raccoons (smaller – and more endangered – than their mainland relatives). Although nominally a Caribbean island, the western side, where most development lies, also faces the mainland (the buildings and lights of Playa del Carmen can be seen on clear days, some 12 miles off). This translates into gentle waves and calm seas, with warm though by no means torrid waters. Just right for the water princess that I am.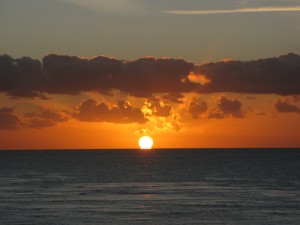 A home-cooked meal for dinner that night and a lazy day at the condo pool (and adjoining reef-let) made for a splendid Christmas Eve and Day. Festivus in the tropics is always a nice change, but for my family the venue change had broader significance: my parents' anniversary was December 24th, and although we'd agreed not call too much attention to it, inevitably talk shifted to my father's passing this past summer. We're all still reeling from the aftermath of his sudden cardiac arrest on a warm July morning in Montreal. Perhaps it's fitting, being here in the Mayan heartland just days after their calendar cycle ran out (though the assumption that this meant the end of the world was, of course, totally off the mark); for them (well, those that remain from that once-great civilization), and for us, 2012 signifies not only endings but also new beginnings.

Tags: No Comments