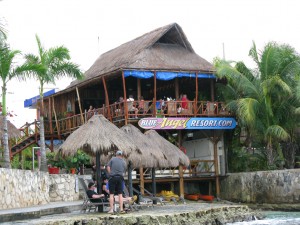 With the number-two biggest reef system lying just offshore, it was inevitable some of us were going to go down and check it out.
There are lots of dive operators in Cozumel, but to find the best ones, the age-old adage rings true: ask a local. My sister and her husband had struck up a conversation at one of the eateries their condo-owning friend had recommended, and through this lady they'd been turned on to Blue Angel, a hotel on the island's southern half aimed mainly at the diving set.
I got there in the morning for my orientation dive, where I met Matthew, our diver master, an amiable Albertan; and Kale, another intrepid world traveler (with a blog of his own to boot) from Vancouver. They ran me and another Alberta family (note about Cozumel: Canucks galore!) through safety and training drills. I'd already done this a year ago but it was remarkable how much I'd forgotten – from hand signals to buoyancy compensation.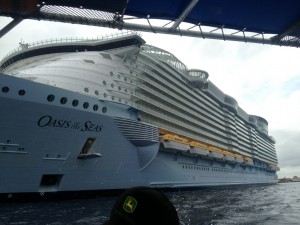 Unlike Australia, where the reef can lie dozens to hundreds of miles from land, Cozumel's reefs lie right offshore – heck, you could almost swim to them if determined enough. After lunch, my sister and her husband (who'd already done the intro a couple of days before) joined us on the boat out to the reef. We zipped past one of the island's three cruise terminals, where two Royal Caribbean ships were docked; one of them, the Oasis of the Seas, is the world's second largest. Passing under it is akin to walking the concrete canyons of New York: a wall of white steel and glass rises up a dozen stories in the sky.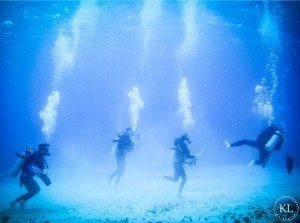 Meanwhile, natural wonders waited down below. We rode south, to Palancar reef, just offshore from the beach we'd been at a few days prior. Donning our gear and splashing backward off the boat into warmish blue waters, we began our explorations.
Palancar is deep and vertical: towering columns of coral climb forty-plus feet off the sea floor. We spotted schools of colorful fish, the odd ray, a spotted eel. My sister found her Pilates training useful and took to diving like one of the aquatic species around her. I held my own, the reflexes and impulses I'd learned at the start of the year slowly coming back.
Another day, another adventure: next day, we opted to vote ourselves off the island and check out some Mayan ruins. Cozumel was a minor outpost in ancient times, but most of the lost civilization's activities were concentrated on the mainland. The great pyramid of Chichen Itza was a bit more of a haul than we were seeking, but another, closer-in spot, seemed like a better choice with family and toddler in tow: the seafront ruins of Tulum.
The day started out more Marx Brothers than Mayan quest: we missed the earlier ferry and clambered aboard the totally-packed 10 o'clocker – almost missing that one too as we'd forgotten to retrieve our baby car seat. Then my mother and Miri began turning green on the eleven-mile ferry trip: both suffer from seasickness, and the channel can be choppy. Then on arrival in Playa del Carmen, we discovered the car rental place where we'd booked a car for the day no longer existed – and all other rental shops were sold out. In Mexico, the big international rental chains subcontract out to local outfits whose idea of "reservation" echoes a Seinfeld episode bit (though at least all the people we dealt with were affable).
On to Plan B: our taxi driver, originally hired to ferry us the seven or so blocks from the ferry pier to the rental shop, became our driver for the day. The price wasn't a whole lot more than the rental, and he helpfully directed us to a nice little seafood spot for lunch a stone's throw from the ruins. With motion sickness in retreat and baby happy from a hearty lunch, we were ready to take on Tulum.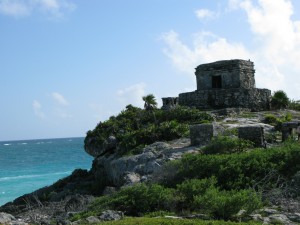 The walled city overlooking the Caribbean was an important Mayan trading entrepot, and as we entered its stone walls we instantly understood why this is the number two most-visited Mayan site in the country: it's an ethereal, mystical spot, rocky edifices perched on cliffs above carpeted jungle greenery and azure seas. It was moderately busy, though not overwhelmingly so, and we agreed that my observation, made on my travels, that places like these — intended to be cities — feel right with people in them.
But the real crowds were down below: Tulum has to be one of the very few archeological spots on Earth (Caesarea, in Israel, is another) that boasts a beach – and a gorgeous one at that – astride the ancient temples. The place was packed with a mix of locals and visitors, and a dip in the waters invigorated us all.
"Okay, it was worth it," remarked my Mom about the hectic day, as she took in the glorious scene.
Next day was my last on the island; after inviting the family over to my hotel for its renowned breakfast, I headed out to do some solo exploring.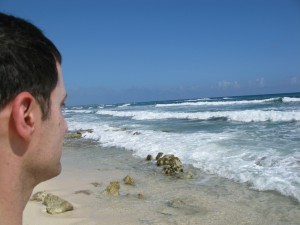 Most of Cozumel's populace lives in San Miguel, the town hugging the western coast facing Playa del Carmen. But sitting astride a channel means calm, even boring seas. For the more oceanic, wave-soaked experience, one heads to Cozumel's eastern shore, some nine miles away from town. So that's what I did, traversing the island's main east-west highway on my little scooter, dodging the odd rain squall mid-island care of a low-flying cloud.
By the time I reached Mezcalitos, however, the cloud had tucked itself into a corner of the sky, and the blue Caribbean – with waves, natch – presented itself under brilliant sunshine. I went for a dip – the surf was relatively calm for this spot – and, contemplated the year this has been.
Perhaps because it's a sun destination, I'd found relatively little background information on Cozumel in my pre-trip read-ups on the place. I had my questions answered by the Museo de la Isla, a small but very comprehensive set of exhibits in a vintage yellow-hued building on the island's main waterfront drag. Everything from the island's formation over geologic epochs; to the creation of the region's underwater cenote caverns; to Mayan days; Spanish conquests; and modern re-emergence, is covered. Heck, there's even a reconstructed Mayan dwelling complete with statuary and circular stone calendar. Some factoids I didn't know: Cozumel was one of the first spots visited by the Spaniards, and even Cortéz passed through here on his way to ultimately take down the neighboring Aztecs at Tenochtitlan (today's Mexico City). Plague and horrible enslavement fully depopulated these lands, and it was only in the nineteenth and twentieth centuries that the place surged back.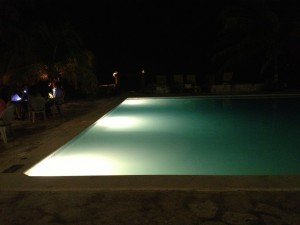 After what was arguably the best dinner we'd had to date at a beach club on the island's northern fringes, I bade farewell to family and headed for a meetup with a fellow I'd been chatting with online. I was feeling good about Beto, and in person he proved my supposition true: a friendly, talkative twentysomething (whose English was excellent) studying physiotherapy in Mérida. He and a large clutter of friends, all local Cozumeleños, met up at the re-opening of a really fab bar just off the main square. I think I'd just encountered the third layer of island society, after the cruise-ship tourists and the expat locals: these were true locals, mostly middle class but of all stripes (Beto's parents were both doctors).
And with that, a fond farewell to Cozumel; the place ignited a fascination in me for Mexico that previous travels did for many other places — though unlike most, this country is far more accessible to me from where I live — and I have no doubt more visits await me in the years to come.

Tags: No Comments