Okay, another first: I actually managed to sneak in a bit of time between the end of one job and the start of another… which for me translated into one thing: getting away!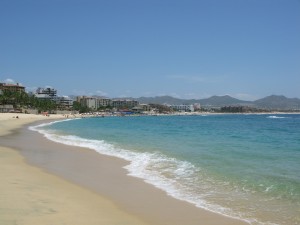 Great… but where to go on (somewhat) short notice in mid-August? I wanted somewhere new yet restful, ideally a beach/sun vacation with a bit of flair. Hawaii was a possibility, but it was somewhat far and pricey for a shorter trip. I was initially a bit worried about another jaunt to Mexico (last thing I needed was a touch of Montezuma's Revenge), but fares to a couple of Pacific destinations — Los Cabos and Puerto Vallarta — seemed appealing. I picked Los Cabos — the drier (and slightly closer) of the two spots. And so began my second-ever jaunt to North America's southern sibling in under a year.
As with all the Americas, Mexico's Atlantic and Pacific sides offer varied geography, climate, and vegetation. Whereas Cozumel, where I'd been previously, lies solidly in the Atlantic/Caribbean zone — mostly flat and tropical — Los Cabos (literally "the Capes," the designation for the towns of San José del Cabo and Cabo San Lucas, some twenty miles apart) is decidedly Pacific: mountainous and arid. As our flight touched down, dramatic, craggy peaks not unlike those back home rose up to greet us. Driving in along the coastal road that runs along the base of Baja California, two things struck me: one, the ubiquity (and beauty) of Elephant Cacti, not unlike those immortalized by the Road Runner cartoons of old. Two, a thin yet striking coating of greenery over the craggy peaks.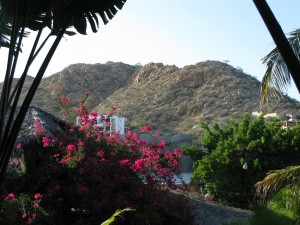 "This is our rainy season," remarked our friendly shuttle driver as he took us in along Mexico's Highway 1. We passed San José (which I'd pledged to visit on my way home), then headed out along the "tourist corridor" between the two towns, replete with all-inclusive resorts not unlike those on the highway from Cancún to Playa del Carmen.
Not my scene, I mused, as we pulled up to one of these to drop off some fellow passengers. The lobby was grand and colonial-themed, while in a dirt road out front, white-painted school buses (no A/C, natch) ferried brown-skinned laborers around the complex. A couple more stops at similar such spots, and the driver dropped me off at my accommodations, the aptly-named Bungalows Hotel.
Although it took a couple of minutes to find the front desk amid the jumble of structures fronting a small pool, I knew this was my kind of place when Beto, one of the innkeepers, greeted me with a gregarious hug and glass of watermelon juice. The inn's adorable, big dog, Valentina, snoozed in a nearby corner. Out by the pool, a mix of English and Spanish was spoken. The inn lies at the base of the hillside above the main town center — walking distance from the center yet a bit apart from it.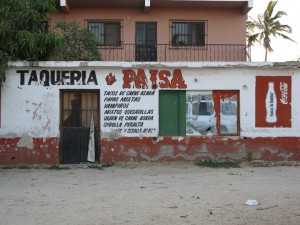 I headed out on an evening reconnoiter after settling in; this confirmed the wisdom of my accommodation choice: more like Cancún than Cozumel, Cabo is an American tourist town. Señor Frogs, The Hard Rock Cafe, even an Applebee's (!) can be found nearby. It's known as a raucous party place, too, making me ever more thankful for a spot a bit off the beaten path. At the recommendation of my hotel I found a cute little Mexican place that didn't scream "gringo"; clearly folks in the know must be onto it, as it had a lengthy reservation list for later in the evening.
Thus sated, I walked around the quieter back streets off the beachfront strip. As in Cozumel and in my world travels, it's spots like these that interest me more than the overtly touristic (though I do enjoy a good bit of vacation-style fun as well): an older local hauling mangos in an ATV; a crumbling old Taquería; a bit of graffiti protesting mining operations. Although I'd come to Cabo for a bit of sun and escape, the backpacker in me remains drawn to the offbeat.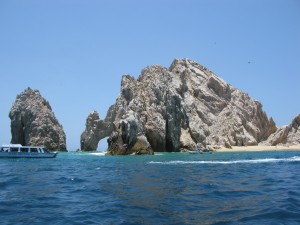 Next day I further got the lay of the land here: the big all-inclusive resorts — though more architecturally tasteful than the walls of high-rises found in Cancun or Miami Beach — mostly wall off the beach from the main town; it took me a bit of trial and error to find the public beach access points. Medano Beach, the large crescent of sand beside Cabo's center, does rank up there with some of the better beaches in my travels: expansive, deliciously just-right warm seas (at least now in August) with modest wave action (far rougher seas can be found on the Pacific side). Bunches of crowds and loud music were to be found throughout, but the beach is big enough to offer escape from that if desired.
No shortage of vendors here, mostly hawking boat tours and jet-ski rentals. I booked myself for an hour on the latter, and explored the area on my own as is my usual wont: I approached Land's End, the arched rocky outcropping that gives the town its name. Like the other Capes in my world voyage, this one provided a suitably dramatic end to Baja California, the peninsula once thought to be an island comprising all of this land. Perhaps it's appropriate that I come upon this place, the base of California, at this point in my life: during the time of my round-the-world journey I'd felt that no place was home. But the last few years — particularly the last twelve or so months — have seen a sea change in all that: the passing of my father, one of my anchors to my old life; the adoption of my first real pet; further remodeling of my home; learning a new specialty and new job to match; and, of course, a new boyfriend, the most promising candidate yet for the role of life partner. I've now lived in San Francisco for more than six years (eight, if you count the first go-round), making it the longest place I've lived aside from my birthplace. And I have no plans to leave. So far, I seem as rooted there (albeit a bit detached at times) as this piece of rock does to the peninsula jutting out from my current homeland.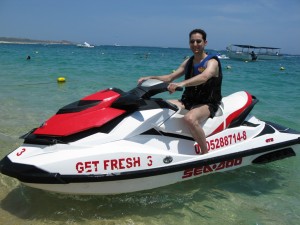 But still, the touristic here holds sway: glass-bottomed boats waved me away from more choice scenic spots, and far's I could tell (in spite of a sales pitch to the contrary) I wasn't allowed to pull up on the fetching Lover's Beach that squats in between the outcroppings of rock.
I'd picked my accommodations to allow on-foot access to Cabo's town center and main beach, but also planned to spend my last afternoon over in San José del Cabo, doing a bit of shopping and strolling around the historic center. I'd planned to catch a bus there, then head to the airport; looking online, those looked like the best options for indie-traveler me.
Not so fast.
"You probably want to rent a car," said Eric, the other of my extremely helpful innkeepers. "Taxi will cost you $40." Herein lies another element of this area's bit of tourist-trappery: most standard services are hiked up to "tourist prices." I was a bit concerned with car rental, though, since last time I tried to do this in Mexico, with my family over in Playa del Carmen, it was a disaster: rental agencies' websites and their local franchisees were not at all in sync.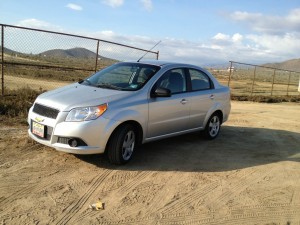 Fortunately, not a problem this time: after booking online, I hoofed it on over to the Avis counter at one of the all-inclusive hotels. An extremely helpful rental car clerk had my reservation, and within a few minutes I was in a stick-shift Chevy Aveo — my first foray in a manual transmission since renting a car in Israel on my big world trip. Whee!
It was only mid-afternoon, so I figured I'd try to use the car to get to places inaccessible to me so far. Although the famed Land's End Arch is supposedly only accessible via (tourist-priced) water taxi, I'd read that a bit of scrambling over rocks from a nearby beach is another option. Ever the adventurer, I pointed my vehicle in that direction to see if I could get to the adjacent beach, Solmar.
Again, not so fast.
As on the main beach, Medano, all the beachfront property near Land's End has been co-opted by a clutter of all-inclusive resorts. An attempt to merely get a drink or a snack (so I could sneak onto their beach) was met by a nonplussed response by the guard at the front gate.
"No. No restauran'," he uttered in broken English.
Okay, Plan B, one I'd first dismissed when I saw what it entailed: the Pacific side of Baja, like its continuation north of the frontera, boasts bigger (read: often unsafe) waves. But there was supposedly one swimmable beach, Cerritos, up the coast more than halfway to Todos Santos. So I turned around and headed north, out of Cabo's mess of traffic, supermarkets and strip malls… and was promptly blown away.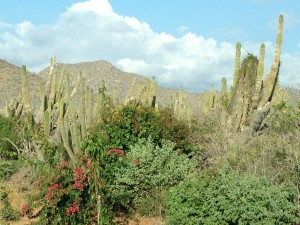 A vast sea of cacti hugged rolling, scrub-brush-filled plains. Craggy mountains — the ranges that form the spine of this vast peninsula — loomed in the distance. The highway was smooth, four lanes wide (two in each direction), and in immaculate shape — better than many Stateside highways. For large stretches, I was the only one for miles on the road. Although I worried a bit that I'd miss it, a small bunch of buildings surrounding a broad cove gave it away: I'd arrived at Cerritos Beach.
I parked at the end of a dirt road beside some almost-completed luxury condo project. Aside from that and a traditional-style structure at the top of the nearby cove, the beach was broad and mostly empty — a few surfer beach huts and beach bungalows; a mix of locals and tourists mostly huddled around the cove; and the odd surfer taking in the moderate-sized waves. I went for a couple of swims (I'm no surfer but I do like to bodysurf), gazed at the sun sinking (correctly, I say) over the water, and had a moment just like that one my Mom had all those months ago back on the beach in Tulúm.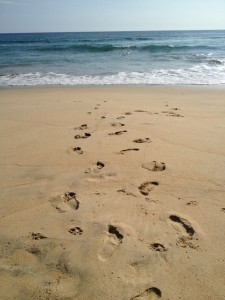 Okay, this was worth it.
Next morning, as planned, I drove myself across the Baja peninsula to old San José. I still wasn't sure what to expect; I'd almost opted to stay in this "other Cabo," with its quieter, more laid-back feel and historic center. The things that gave me pause were its distance to beaches (not walkable), and, having done Cabo San Lucas, a sneaking suspicion that "authentic Mexican village" would have all the genuineness of Knott's Berry Farm.
Boy, was I pleasantly surprised!
San José del Cabo's "Arts District" aptly lives up to the name, with cute galleries tucked into colorful little edifices flanking narrow, cobblestoned streets. A mite Disneyesque, to be sure, but in all the right ways. I had lunch at a shaded eatery off the main square, then did a little shopping and reconnoitering on its quiet, colorful streets. Yep, I mused. Next time I come here this is where I'll stay.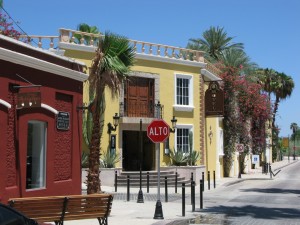 That was that for this short but relaxing little journey. Just what the doctor ordered after a trepidatious, transition-filled summer and spring. I guess that's what I garnered from this trip, staring off at the Arch of Cabo, the waves of the Pacific at Cerritos Beach, and the cobblestoned byways of old San José. Life is about taking chances, and for me it's always been a battle between staying safe and just diving in.

Tags: baja · cabo · mexico · travel9 Comments