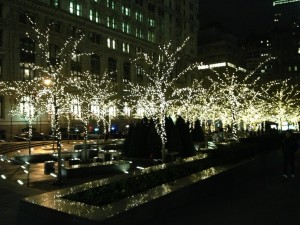 It's an odd time to be traveling, between Thanksgiving and Christmas, and odder yet to be journeying to North America's chilly northeast from balmy California.
But then, little about this year has been typical.
Dodging those sky-high airfares to Canada, on Friday I hopped a red-eye across the country to New York. The city's rep as a transient hub is well represented by my friend circle, ever more of whom continue to rotate through the place. This time, I met up with my friend Lake, a Chicago native and chemical engineer whose prior stints in his field include Sheboygan, Wisconsin before this present foray to grad school here in the Big Apple.
Lake met me at Penn Station, where I'd hopped off a commuter train from JFK. Surprisingly awake after the too-short-to-sleep-properly transcon journey (thank you, Business Class upgrade), we settled into a cute little Franco-tinged breakfast spot in Chelsea (thank you, Yelp), then rode the subway far uptown. Lake's studies have brought him to a once-squalid part of Harlem that's now dotted with upscale eateries and brick buildings in various stages of fixed-up-ness. Best part (for transit geeks like me, at least): the "A" train's express run from 59th Street to 125th. We walked uphill from the station, beholding a view of the city over a portion of the island that hadn't been flattened ages ago and still retained its vaguely primordial undulations.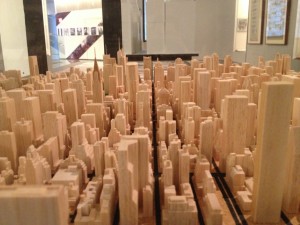 I was only set to be in New York for 24 hours, and had one bite-sized attraction I'd been hankering to visit for ages: years ago, when my siblings were doing rotations of their own in this city, my parents would come down here and I'd fly out to meet everyone in a family reunion of sorts. My father's thirst for bargains on designer clothing (I always joked that, with his fashion sense, love of opera, and unabashed emotion-showing, he made a far better gay man than I) led him to Lower Manhattan department store Century 21. My fascination with the city and its history was stoked on these forays: I'd wander past Trinity Church, by the Park Row (featuring my own shopper's paradise, electronics store J&R), and under the then-standing monoliths of the World Trade Center. On one especially warm summertime visit, shopping bags in tow, we passed a temporary space housing a nascent exhibit: the Skyscraper Museum, sitting, appropriately enough, in the shadow of some iconic specimens of the form. I'd made a mental note to check the place out, and over the years followed its progress in the wake of 9/11 to its eventual permanent home in Battery Park City.
"It's like suburbia, or Jersey City," Lake remarked as got off the subway downtown and strolled down Battery Place. Battery Park City's a sliver of urban infill created when the original World Trade Center was built. It grew into an urban residential enclave over the past decades, a spot with medium-rise condos, mini-parks, and couples with strollers. A nook of quiet amid downtown's bustle.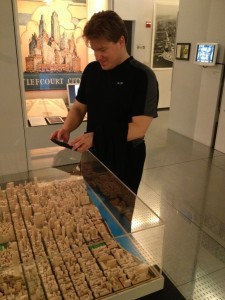 In the ground floor of one of the condo buildings lay our destination: just a few rooms of exhibits and models and such, but as I anticipated, quite fascinating: a history of the city's Seventh Avenue garment district was on view, describing and explaining those mammoth ziggurat-like brick high-rises that surrounded me as I emerged onto the street on 34th Street earlier in the day. Dizzyingly detailed wooden models – the love's labor of an Arizonan with a passion for urbanity – captured the density and diversity of various swaths of Manhattan. And, of course, models and images of World Trade Center old and new.
As we rounded the bottom of the island, we spotted some of the still-in-progress repairs to Battery Park in the wake of Hurricane Sandy. Although the New York City Transit Authority has worked miracles restoring subway service in the wake of the storm a few weeks back, one station remains shuttered: South Ferry, which was inundated with flood waters that stormy day that looked on TV like the drowning of the Titanic's decks.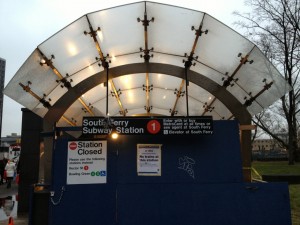 This led us to a conversation about the energy business – another obsession of mine – and what's perceived as their inaction (or, worse, blatant obstructionism) in the wake of climate change.
"You know, in the basement of my building [at City College] they're working on a giant new battery. Industry's devoting a huge effort to this," Lake said. "But activists talk like they want them to just stop everything they're doing right now and bankrupt themselves. So industry doesn't even bother reaching out."
He's got a point, I mused. I was gratified to hear that old-economy energy extraction concerns are in fact stepping up – and recognize that the environmental crowd, some of whom lack a grounding in the sciences, often dig themselves into a position of opposition to legacy industries without hearing them out. But then, at the same time, I can't help but wonder if we aren't, collectively, as a species, not devoting the vigor we once employed to, say, putting men on the moon or splitting the atom. Because, looking at Battery Park's damaged and smashed sculptures, the Lower Manhattans of the world really can't wait.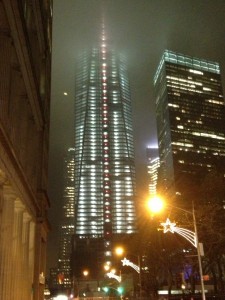 Wandering northward, we passed a gloriously lit-up One World Trade Center, now so tall it disappeared into the evening fog. We then hopped a train to Brooklyn, dining at a vegan restaurant in Park Slope, a neighborhood I'd also been meaning for ages to check out. It's got the beautiful brownstonery and trendy hangouts one finds on the other side of the East River, but here the vibe is quieter, the rush and buzz of Manhattan conspicuously missing. Along Atlantic Avenue we beheld a giant hole in the ground, at the bottom of which ran subway tracks that disappeared into the glowing ovoid of the new Barclays Center. Like so many near-urban districts in burgeoning, pricey world cities, the borough of Brooklyn is filling itself in.
Next morning it was back to JFK for a very quick hop up north to Burlington, Vermont. My Mom and her realtor partner Ron met me and drove me north, to home and hearth and a holiday party in Montreal.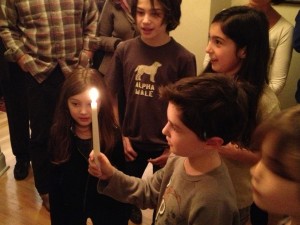 It was the second night of the Jewish festival of Chanuka, and we celebrated, as is our wont, with candle lighting, songs, and far too much food. The kids, I learned, are as addicted as I am to that mildly idiotic Korean dance tune "Gangnam Style." I soon had them dancing in a circle as its beat pounded out of my iPhone. Through the flicker of candles, a portrait of my father, in his outfit graduating from law school some fifty-plus years ago, held silent vigil. His absence loomed large over the evening.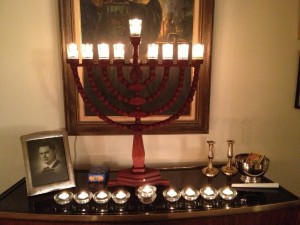 Indeed, that was true of the remaining two days of my visit, as I went through old photographs, diaries, and had a nice lunch with his sister Jeannette to discuss memories I'm starting to compile for a prospective second book, one combining my father's nomadic meanderings with my own. On my last morning I joined my mother and her realtor colleagues for breakfast before heading to the cemetery to get my first look at my father's tombstone. The pleasantly banal chatter of Montreal's buoyant real-estate market (it's outperformed just about everywhere in the United States over the past four years) gave way to solemn remembrance at his gravesite.
It was a day much like the one four years ago, when I visited the memorial where his kin lay in Rumbula Forest, just outside Riga, Latvia: crisp, clear, cold, with just a thin coating of crunchy snow. We struggled to break apart the ice over his footstone, where the words from the pop tune "L'Italiano" are inscribed: "sono un italiano…un italiano vero." An Italian, a true Italian: my Dad only lived in the country for a couple of years as a teen, but its culture and language infused their way into his persona all his remaining years.
Driving through the nighttime streets of downtown Montreal, magically decked out for the Christmas season as the city does so well, my mother and I pondered the man we'd lost barely five months ago. He'd always considered himself a nomad, an outsider, a cosmopolitan without a home. Yet in his last years he'd found it, as so many of us do often without realizing, in the city he only reluctantly embraced. It held the one thing no other place, however entrancing, could hold: the ties of family, of friends, of community. The things that keep me coming back (amid the protestations of a recently-adopted cat, as I saw fit to remind everyone). In this place, the turning of seasons and years have witnessed my sisters marry, my nieces and nephews blossom and grow (one of my sisters here is again pregnant, in fact), and those family ties embrace me, in life and in death, in a blanket of eternal warmth.

Tags: 4 Comments